Best Bahamas Honeymoon Yacht Charters!
Are you looking for the perfect romantic getaway for your honeymoon? Then look no further than the beautiful Bahamas! From crystal clear blue waters to stunning beaches, a yacht charter is perfect for celebrating a romantic Bahamas honeymoon or a Bahamas wedding.
With its white-sand beaches, turquoise waters, and endless activities, a Bahamas honeymoon will be a lifetime trip.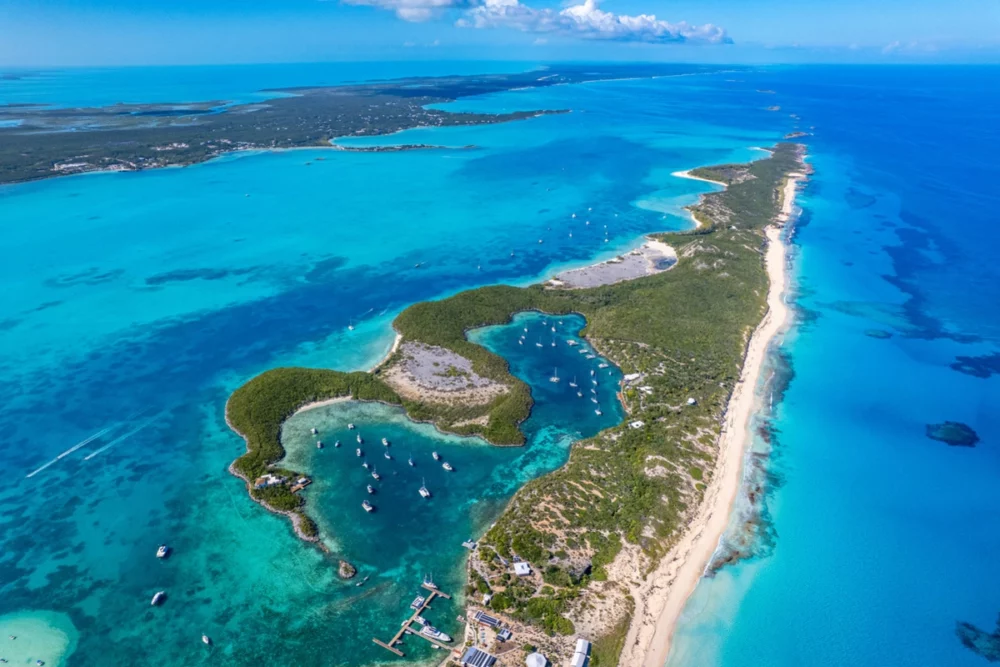 What to Expect Aboard
A Bahamas honeymoon yacht charter is the perfect way to celebrate your wedding with a romantic and luxurious experience. A honeymoon yacht charter allows you to customize your experience, giving you the freedom to explore the beautiful islands of the Bahamas at your own pace. Depending on your budget, you can choose from a wide range of yachts, from sailboats and catamarans to luxury motor yachts. You'll have access to various amenities, including a professional crew, daily meals, comfortable staterooms, and plenty of activities.
Amenities
The yacht you choose will be outfitted with everything you need for a romantic escape, including sun deck loungers, swimming platforms, gyms, spa rooms, Jacuzzis, and more. All yachts have wifi and entertainment systems; some even have movie theaters. The ensuite cabins also feature comfortable beds, natural light, and high-end linens. Many yachts also feature high-end soaps, shampoos, and sunscreen.
Activities
No matter what yacht you choose, you'll also have access to onboard activities such as swimming, snorkeling, and fishing. Stand-up paddleboarding, water skiing, and using water toys are great ways to explore the Bahamas. If your yacht doesn't have specific water toys, those can also be requested to be brought on in advance.
Dining
Your yacht's private chef will create custom meals for you, your partner, and any other guests. They will take your specific dietary requirements and preferences to craft gourmet breakfast, lunch, and dinner meals. Of course, being in the Bahamas, they will incorporate fresh and local ingredients into every dish. What's more, you can request specific beverages, wine, spirits, and beers to have on board. Don't forget; you can also venture to shore for a meal or cocktail whenever you desire.
Service
When you book a Bahamas honeymoon yacht charter, you'll be able to relax and take in the breathtaking scenery of the islands with your special someone. You won't have to worry about planning, navigating, or anything. Your captain and crew will provide local knowledge and ensure all your needs are met throughout the trip. Before your trip, you'll complete a preference sheet outlining all your wishes, including meal times, food and drink, activities, and more.
Bahamas Honeymoon Yachts to Charter
Places to Visit on Your Bahamas Honeymoon
Some of the best places to visit on a Bahamas honeymoon include Exuma, Eleuthera, Long Island, and Abaco. Your itinerary will be customized to suit your honeymoon dreams and desires.
Exumas
Exuma is known for its beautiful beaches, crystal-clear water, and secluded cays. It is the perfect place to relax and unwind with your partner. For those looking for something more exciting, there is plenty to explore in the area, such as snorkeling, kayaking, and swimming with stingrays.
Eleuthera
Eleuthera is home to some of the world's most stunning pink sand beaches. The area also boasts great nightlife and many activities to entertain you. Take a romantic stroll along the beach at sunset or book a private Bahamas honeymoon yacht tour to explore the islands further.
Long Island is another great option for couples looking to have a romantic time together. The island is well known for its clear blue waters and hidden coves. Take a dip in the ocean or have a picnic on the beach. There are also plenty of activities, such as hiking, fishing, and scuba diving.
The Abacos Islands
Finally, Abaco is the perfect place for those who want to explore nature's beauty. The area is home to incredible wildlife, such as sea turtles and rare birds. Spend a day in a secluded cove or take a romantic boat ride around the islands.
The Best Secluded Beaches To Visit on a Bahamas Honeymoon
Nothing says romantic quite like a private beach surrounded by crystal-clear waters and miles of white sand. A Bahamas honeymoon yacht is the perfect way to experience these hidden gems.
A few of the best-secluded beaches in the Bahamas that couples should visit include:
1. Gold Rock Beach – Located on Grand Bahama Island, this beach features magnificent dunes, limestone cliffs, and pristine waters.
2. Paradise Beach – On Eleuthera, this stunning stretch of sand offers some of the clearest water in the world and is ideal for swimming or lounging with your partner.
3. Rose Island – This small island off Nassau is the perfect spot to escape the crowds and relax with your significant other. The pink sand and tranquil atmosphere make it a must-visit spot.
4. Fortune Beach – This secluded spot on Grand Bahama Island features crystal-clear water, perfect for swimming, snorkeling, or kayaking.
5. Pink Sand Beach – One of the most beautiful beaches in the Bahamas, this stunning beach features pink sand and breathtaking views. It's the perfect spot for a romantic stroll along the shore.
When you rent a private yacht, you can easily access these beaches. You will surely have an unforgettable time with your partner in paradise. So don't forget to include one of these secluded beaches on your Bahamas honeymoon itinerary!
Natural Parks and Places to Snorkel and Dive | Best Bahamas Honeymoon Yacht Charters
The Bahamas has many protected parks and preserves, perfect for a romantic honeymoon. Below we've highlighted a few great options to incorporate into your Bahamas itinerary.
Exuma Cays Land and Sea Park
One of the most popular is the Exuma Cays Land and Sea Park, which stretches across 365 square miles of the Exuma chain. The park is the oldest in the Caribbean and was established to protect its pristine coral reefs, mangroves, and seagrass beds. It also boasts abundant marine life and is ideal for swimming, snorkeling, and scuba diving.
Lucayan National Park
If you want a more adventurous experience, visit Lucayan National Park on Grand Bahama Island. This 40-acre preserve features caves and underground streams for spelunking, a canoe trail winding through a freshwater swamp, and a mangrove forest teeming with wildlife. Don't miss out on the tranquil Gold Rock Beach, a white sand beach lined with palm trees.
Andros Barrier Reef
Finally, no visit to the Bahamas would be complete without exploring Andros Barrier Reef. Lying just off the coast of Andros Island, this 240-mile-long reef is the third-largest barrier reef in the world and is home to various marine species. Here, you can snorkel or dive in crystal-clear waters and discover some of the most beautiful coral formations in the Caribbean.
Spas and Treatments to Enjoy
Plenty of incredible spas exist for couples looking to relax and rejuvenate on their Bahamas honeymoon. Grand Isle Resort and Spa, located in the Exuma Islands, is a perfect spot for pampering treatments and massages that will leave you feeling refreshed and rejuvenated. Another great option for spa treatments and wellness activities is the Coconut Bay Resort & Spa, offering luxurious spa packages and healing treatments.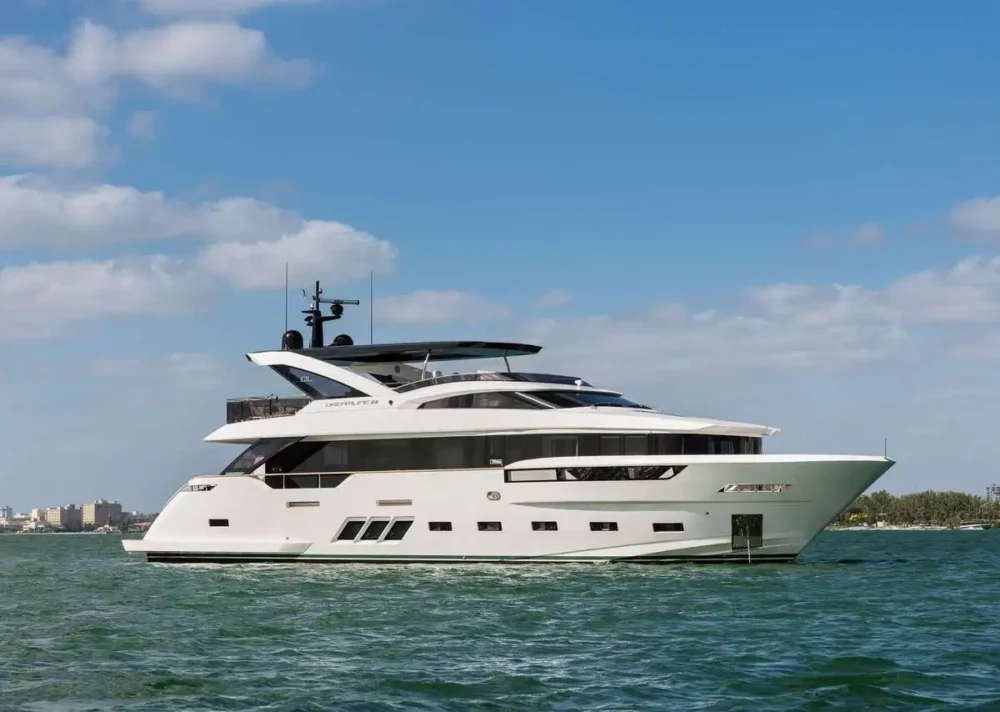 Top Bahamas Wedding Venues
With beautiful tropical landscapes and stunning seascapes, there is no shortage of breathtaking wedding venues for couples. From outdoor gardens to private villas, the Bahamas provide various options for couples to celebrate their special day.
A Bahamas Private Yacht
For a truly unique wedding experience, consider having your Bahamas wedding on a luxury yacht charter. After the ceremony and reception at the dock, set sail on your Bahamas honeymoon yacht charter. A private yacht honeymoon offers an intimate setting with excellent service, bespoke entertainment, food, and unforgettable views.
Sail through the turquoise waters of the Caribbean, exchanging your vows as the sun sets on the horizon. Your guests will be mesmerized by the Caribbean Sea's beauty while enjoying a delicious dinner and drinks. Return to port, bid farewell to your guests, and embark on your honeymoon. Remember, while underway, most yachts can accommodate 12 guests. However, depending on the location and yacht, you can have more guests at the marina or dock.
Grand Isle Resort and Spa
Grand Isle Resort and Spa is a luxury resort on the stunningly beautiful island of Great Exuma in the Bahamas. This exquisite destination offers couples a luxurious private paradise to relax, unwind and enjoy each other's company. Here, newlyweds can explore the natural beauty of the island, as well as its breathtaking beaches, coves, and lagoons.
The resort features an impressive selection of suites, villas, and penthouses, all with stunning ocean views or gardens. Every accommodation offers private balconies, separate sitting areas, and modern amenities. Those looking for a Bahamas wedding venue will especially love the romantic touches, private infinity pools, and patios with fire pits.
When it comes to activities, couples have plenty to choose from. They can snorkel or dive in the crystal-clear waters of the resort's private beach, take out a kayak or stand-up paddleboard, take a guided tour of the nearby cays, or enjoy a romantic sunset cruise. For golfers, there is an 18-hole championship course designed by Tom Weiskopf.
Grand Isle Resort and Spa also have a variety of spa treatments to choose from. Couples can book a romantic couples massage, indulge in a facial or body scrub, or relax in the steam room. Plenty of restaurants and bars are on-site, including the high-end Bahama Breeze restaurant and bar, where honeymooners can enjoy gourmet cuisine and craft cocktails while enjoying incredible ocean views.
Rose Island
Consider a Bahamas wedding at Rose Island Lighthouse for something more rustic and romantic. This historic lighthouse provides a picturesque backdrop with pink sands and luscious palms, creating a perfect setting for your special day. To make your ceremony even more memorable, you can take advantage of Rose Island's onsite wedding chapel and private beach.
Heritage National Park
The Bahamas are also home to some of the most beautiful botanical gardens in the world, making them ideal for those wanting an outdoor wedding. Stroll down nature trails and exchange your vows amid fragrant blooms at Clifton Heritage National Park.
How To Get To Your Honeymoon
Depending on your Bahamas wedding venue, you can arrive in the Bahamas with relative ease. Positioned just east of the Floridian coast, flying to the Bahamas is highly convenient. Nassau is the most trafficked and favored entry point, and its primary air terminal is the Lynden Pindling International Airport (NAS).
Moreover, connections to remote Out Islands can also be made from here. With direct flights from cities such as Miami, Atlanta, Charlotte, New York, and Philadelphia, Nassau can be reached from numerous destinations within a half-hour flight from Miami.
Romantic Bahamas Honeymoon
Overall, a Bahamas honeymoon charter is perfect for those looking for a romantic getaway in the Bahamas. Luxurious accommodations, exciting activities, and endless romantic places for relaxation and indulgence.
Please call us today at 1 (321) 777-1707 or describe Your Vacation Vision to help you plan your fully-crewed private luxury yachting vacation! Inquire as soon as possible about your custom, crewed yacht charter.
You make the memories. We make the arrangements.