Bahamian waters are a diver's dream, with many underwater creatures to see, such as green sea turtles, nurse sharks, angelfish, moray eels, octopus, and many different fish species. The Bahamas are home to some of the best diving and snorkeling in the world—experience one of the Bahamas' Diving and Snorkeling Charters as outlined here.
Since the Bahamas has been proactive in preserving its marine ecosystems, it has created an incredible environment for diving and snorkeling. There are many incredible dive sites, including the world's third-largest barrier reef off the shores of the Andros Islands.
To travel to the deepest depths possible, head over to Dean's Blue Hole, where you will find the Bahamas' deepest recorded blue hole. Make sure you don't forget to explore shipwrecks while submerged. The Santa Maria Teresa and Tears of Allah are two colossal historical wrecks that enchant divers.
The Exumas feature some of the world's most remarkable surroundings for diving and snorkeling —a great place to start deep-sea exploration.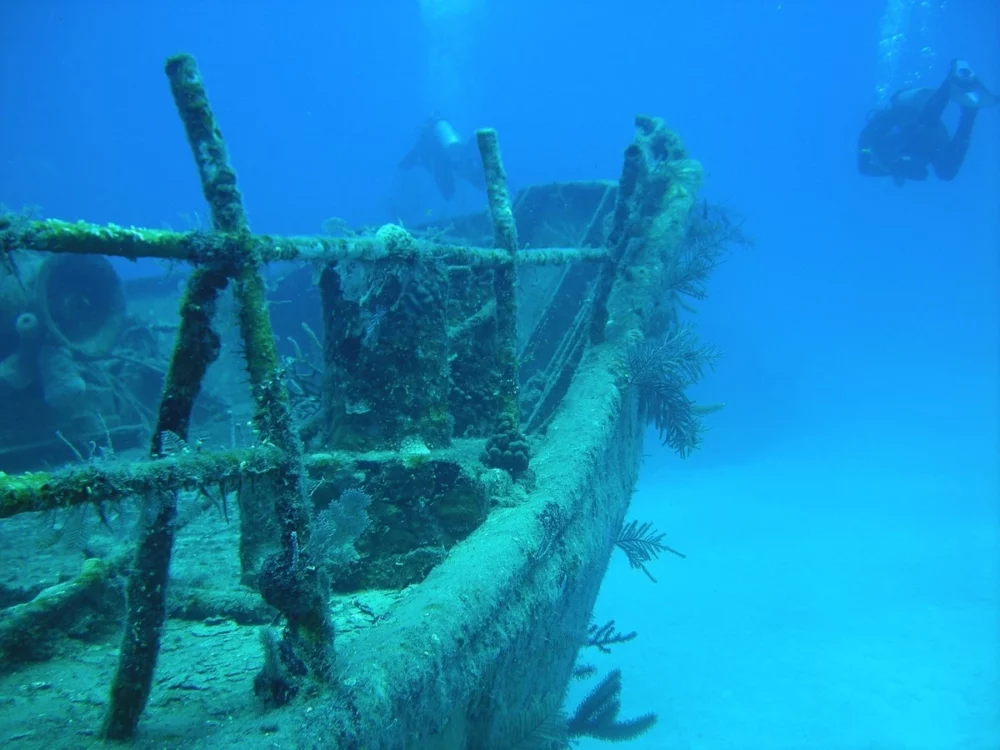 Bahamas Diving and Snorkeling Charters | Better than a Live-Aboard Dive Boat
While both luxury yachts and live-aboard dive boats offer unique experiences for divers, there are several reasons why a luxury yacht may be considered a superior choice for those seeking a truly luxurious and personalized diving and snorkeling experience in the Bahamas:
Comfort and Privacy
Luxury yachts provide outstanding comfort and privacy compared to live-aboard dive boats. Yachts also offer spacious and well-appointed cabins, stylish living areas, and ample deck space for socializing. You can enjoy the privacy of your cabin and luxurious amenities such as Jacuzzis, spa facilities, and entertainment systems. This comfort level allows you to unwind and rejuvenate after a day of diving or snorkeling.
Customization and Flexibility
Bahamas diving and snorkeling charters offer high customization and flexibility. You can design your itinerary, choosing the dive sites and snorkeling spots most appealing to you. Explore remote locations and discover hidden gems that may not be accessible to larger live-aboard dive boats. Moreover, the crew can tailor the experience to your preferences, ensuring your vacation is precisely how you envision it.
Personalized Service
Luxury yacht charters provide exceptional service with a dedicated crew that caters to your every need. The crew members are experienced professionals who prioritize your safety, comfort, and enjoyment. A luxury yacht's personalized attention and service elevates your diving and snorkeling vacation.
Exclusivity and Intimacy
Bahamas diving and snorkeling charters offer an intimate setting for you and your fellow passengers, making it a perfect choice for small groups, families, or couples seeking privacy. Unlike larger live-aboard dive boats that accommodate more people, yachts allow for a more exclusive and personal experience.
Culinary Delights
One of the highlights of a luxury yacht charter is the exceptional culinary experience. Onboard chefs prepare delectable meals using the finest ingredients tailored to your preferences and dietary requirements. From sumptuous breakfast spreads to gourmet dinners under the stars, the culinary offerings on a luxury yacht are a treat for your taste buds. You can savor the flavors of the Bahamas while enjoying the stunning ocean views.
Beyond Diving and Snorkeling
While the primary focus of a luxury yacht charter may be diving and snorkeling, it also offers opportunities to explore the Bahamas beyond the underwater realm. You can engage in activities such as visiting pristine beaches, engaging with local culture, indulging in water sports, or simply relaxing and enjoying the onboard amenities. The versatility of a luxury yacht ensures a well-rounded vacation experience.
Motor Yacht STARSHIP Offers Onboard Scuba
One stunning yacht that offers onboard Scuba is Motor Yacht STARSHIP (formerly M/Y SEANNA). This 185-foot motor yacht accommodates 12 guests in 6 luxurious staterooms. There are 4 king-size rooms and two twin rooms.
In addition to onboard scuba, STARSHIP has loads of fun water toys, such as:
2011 350 Yamaha 40′ Intrepid 400 towed tender
4x F5S Seabobs
E-foil
4x Yamaha VX Deluxe Waverunners
36-foot Water Slide from the sundeck to the water level
2x Single Person Inflatable Kayaks
2x Inflatable Paddleboards
1x Water skis
1x Wakeboard
Towable Banana
Full snorkel gear
14 sets of scuba gear – carry 12 dive tanks and a compressor
Deep-sea fishing gear – 10x fishing rods
Swimming Pool – 15 x 15 (Inflatable)
Trampoline – 15ft bouncer (Inflatable)
SWEET ESCAPE | Bahamas Diving and Snorkeling Charters
Another fantastic yacht that offers onboard scuba is SWEET ESCAPE. This 130-foot motor yacht accommodates 12 guests in 6 staterooms. There are three king-size rooms, a single room, and two twin rooms. Additionally, all have ensuite bathrooms.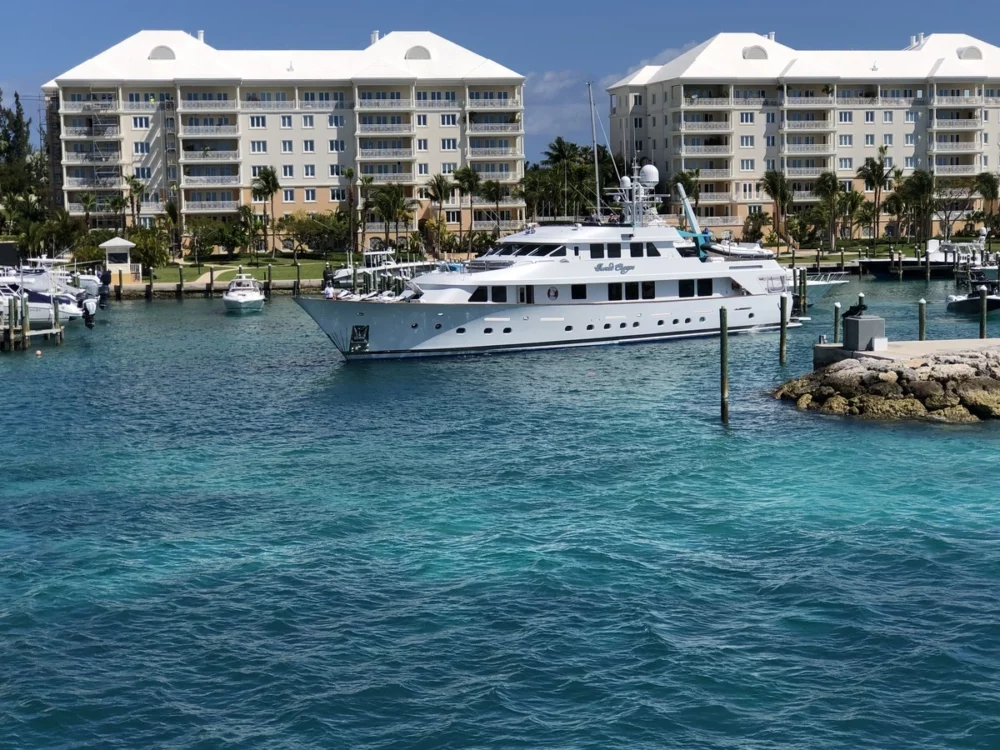 In addition to onboard scuba, SWEET ESCAPE has more water toys than you can enjoy in just a week! They include:
39' Nortech towed tender Trip 300hp Mercury Verado's
19' inflatable tender, AB inflatable with 150hp Yamaha outboard
3 Jet Skis (one designated for flyboarding)
1 x 6 man 19' Banana
2 x flat doughnuts
Flyboard
4 Seabobs (underwater scooters) F5 models
Giant Water Slide
2 Stand-Up Paddleboards
2 Inflatable Kayaks
Waterskis
Wakeboard
Drone, go pro, and for underwater photography enthusiasts, a Nauticam housing for our canon mark IV. ($10,000 package)
Kneeboard
SCUBA for Certified Divers Only
All New Scuba Gear
Extensive Fishing gear
Snorkel gear (New)
Water golf with tee-off pad and biodegradable golf balls
Related Article: Experience the Luxury, Convenience, and Adventure of a Scuba Yacht Charter
Please call us today at 1 (321) 777-1707 or describe Your Vacation Vision to help you plan your fully-crewed private luxury yachting vacation! Inquire as soon as possible about your custom, crewed yacht charter.
You make the memories. We make the arrangements.