An introduction to the award-winning Bahamas yacht SPIRIT, a 115-foot New Zealand Yacht. This extraordinary Bahamas Yacht Charter vessel exudes elegance and offers an unparalleled smooth ride. Her distinctive bow design ensures exceptional stability during your cruising adventures.
Moreover, she is the proud Superyacht of the Year award winner for her revolutionary design, efficiency, and construction, in addition to its interior design and exterior design spaces.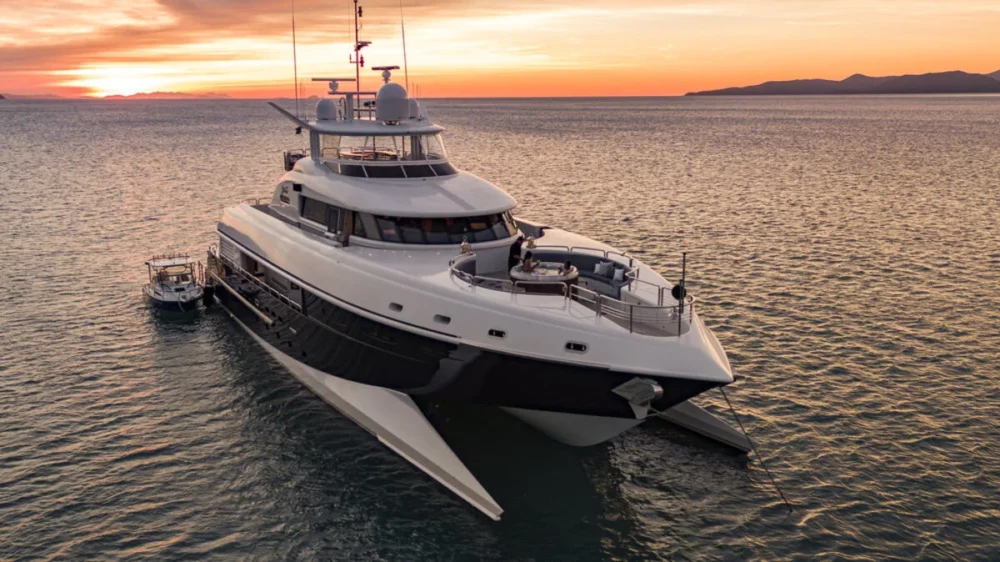 Chartering the Northeast this Summer!
Consider chartering MY SPIRIT this summer in the stunning Northeast region. Please check our latest special offers, as MY SPIRIT may have limited-time charter deals.
The Yacht MY SPIRIT
You will feel right at home when you step aboard MY SPIRIT. This stunning yacht features inviting indoor and outdoor amenities such as spacious dining and lounging areas. One outstanding element is the soothing sundeck jacuzzi. It is close to a spacious seating lounge, where you can unwind and soak in the passing scenery.
Accommodations
Retreat to the utmost comfort after a long day of fun. Aboard MY SPIRIT, you'll find five spacious guest cabins for ten guests. There is one 1 King cabin and four cabins with Queen-size beds. Two of the Queens can convert into twins.
Each cabin comes with its ensuite bathroom. The magnificent master suite offers generous living space. It has two office areas, stunning 180-degree views, and a private deck.
Water Toys Aboard SPIRIT
Onboard fun knows no bounds for both young and old, as MY SPIRIT offers an impressive array of water toys. Explore and enjoy every anchorage with toys such as:
28′ Cobra Rib Tender (Seats 12 people)
4 – iAQUA Sea Dart (Better than a SeaBob)
2 – Yamaha VX Series Jet Skis (3 Seater) – 55 knots Top Speed
1 – Yamaha Jet Pod
10 Set Snorkel Equipment
Pro- Fishing Equipment (Excursion Guide Required)
Tubing (Tender Pulled)
4 Big Seabobs
2 Small Seabobs
6 Inflatable SUPs
1 Solid SUP
2 Wakeboards
Swimming platform with large beach club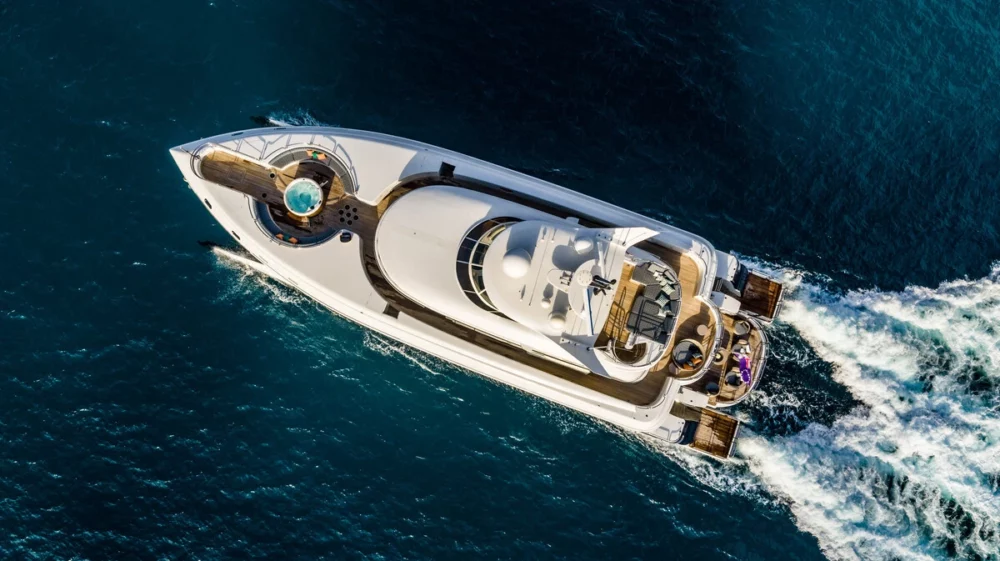 The Crew of Award-Winning Yacht SPIRIT
A professional 7-member crew is ready to serve you. Below, meet the captain and the chef:
Captain David Coates Palgrave
Originally from Zimbabwe, David developed his love for the ocean in South Africa. With a 22-year career on large yachts worldwide, he now captains MY SPIRIT, bringing excitement to their first season together. He enjoys kayaking, sailing, rugby, and adventure sports on land and sea.
Chef Liebe De Klerk
Liebe, raised on a South African farm, discovered her passion for food from her mother and grandmother. Her artistic soul led her to explore European art and fueled her love for cooking.
Liebe's culinary artistry extends to a delightful range of dishes that will tantalize your taste buds aboard MY SPIRIT. Some of her exquisite specialties include:
Chicken Ballantine with Chili and Lemon Palm Sugar Dressing and a refreshing Bulgur Wheat Salad.
Parmesan Gougere, paired perfectly with Sliced Pastrami and Horse Radish Catalan.
For dessert, indulge in:
A tasty assortment of Homemade Ice Cream and Sorbets.
A delicious Baked Cheesecake crowned with Swiss Meringue served alongside luscious Dulce de Leche.
The chef carefully crafts each dish for a memorable and satisfying culinary experience.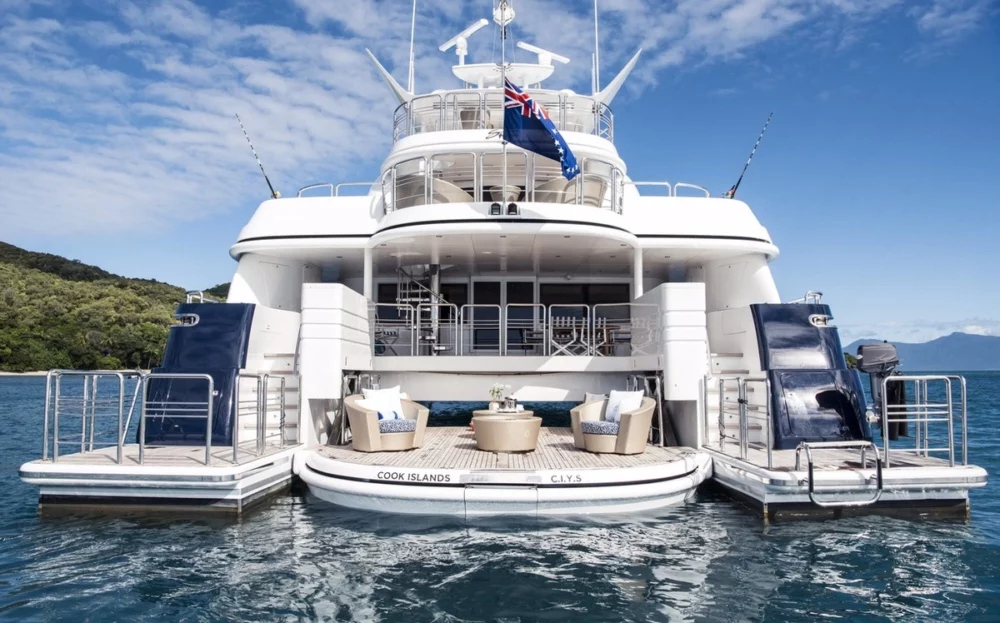 Places to Visit on Award-Winning Bahamas Yacht SPIRIT
The Exumas
The Exumas are an archipelago of 365 cays and islands located 35 miles southeast of Nassau. This pristine area is a perfect place to spend your yacht charter vacation. These islands include the three central regions—Great Exuma, Little Exuma, and The Exuma Cays. Each destination has something different to explore.
George Town is the capital and largest town in the region. On nearby Little Exuma, you can find Pelican Beach. This beach also bears the name "Tropic of Cancer Beach." The island chain spans 130 miles and has an area of 72 square miles.
The Abacos on Award-Winning Bahamas Yacht MY SPIRIT
The Abacos Islands are a popular destination for visitors worldwide, not just because of the sea. Along with it, the area offers lovely colonial towns, championship golf courses, and an abundance of bars, restaurants, and resorts. A yacht charter is a great way to explore the sites on land and those hidden bays and sea life.
Sandy Point Beach on Great Abaco Island is famous for its stunningly soft sand and mesmerizing sunsets.
Green Turtle Cay is also well-known for its culture. It is home to a museum, sculpture gardens, and delightful dining at the Green Turtle Club. Hope Town has a historically rich lighthouse. It is a bright candy-striped beacon on the southeastern reef that you can see from miles away.
The Northeast on MY SPIRIT
Embarking on a yacht journey in the Northeast opens up a treasure trove of captivating destinations to explore. From charming coastal towns to breathtaking natural wonders, here are some must-visit places to include in your itinerary.
Begin your adventure by sailing to the historic and vibrant city of Boston. Enjoy rich American history while enjoying the city's lively atmosphere and waterfront dining.
Continue eastward to the enchanting islands of Martha's Vineyard and Nantucket, renowned for their idyllic beaches, charming villages, and upscale shops.
Cruise further north to the scenic shores of Maine. Discover picturesque harbors like Camden and Boothbay there, indulge in fresh lobster, and witness stunning coastal landscapes along Acadia National Park.
Make your way to Newport, Rhode Island, for a touch of European charm. It is famous for its opulent mansions, world-class sailing events, and vibrant waterfront scenes.
Don't miss the opportunity to explore the breathtaking landscapes of the rugged coastline on Cape Cod. Enjoy its pristine beaches, quaint seaside towns, and picturesque lighthouses.
Yes, you can enjoy MY SPIRIT at an incredible rate for the coming season in the Bahamas.
Please call us today at 1 (321) 777-1707 or describe Your Vacation Vision to help you plan your fully-crewed private luxury yachting vacation! Inquire as soon as possible about your custom, crewed yacht charter.
You make the memories. We make the arrangements.