Explore Cape Cod on a Luxury Yacht Charter Adventure
Steeped in American history, Cape Cod, Massachusetts, is a sandy, hook-shaped peninsula extending into the Atlantic Ocean. And, because it has miles of beaches, it's a popular summertime destination. The area boasts fabulous beaches, quaint villages, seafood restaurants, lighthouses, and exciting places to explore.
And Cape Cod is a destination the whole family will enjoy while on a New England Boat Charter.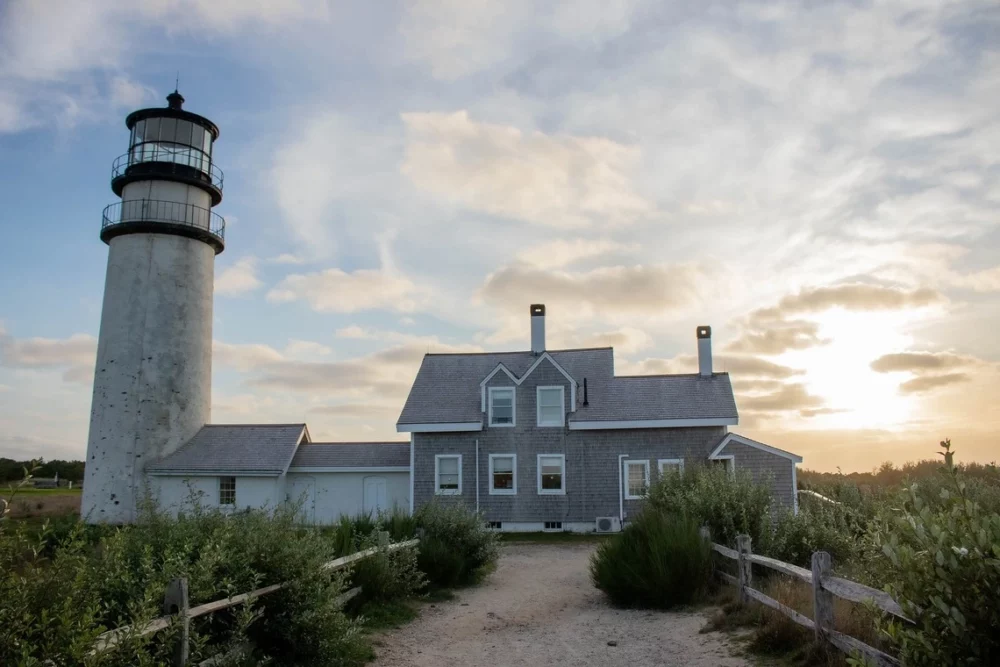 A Brief History of Cape Cod
Cape Cod holds a significant place in American history. Here, the Pilgrims landed in 1620, seeking religious freedom and establishing the Plymouth Colony.
Due to storms and navigational challenges, they initially intended to settle near the mouth of the Hudson River. However, they made landfall at Cape Cod, specifically at a location they named Provincetown Harbor. This event marked the beginning of the Plymouth Colony, one of North America's earliest English settlements.
The Cape's strategic location made it an important trade and fishing hub during the colonial era. Today, visitors can explore historical landmarks such as the Pilgrim Monument in Provincetown or visit the Cape Cod Museum of Natural History to delve into the region's past.
Weather
Summers are warm, humid, and windy. The winters are very cold, wet, and extremely windy. It is partly cloudy year-round. Over the year, the temperature varies from 24°F to 78°F and is rarely below 10°F or above 85°F.
It rarely gets scorching. Because of the beautiful weather, summer is the perfect time to visit.
Places to See
Provincetown: Explore the vibrant arts scene, visit the Pilgrim Monument, and enjoy the stunning beaches of this charming town.
Chatham Lighthouse: Admire the iconic lighthouse and take in the picturesque views of Chatham's beautiful coastline.
Cape Cod National Seashore: Discover the unspoiled beauty of this protected area, which includes pristine beaches, dunes, and scenic trails.
Nauset Beach: Relax on the sandy shores and witness the powerful waves crashing against the famous Nauset Beach Lighthouse.
Martha's Vineyard: Sail to this picturesque island and explore its quaint towns, stunning beaches, and upscale boutiques.
Nantucket: Visit the historic whaling town of Nantucket, known for its cobblestone streets, charming architecture, and world-class restaurants.
Wellfleet Bay Wildlife Sanctuary: Take a nature walk through this serene sanctuary, home to diverse bird species, marshes, and scenic trails.
Cape Cod Canal: Cruise through the Cape Cod Canal, a waterway built to connect Cape Cod Bay to Buzzards Bay, and witness the impressive engineering feat.
Nickerson State Park: Enjoy outdoor activities like hiking, biking, and fishing in this picturesque state park known for its pristine ponds and woodlands.
In Hyannis Port, visit the John F. Kennedy Hyannis Museum.
In Eastham, dine at Local Break Restaurant. Taste local draft beer, homemade sangria, and seriously fantastic food.
Hike Nauset Marsh Trail, The Lady Slipper Trail, Red Maple Swamp Trail, or Fort Hill Trail.
Watch wildlife at the Cape Cod National Seashore. You will see beautiful seaside landscapes, wooded areas, and ponds.
Things to Do
Revisit history at places such as the Pilgrim Monument in Provincetown, Nauset Lighthouse in Eastham, and the John F. Kennedy Memorial in Hyannis.
For a relaxing day trip, take a guided tour of Provincetown.
Take a baby goat yoga class at Baby Goat Yoga of Cape Cod in Barnstable.
Visit the Cape Cod Winery in Foulmouth. Here you can taste locally-produced wines such as chardonnay, riesling, and even mermaid water!
Learn about cranberries at Cape Cod Cranberry Bog Tours.
Visit the Heritage Museum and Gardens in Sandwich. Stroll the beautiful grounds, browse the museums, and take a spin on the vintage carousel.
Golf. In addition to private courses, there are 27 public, daily-fee golf courses on Cape Cod.
Taste the flavors of Cape Cod at a food festival. Events are held in the Spring, Summer, Fall, and Winter, highlighting New England favorites at Chowder Fest, Oyster Fest, and Octoberfest.
Kayaking or Paddleboarding: Venture into the calm waters of Cape Cod's harbors and estuaries, discovering hidden coves and observing wildlife
Whale Watching: Join a whale-watching tour and witness the majestic creatures of the sea.
Relaxation and Spa: Unwind and pamper yourself with a luxurious spa experience.
Marinas | Cape Cod
Hyannis Marina is a well-protected natural deep-water harbor with a resort marina accommodating day sailors to deep draft megayachts. In addition to gas, the marina also has laundry, restrooms, showers, a playground, and restaurants. This marina is near Nantucket and Martha's Vineyard.
Provincetown Marina offers 100 slips accommodating vessels up to 300 feet and 85 moorings with launch service. The marina has 725 feet of a concrete breakwater and has electrical services up to 480 volt 3 phase, fuel dock, pump-out services, security, outdoor captain's lounge, showers, bathrooms, laundry, and free Wi-Fi.
Oyster River Boatyard West Chatham has composite plastic docks, docking assistance, dockside fresh water and electricity, and fuel. The marina also has restrooms, a marine store, picnic tables, a beach area, vending machine drinks, ice, and direct access to Nantucket and Martha's Vineyard.
Sample One-Week Cape Cod Itinerary
Please note that this is just a sample itinerary. We will work with you to create a trip based on your preferences and interests. Weather conditions and other factors may also influence the itinerary. A sailing yacht such as VANISHING POINT would be a good choice for this itinerary.
Hyannis Harbor | Day 1
Embark on your luxury yacht charter in Hyannis Harbor.
Explore the charming town of Hyannis, visit the John F. Kennedy Hyannis Museum, and indulge in waterfront dining.
Enjoy a relaxing evening aboard your yacht, appreciating the beautiful harbor views.
Martha's Vineyard | Day 2
Set sail to Martha's Vineyard, a picturesque island off the coast of Cape Cod.
Explore the towns of Edgartown, Oak Bluffs, and Vineyard Haven, known for their scenic beauty, historic architecture, and boutique shops.
Spend the afternoon lounging on the pristine beaches or visiting the Martha's Vineyard Museum.
Enjoy a delicious seafood dinner at one of the island's renowned restaurants.
Nantucket | Day 3
Cruise to Nantucket, another charming island known for its cobblestone streets, upscale boutiques, and historic landmarks.
Explore the town center and visit the Whaling Museum to learn about Nantucket's rich maritime history.
Enjoy leisurely walks along the beach or rent bicycles to explore the island's scenic bike trails.
Indulge in a gourmet dinner featuring fresh seafood and local specialties.
Cape Cod National Seashore | Day 4
Sail to the Cape Cod National Seashore, a pristine stretch of coastline known for its sandy beaches, dunes, and breathtaking vistas.
Anchor near Nauset Beach and spend the day sunbathing, swimming, and enjoying water sports such as kayaking or paddleboarding.
Take a nature walk along the scenic trails of the national seashore and appreciate the region's natural beauty.
Provincetown | Day 5
Cruise to Provincetown, a vibrant town at the tip of Cape Cod known for its lively arts scene.
Explore the art galleries, boutique shops, and bustling Commercial Street.
Visit the Pilgrim Monument, offering panoramic views of the town and surrounding area.
Enjoy a delicious dinner at one of Provincetown's renowned seafood restaurants.
Chatham | Day 6
Sail to Chatham, a picturesque town famous for its lighthouse, charming Main Street, and beautiful beaches.
Visit the Chatham Lighthouse, stroll along the scenic shorelines, and browse the boutiques and art galleries.
Opt for a fishing expedition or a relaxing afternoon of golfing at one of the local courses.
Savor a gourmet dinner featuring local ingredients and Cape Cod flavors.
Return to Hyannis Harbor | Day 7
Return to Hyannis Harbor, savoring the final moments of your luxury yacht charter.
Spend the day exploring the harbor area, shopping for souvenirs, or simply relaxing on your yacht's deck.
Enjoy a farewell dinner at a waterfront restaurant, reminiscing about your unforgettable week exploring the beauty of Cape Cod.
---
Please call us today at 1 (321) 777-1707 or describe Your Vacation Vision to help you plan your fully-crewed private luxury yachting vacation! Inquire as soon as possible about your custom, crewed yacht charter.
You make the memories. We make the arrangements.