Newport Charter Itinerary | Coastal Highlights
Start your Newport Charter Itinerary from one of the many marinas in the town. Explore the town before you board your yacht or on your return. There are many sights to see, shops to explore, and food to sample.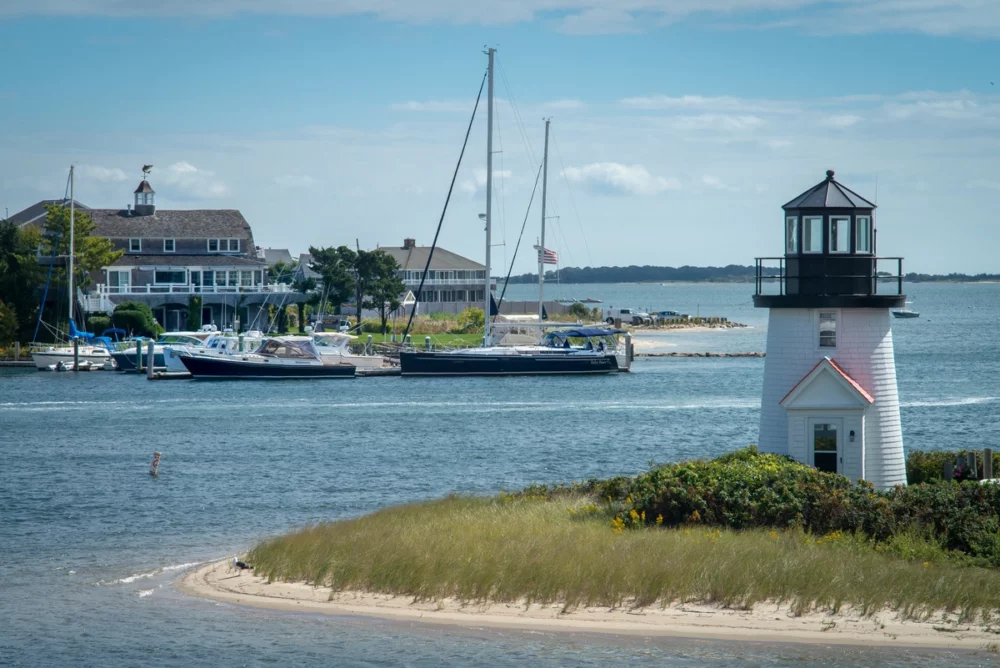 On the first day of your Newport charter itinerary, sail towards Block Island, a picturesque destination known for its beautiful beaches and charming coastal village.
Enjoy a leisurely cruise along the coast, taking in the scenic views of the Atlantic Ocean. Once you arrive at Block Island, drop anchor in one of its serene harbors and spend the afternoon exploring its natural beauty.
Visit Mohegan Bluffs for stunning cliffside views or relax on the pristine beaches. In the evening, savor delicious seafood at one of the island's waterfront restaurants.
As the sun rises, depart Block Island and head towards Nantucket, an enchanting island with rich maritime history. Sail across the waters, passing beautiful lighthouses and enjoying the refreshing sea breeze.
Upon arrival, anchor in Nantucket Harbor, located in the heart of the island's historic district. Spend the day exploring the cobblestone streets lined with charming boutiques, art galleries, and restaurants.
Don't miss visiting the Whaling Museum, which offers fascinating insights into Nantucket's seafaring past.
Continue your Newport charter itinerary to Martha's Vineyard, a beloved summer destination with a unique blend of natural beauty and island charm. Cruise along the coast, admiring the iconic Gingerbread Cottages in Oak Bluffs and the scenic cliffs of Aquinnah.
Anchor in the bustling Edgartown Harbor, where you can explore the historic whaling town with its stately captain's homes and boutique shops. Enjoy a leisurely bike ride around the island or relax on one of the island's pristine beaches.
Depart Martha's Vineyard and sail towards Hadley's Harbor, a hidden gem on the secluded Naushon Island. This private, tranquil harbor is perfect for unwinding and enjoying natural surroundings.
Take a refreshing dip in the crystal-clear waters or explore the island's nature trails. Naushon Island is also home to the Naushon Island Trust, a conservation area that offers guided tours to learn about the island's unique ecology and wildlife.
Day 5 | Hadley's Harbor to Hyannis
On your final day, go from Hadley's Harbor to Hyannis, a vibrant town on Cape Cod. As you sail towards Hyannis, enjoy the scenic coastal views and watch for marine wildlife.
Once you arrive, dock at Hyannis Marina and explore the bustling Main Street, filled with shops, restaurants, and art galleries. Visit the John F. Kennedy Hyannis Museum to learn about the area's connection to the Kennedy family. If time permits, take a short trip to the nearby Hyannis Port to see the famous Kennedy Compound.
Day 6 | Hyannis
Leave early and cruise along the serrated coastline of Cape Cod, perhaps stopping for lunch and some exploration in one of the many coves marked by Cape villages. Hyannis has wonderful seafood restaurants, and you can explore the John F. Kennedy Memorial Museum before returning to the yacht for the evening.
Day 7 | End of Newport Charter Itinerary
Your captain will head back to Newport while you're still sleeping. You can enjoy breakfast and watch the varied New England scenery drift past. Have a last bowl of chowder or a lobster dinner before flying home—the end of your Newport Charter Itinerary.
Suggested Yachts
A wide range of yachts is available to explore New England's beautiful coastline. Here are a few:
Please call us today at 1 (321) 777-1707 or describe Your Vacation Vision to help you plan your fully-crewed private luxury yachting vacation! Inquire as soon as possible about your custom, crewed yacht charter.
You make the memories. We make the arrangements.