Are you looking for a unique vacation experience close to home? Consider booking a New England Boat Charter for your next summer or early fall getaway! You and your loved ones can explore the beauty of the New England coastline from the comfort of your own crewed, private boat.
Exploring New England can be via a crewed charter motor or sailing yacht.
Whether you're looking to relax and soak in the sights or experience the thrill of exploring a new place, a New England boat charter will provide you with an unforgettable experience.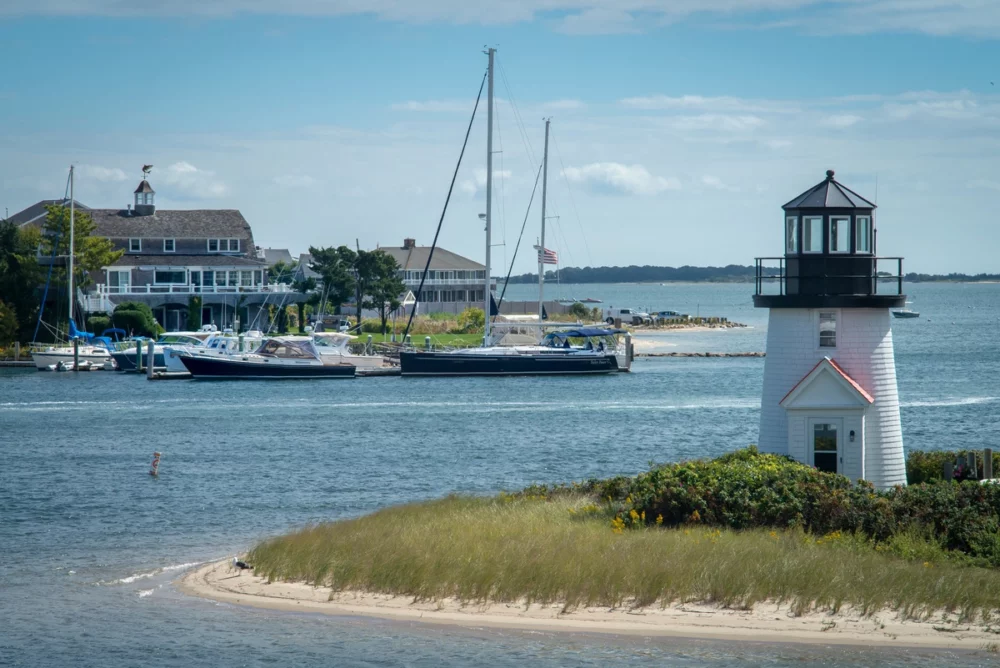 Places to Visit on a New England Boat Charter
With the vast coastlines and islands, you'll find a great spot to drop anchor and explore. From Rhode Island to Cape Cod, Martha's Vineyard, Nantucket, and Maine, there are endless possibilities for cruising along the New England coastline, and here are just a few highlights.
Newport, Rhode Island
In Rhode Island, you can explore Newport, the 'City by the Sea.' You can cruise past Gilded Age mansions, famous lighthouses, and magnificent landscapes here. Visit the White Horse Tavern, the oldest tavern in America, established in 1673, or stroll through the historic streets and check out some unique shops and restaurants.
With its picturesque harbor and miles of coastline, Newport, Rhode Island, is an ideal spot for sailing and exploring. The city is a charming seaside town with many boutique shops, restaurants, galleries, and parks. Cruise around Newport's harbor to get a unique view of the coastline and some of the most beautiful lighthouses.
There's no shortage of exciting activities in Newport, either. Check out one of the numerous historical attractions, such as The Breakers Mansion, or stroll along the Cliff Walk.
Block Island
Just off the coast of Rhode Island lies Block Island. This island is an ideal destination for sailing, with its white sand beaches, nature trails, and thriving wildlife. Block Island is great for swimming, fishing, bird watching, and exploring. You can also relax at one of the many beachfront restaurants and enjoy some delicious seafood.
Sail around the island and admire its stunning beaches, rolling hills, and unique lighthouses. Be sure also to check out the shops and restaurants in the charming town of New Shoreham. You can also rent a bike to explore the island at your own pace or walk along some of the island's many trails and paths.
For a more adventurous experience, try a kayaking tour of Block Island's Great Salt Pond. This tour will take you through the secluded bays and inlets of the island, offering you up-close views of the wildlife and nature that make Block Island so unique. There are also plenty of fishing spots on the island, so if you're an angler, bring your rod and tackle!
Martha's Vineyard
Just south of Cape Cod, Martha's Vineyard is an island of natural beauty and pristine beaches. The beautiful landscapes and vibrant local culture make Martha's Vineyard an ideal spot to explore by yacht. Several harbors on the island are perfect for docking your boats, such as Vineyard Haven and Oak Bluffs.
In addition to its gorgeous coastline, Martha's Vineyard offers a variety of activities for those taking a New England boat charter. From lighthouses and vineyards to fishing charters, golf courses, and shopping, there is something for everyone on the island. Explore charming towns and villages, like Edgartown and Menemsha, for great shopping, dining, and sightseeing.
Nantucket
Located just off the coast of Massachusetts, Nantucket offers visitors a unique island experience with its cobblestone streets, sandy beaches, and quaint downtown area. With no bridges connecting Nantucket to the mainland, the only way to get there is by boat.
Nantucket has activities to explore during your New England Yacht Charter Vacation. Spend your days fishing, sailing, or exploring secluded coves and beaches. Visit the historic whaling museum and even participate in whale-watching while you're there! You can easily spend a week on Nantucket with much to see and do.
In addition to all the fun activities, Nantucket is home to some of the best seafood restaurants in New England. You can't go wrong dining in Nantucket, from lobster rolls to clam chowder.
Maine | New England Boat Charter
Maine offers stunning scenery, rugged shorelines, and a wealth of marine wildlife, making it an ideal New England Yacht Charter destination. Whether you're interested in exploring the tranquil waters of the Kennebec River or taking in the sweeping views of the Atlantic Ocean, Maine is an excellent place to sail your charter yacht.
Famous sights to explore include the dramatic Penobscot Bay, Boothbay Harbor, and the tranquil islands of Casco Bay. You can find a variety of marine life, such as porpoises, seals, and whales, in the waters surrounding Maine's coast. The best places to explore on your New England Yacht Charter are Muscongus Bay, the Mount Desert Islands, and Bar Harbor.
New Hampshire
In New Hampshire, you'll enjoy some of the region's most beautiful harbors and inlets while cruising along the Atlantic coast. You'll find plenty of places to explore and relax, from Portsmouth to Rye. Portsmouth is a great place to start your voyage, especially if you want to watch sailing events.
You'll have access to the Atlantic and Piscataqua Rivers, where you can participate in exciting races. Portsmouth also has some excellent restaurants to enjoy before continuing your New England yacht charter journey.
The Rye harbor is an ideal New England yacht charter stop. You'll be able to dock at one of the many moorings and enjoy the stunning views of the Isles of Shoals. This area is also known for whale watching and fishing, so bring your gear if you'd like to participate in these activities.
Connecticut
Connecticut's small but mighty state has excellent nautical options for its visitors. With some of the most beautiful coastlines in the entire country, you'll be able to enjoy a peaceful sailing experience. From exploring charming lighthouses to discovering hidden coves, you'll find plenty of exciting new adventures in Connecticut.
In the Long Island Sound area, you'll find towns like Greenwich, Stamford, and Norwalk, which offer great beaches, marinas, and restaurants. Block and Fishers Island islands are great spots for fishing or watching wildlife. Venture further up the coast and explore towns like Mystic, Stonington, and Essex, with rich maritime histories and plenty of boat-friendly harbors.
New York
Just across the sound, you can also charter a yacht from New York's Long Island. Visit the Hamptons and many coastal islands for a luxurious summer vacation on the water. Try surfing in Montauk, known as "the end," for being the farthest eastern point of Long Island. Nearby, sail to Sag Harbor for outstanding scenery, food, and many activities.
Play golf, taste wine, or try fishing in the Long Island Sound. While less common, there can also be options to charter a yacht from New York City directly, so please inquire about the latest opportunities.
New England Boat Charters
New England offers a variety of sailing yachts, as well as motor yachts for charter. For a refreshing and authentic experience, choose a sailboat and partake in some of the fun! Below are a few highlighted boats, but please get in touch with us for more options and availability.
When To Take a New England Charter
The season for sailing in New England typically runs from May through September, with June and July offering the most pleasant weather for sailing. During this time, you'll be able to take advantage of the mild weather and tranquil waters of New England's coastal towns and islands. For other New England boat charter locations close to the U.S., consider Florida, the USVI, BVI, or the Bahamas.
Please call us today at 1 (321) 777-1707 or describe Your Vacation Vision to help you plan your fully-crewed private luxury yachting vacation! Inquire as soon as possible about your custom, crewed yacht charter.
You make the memories. We make the arrangements.