Maine Yacht Charters | Unforgettable Adventures
Maine is the northernmost state in the northeastern United States. It is known for its scenic, jagged, mostly rocky coastline, low, rolling mountains, heavily forested interior, and picturesque waterways. Here you'll find the freshest seafood, such as fish, lobsters, and clams. On Maine yacht charters, you can experience all this area has to offer.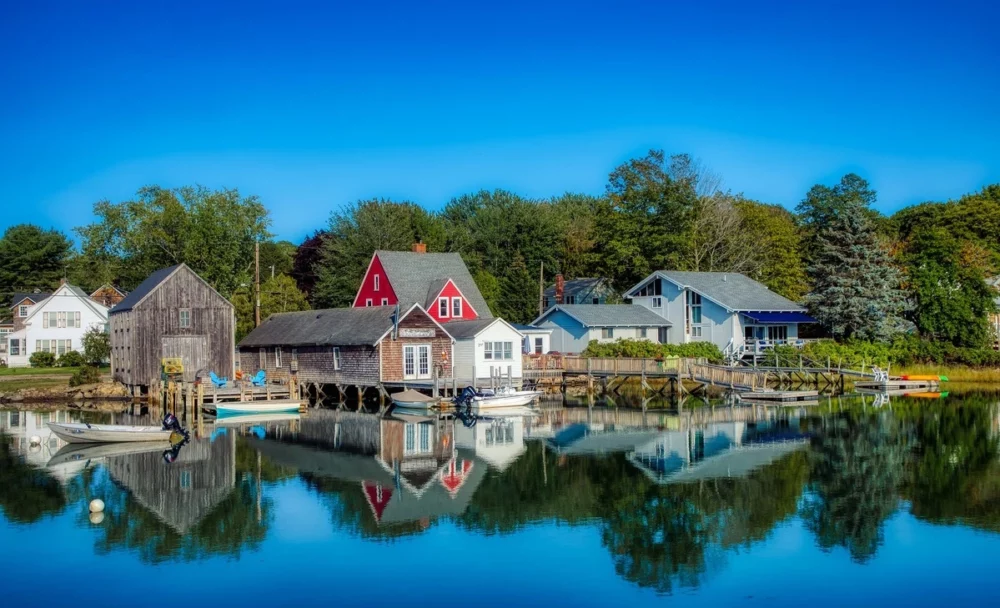 The Maine coast juts out to sea and curves inland with hundreds of harbors, inlets, and rivers. With over 5,000 miles of coast, including islands, the best way to explore is on a Maine yacht charter.
Climate and Weather
Located in New England, Maine has a humid continental climate with warm summers and cold winters. Summers have an average high temperature of 70°F (21.1°C) in the peak of July. Nights are comfortable during the summer season.
5 Can't-Miss Stops | Maine Yacht Charters
Maine is an idyllic spot for a luxury yacht charter, boasting some of the most beautiful natural scenery in the United States. Here are five memorable stops on your Maine Yacht Charter.
Portland Head Light
If you're looking for the most iconic stop on your luxury yacht charter in Maine, look no further than Portland Head Light. This historic lighthouse, which dates back to 1791, is situated at the entrance of Casco Bay. Wander through its grounds, take pictures of the stunning view, and even tour the lighthouse.
The views from here are simply breathtaking. The surrounding area has many places to explore, including Fort Williams Park and Two Lights State Park. Don't forget to bring your camera to capture the incredible scenery!
Acadia National Park
Located on the stunning Mount Desert Island, Acadia National Park is a must-see destination on your luxury yacht charter in Maine. With more than forty miles of rugged, rocky coastline, there's something for everyone to explore. Start your journey at the mouth of the Somes Sound, home to some of the deepest fjords in the US.
At the center is Cadillac Mountain, the highest point on the east coast. Make sure you take time to admire the panoramic views from the top. As you sail around Acadia National Park, you can also expect to see whales, porpoises, and seals as you explore the diverse marine life here.
The Bold Coast
For a truly unique experience, no Maine yacht charter would be complete without a trip along the Bold Coast. The Bold Coast is known for its rugged shoreline; if you're lucky, you might even spot some seals or whales along your journey.
As you venture farther along the coast, you'll come across some of the more remote islands and coves, providing a peaceful escape from the rest of the world.
The Bold Coast is located in the extreme northeastern corner of Maine and is bordered by Lubec to the west and Cutler to the east. The coastline stretches along Machias Bay, making it a great place to sail or drop anchor overnight.
Monhegan Island
Nestled off the coast of Maine, Monhegan Island is a nature-lovers paradise. This unspoiled island offers miles of rugged shoreline, picturesque harbors, and charming village streets.
Monhegan Island is a great destination for outdoor enthusiasts. Enjoy spectacular ocean views from atop the rocky bluffs, stroll along the winding trails of the Nature Conservancy preserve, or explore the island's many lighthouses. Try kayaking, whale watching, or fishing if you're feeling adventurous.
Portland Harbor
On the north side of Casco Bay in Maine, Portland Harbor is one of the most beautiful spots to visit while chartering a yacht in Maine. It has a rich culture, fantastic restaurants, and natural beauty. Portland Harbor is a great place for an afternoon of exploration or resting after a long day on the open sea.
The waterfront is also home to many attractions, including the Maine Narrow Gauge Railroad Co. & Museum, which features authentic trains from 1866 to the present day. There are also lots of galleries and museums to explore.
Things to See and Do on Maine Yacht Charters
Visit Baxter State Park. For outdoor enthusiasts, spend a night watching stars and listening to the quiet wilderness at this park. Moreover, it is where the 5267-foot mountain forms the bedrock of one of the unique state parks in the country.
Go white-water rafting on the Kennebec River.
Explore the Maine Maritime Museum on the banks of the Kennebec River in historic Bath.
Walk with your dog on one of Maine's many pet-friendly beaches.
Boost your well-being at a luxurious spa or wellness retreat.
Sail the coast and enjoy secluded bays, fresh fish, and lobster.
Maine Marinas
Some popular marinas in Maine include Fore Points Marina in Portland. And The Harborside Hotel, Spa & Marina in Bar Harbor, Landings Marina in Rockland, and Boothbay Harbor Marina in Boothbay.
Let us help you arrange your Maine yacht charter vacation.
5 Cabins
Year/Rebuilt: 2010 Refit:
Built: 2010
$199,000 - $220,000 /wk
164.00 Ft Power
6 Cabins
Year/Rebuilt: 2008 Refit:
Built: 2008
$195,000 - $225,000 /wk
163.00 Ft Power
5 Cabins
Year/Rebuilt: 2006 Refit:
Built: 2006
$160,000 /wk
157.00 Ft Power
Please call us today at 1 (321) 777-1707 or describe Your Vacation Vision to help you plan your fully-crewed private luxury yachting vacation! Inquire as soon as possible about your custom, crewed yacht charter.
You make the memories. We make the arrangements.