Southwest Harbor
Southwest Harbor, Maine, is a mellow district on Mount Desert Island. Several villages comprise the area: Southwest Harbor, Manset, Seawall, Wonderland, and Pemetic Hills.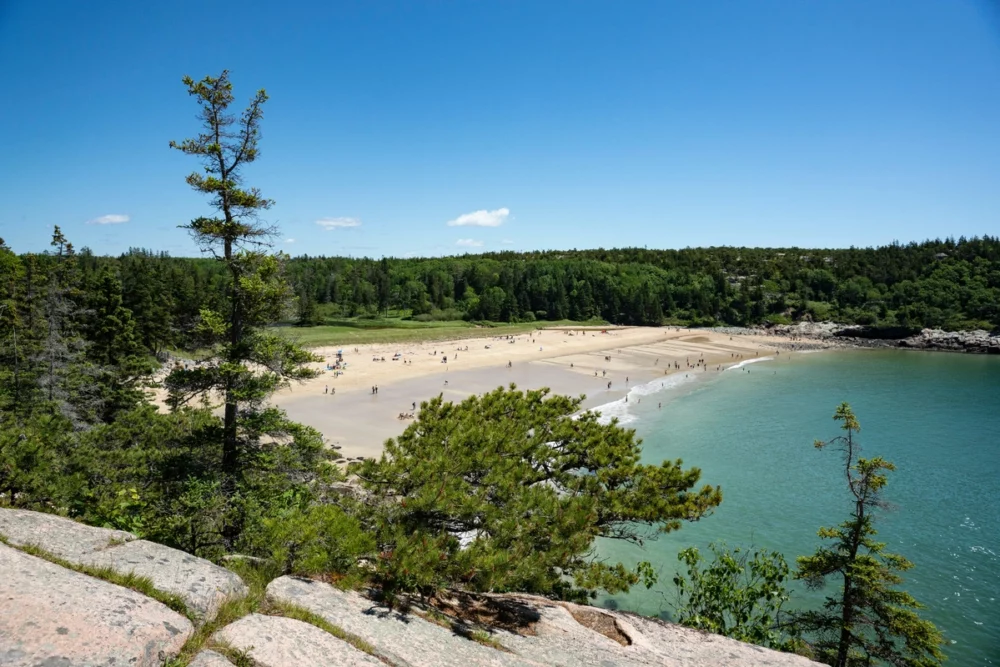 A Brief History
Southwest Harbor, Maine, located on Mount Desert Island, has a fascinating history deeply connected to the sea. Native Americans first inhabited the area. Later, European settlers arrived, drawn by the fertile land and promising opportunities.
In the 19th century, shipbuilding and fishing became major industries, contributing to the town's growth. With the establishment of Acadia National Park in 1919, tourism flourished. Today, Southwest Harbor preserves its rich maritime heritage, attracting visitors with its charming coastal atmosphere and historical traditions.
Weather
The highest average temperature in Southwest Harbor for July is 67 degrees. The lowest average temperature for January is 24 degrees. October is the rainiest month. The air quality index here is excellent and is 30% better than the national average.
Places to see
Downtown: Stroll through the charming downtown area, where you'll discover many crafts shops, cozy cafes, and unique boutique stores.
Southwest Harbor and Somes Sound: Experience the harbor's beauty and sound by canoeing, kayaking, or stand-up paddleboarding. These scenic waterways provide a peaceful escape and an opportunity to immerse yourself in the tranquility of the surroundings. Alternatively, relax on the beach and soak up the sun's rays while enjoying the stunning vistas.
Acadian Art Galleries: Immerse yourself in the local art scene by visiting the Clark Point Gallery and Acadia Photo School. Admire the beautiful depictions of sailboats, granite cliffs, and rocky shores of Acadia by talented local artists. These galleries offer a glimpse into the artistic soul of the region and provide a chance to take home a unique piece of art.
Acadia National Forest: Nature enthusiasts and hikers will find solace in the Acadia National Forest, which boasts an extensive network of 158 miles of hiking trails.
Bar Harbor: Just a short distance from Southwest Harbor, the town of Bar Harbor offers a lively atmosphere, bustling streets, and an array of dining options. Indulge in fresh seafood, explore quaint shops, and immerse yourself in the vibrant culture of this neighboring town.
Southwest Harbor | Things to do
Annual Butterfly Release: Witness the enchanting annual Butterfly Release held in July at the Charlotte Rhoades Garden and Butterfly Park. Hundreds of butterflies are released, creating a colorful and magical spectacle.
Take a ferry to Islesboro on Little Cranberry Island, then walk around the island. Afterward, enjoy lunch or dinner at the Isleford Dock restaurant.
Shop downtown. Here you will find crafts, cafes, and unique shops.
Canoe, Kayak, or SUP around the scenic Southwest Harbor and Somes Sound. In addition to active adventures, you can also spend quiet time on the beach.
Browse local Acadian art galleries, Clark Point Gallery, and Acadia Photo School to see local artists' beautiful depictions of the sailboats, granite cliffs, and rocky shores of Acadia.
Hike. The Acadia National Forest has 158 miles of hiking trails where you can encounter animals, plants, and landscapes.
Southwest Harbor | Marinas
Dysarts Great Harbor Marina offers 50 berth floating concrete docks, transient and seasonal rates for boats 30 to 180+ feet, 30 / 50 / 100 AMP+3 phase shore power, and line handling docking assistance. In addition, you will find private showers and restrooms, picnic tables, BBQ grills, laundry, ice, ultra-low sulfur marine diesel fuel, fresh water, free Wi-Fi, live lobsters, mail, FedEx and UPS shipping, pump-out facilities, restaurants, excellent cell phone coverage, AT+T 3G coverage, shore-side crew accommodations for rent, captain's house with harbor views for rent.
Yacht for Your Southwest Harbor Charter
Please call us today at 1 (321) 777-1707 or describe Your Vacation Vision to help you plan your fully-crewed private luxury yachting vacation! Inquire as soon as possible about your custom, crewed yacht charter.
You make the memories. We make the arrangements.