Castine, Maine | A Seaside Sanctuary
The town of Castine is a haven of peace and tranquility. After a day of exploration, retreat to your luxurious yacht. There you can unwind in opulent comfort, surrounded by breathtaking views. Relax on the deck, sipping a refreshing cocktail as the sun dips below the horizon.
S/Y AUGUST MAVERICK lists Castine as one of their preferred ports to visit on their Maine Sailing Itinerary.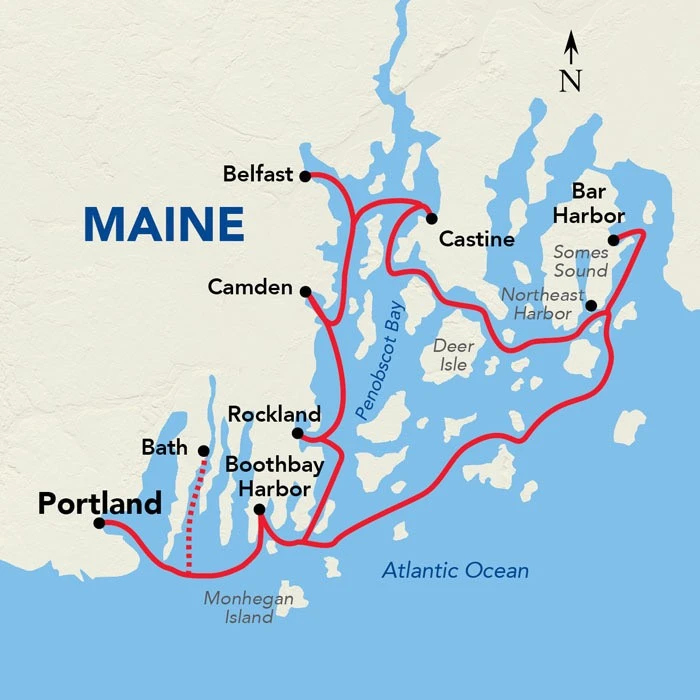 Weather
In Castine, the summers are comfortable, but the winters are freezing. It's partly cloudy year-round. Over the year, the temperature typically varies from 14°F to 77°F and is rarely below -2°F or above 85°F. Since evenings may be cool, even in the summer, pack a light sweater.
Castine | Places to see
Fort George: Explore this well-preserved fort. It offers a glimpse into the region's military history with its cannons, earthworks, and informative exhibits.
Dyce Head Lighthouse: This charming lighthouse offers stunning views of Penobscot Bay and the surrounding coastline. You can also climb to the top of the lighthouse for fantastic views.
Maine Maritime Academy Museum: Explore ship models, navigation instruments, and historical artifacts showcasing Castine's maritime heritage.
Castine Historical Society: Learn about the town's rich history through exhibits and guided tours of historic buildings, such as the Abbott School and the John Perkins House.
Wilson Museum: Delve into local history and culture at this museum. It features collections of artifacts, artwork, and archaeological finds from Castine and the broader region.
Castine Golf Club: Enjoy a round of golf at this scenic nine-hole golf course. You'll also be treated to breathtaking bay views and picturesque landscapes.
Witherle Memorial Library: This historical library is known for its impressive collection of books, including rare volumes and beautiful architecture.
Castine Harbor: Take a leisurely stroll along the harbor, lined with picturesque sailboats and yachts. Enjoy the serene views of the water and the surrounding coastline.
Backshore Beach: Relax on this beautiful sandy beach. It is perfect for sunbathing, picnicking, or swimming in the cool waters of Penobscot Bay.
Wadsworth Cove Beach: Explore this secluded beach, known for its calm waters and scenic beauty.
Castine | Things to do
Explore Fort George: Visit this well-preserved fort dating back to the Revolutionary War era. Discover its rich history through guided tours and explore the exhibits showcasing military artifacts.
Relax on the Beaches: Castine is home to several beautiful beaches, such as Wadsworth Cove Beach and Backshore Beach. Spend a leisurely day sunbathing, picnicking, or swimming in the refreshing waters.
Hike the Witherle Woods Trails: Lace up your hiking boots and explore the scenic trails of Witherle Woods.
Play Golf: Tee off at the Castine Golf Club, a picturesque nine-hole golf course in a stunning coastal setting. Enjoy a round of golf while soaking in the panoramic views of Penobscot Bay.
Go Kayaking: Rent a kayak and paddle along the bay's calm waters, exploring hidden coves and picturesque shorelines. It's a great way to get up close to nature and enjoy the tranquility of the surroundings.
Attend Cultural Events: Castine hosts various cultural events throughout the year, such as art exhibitions, music festivals, and theater performances. Check the local event calendar to see what's happening during your visit.
Dine on Fresh Seafood: Indulge in the local culinary delights by savoring freshly caught seafood, including lobster, clams, and oysters. Many waterfront restaurants offer a delightful dining experience with stunning views.
Yachts to Charter in Maine
Marinas
Seal Ledge Marina has many amenities, such as a pet area, new restrooms and showers, garbage drop-off, gasoline, repair services, and rental moorings.
Buck's Harbor Marina offers marine diesel and ethanol-free gasoline, fresh water, pump-out, live lobsters, ships store, laundry, showers and restrooms, garbage drop-off, and Wi-Fi.
Please call us today at 1 (321) 777-1707 or describe Your Vacation Vision to help you plan your fully-crewed private luxury yachting vacation! Inquire as soon as possible about your custom, crewed yacht charter.
You make the memories. We make the arrangements.