Rockland, Maine | A Tranquil Coastal Oasis
Rockland is a beautiful coastal town in Midcoast Maine — perfect for your yacht charter. It is known for its lobster, amazing views, and fantastic boating. On a Maine Yacht Charter, you will create memories that last a lifetime.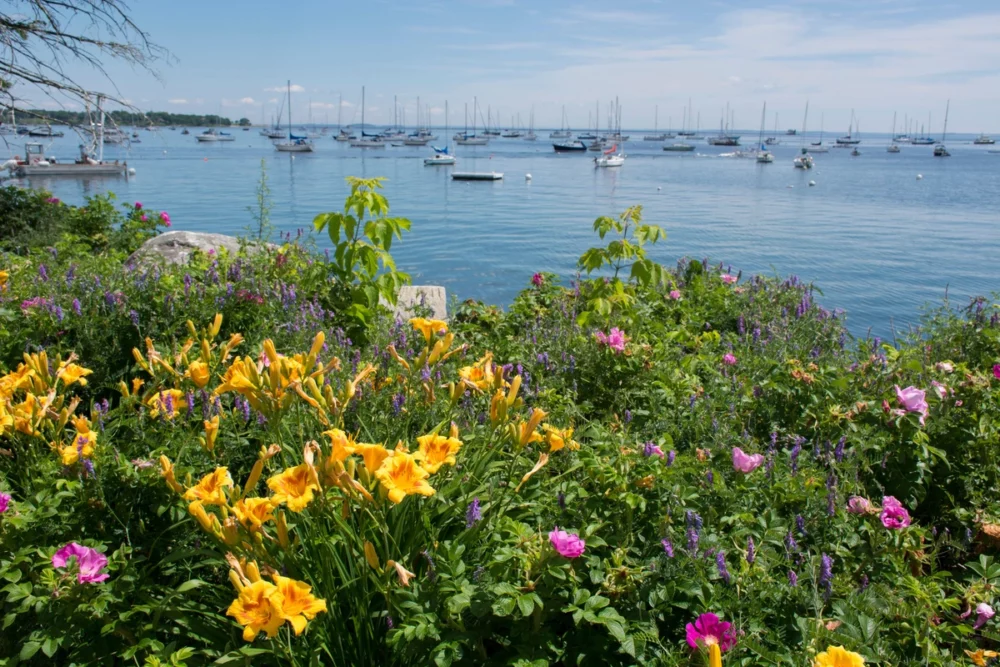 A Brief History
Rockland's history dates back to the 18th century. It was first settled as part of the larger region known as the "Muscongus Patent." Initially, the town thrived as a center for shipbuilding, fishing, and trade, thanks to its strategic location along the coast. The abundance of natural resources fueled Rockland's growth and prosperity.
During the mid-19th century, Rockland became an important lime industry port, earning it the nickname "The Lime City." Lime kilns dotted the landscape, and the town boomed with commercial activity. The lime industry declined in the early 20th century. However, Rockland successfully transitioned into a popular summer resort destination, attracting wealthy vacationers.
Weather
Like other coastal towns in Maine, Rockland's summers are comfortable. The winters are freezing and windy, and it is partly cloudy year-round.
Over the year, the temperature typically varies from 14°F to 75°F. It is rarely below -1°F or above 83°F. Because of the ideal weather, summertime is the best for your Rockland Yacht Charter.
Rockland | Places to See
Walk out to sea on the Rockland Harbor Breakwater! When you reach the end, visit The Rockland Harbor Lighthouse. Not only does this granite structure protect the harbor and lighthouse, but it is also responsible for making Rockland one of the best harbors on the East Coast.
Take a walk on the Rockland Harbor Trail.
The Maine Lighthouse Museum: Located in a historic waterfront building, the Maine Lighthouse Museum is a must-visit for maritime enthusiasts. It showcases an extensive collection of lighthouse artifacts, photographs, and exhibits highlighting lighthouses' crucial role in Maine's maritime history.
Farnsworth Art Museum: Founded in 1948, the Farnsworth Art Museum is a renowned institution dedicated to American art. Its collection spans over 15,000 works, including paintings, sculptures, and photography. The museum also houses the Olson House, made famous by Andrew Wyeth's iconic painting "Christina's World."
Owls Head Transportation Museum: Just a short drive from Rockland. This museum showcases an impressive collection of antique cars, aircraft, bicycles, and other vintage vehicles. It's a paradise for automobile enthusiasts and a unique opportunity to step back in time.
Rockland | Things to Do
Enjoy a well-crafted cocktail at The Bar Harbor Lobster Company. In addition to traditional fare, this popular restaurant offers vegetarian and vegan options.
Explore the Downtown Art Scene: Rockland is renowned for its thriving art community. Explore the numerous galleries and studios that line Main Street.
Browse unique shops like the Seagull Cottage, Puffin's Nest, Fiore Artisan Olive Oils, and Vinegar.
Attend a festival. Yearly summertime festivals include the Maine Lobster Festival and the North Atlantic Blues Festival.
Go hiking in the nearby Camden Hills State Park, where scenic trails lead to breathtaking panoramic views.
Kayak along the coastline.
Go fishing.
Enjoy a leisurely bike ride through picturesque coastal towns.
Marinas
The Landings Marina is just yards from the Rockland public landing and only a block away from downtown. Seasonal slips vary in length from 25 to 40 feet. Short space accommodates boats up to 160 feet; the maximum draft is 12 feet, and moorings are available for yachts up to 65 feet.
Journey's End is a family-operated marina adjacent to Main Street. The marina offers laundry, bathroom, showers, ice, free Wi-Fi, power and water on docks, gas, and diesel fuel barge with high-speed pumps, mail and package hold, propane, trash, chandlery, diver, repairs, and a restaurant.
Yachts for Your Rockland Yacht Charter
Please call us today at 1 (321) 777-1707 or describe Your Vacation Vision to help you plan your fully-crewed private luxury yachting vacation! Inquire as soon as possible about your custom, crewed yacht charter.
You make the memories. We make the arrangements.