Portland Yacht Charter
Portland is the largest city in Maine. Set on a peninsula extending into Casco Bay, the town is organized into three distinct neighborhoods, each with a unique personality. Because of its central location, Portland is a great place to start and end your Portland Yacht Charter.
The Old Port neighborhood features a working waterfront, galleries, unique shops, and award-winning restaurants. The West End neighborhood is famous for its architecture and boasts some of Portland's largest historic homes, such as the Victoria Mansion.
The Arts District is a few blocks from the waterfront. It is home to many museums and art galleries and has a variety of contemporary music and performance venues and fine and ethnic dining choices.
Portland International Jetport (PWM) is approximately 10 minutes from the Fore Points Marina. So, you can start and end your Maine yacht charter from the Fore Points Marina in Portland.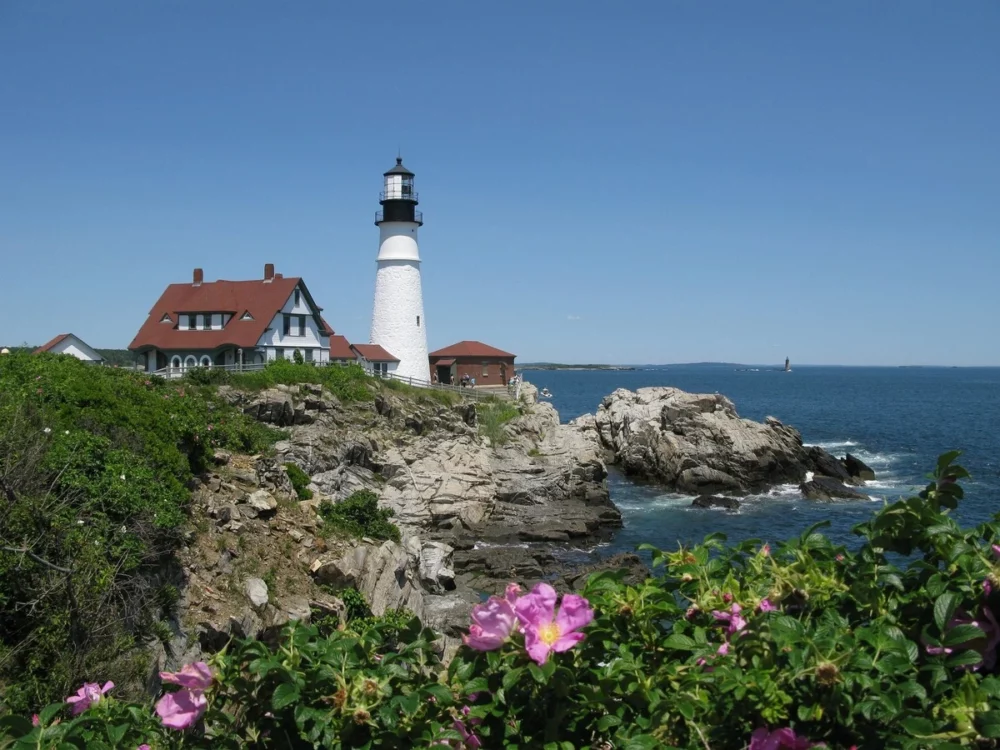 Weather
Portland has a humid continental climate with cold, snowy, long winters. The short summers are warm. Yearly rainfall averages 47.2 inches and is plentiful year-round. However, the summer is slightly drier. Annual snowfall averages 62 inches in the city. Therefore summer is the perfect time for your Portland Yacht Charter.
Portland is full of things to see and do. When sailing the coast of Maine on your Portland yacht charter, you can choose from outdoor activities, indoor pampering, dining, shopping, sightseeing, nightlife, and family activities.
Best Portland, Maine Yacht Charter Activities
Portland, Maine, offers some of the best luxury yacht charter experiences along the East Coast. The possibilities are endless, from unique restaurants and shops to amazing hiking trails. Discover the best activities while on a Portland, Maine, Yacht Charter.
Attractions
There are plenty of attractions if you're visiting Portland, Maine, on a luxury yacht charter vacation. From spectacular lighthouses to breathtaking parks, here are some of the best places to check out while in town:
Portland Head Light: This historic lighthouse is perched atop a cliff overlooking Casco Bay. This iconic landmark was built in 1791 and has become one of the most photographed lighthouses in the country. Take in the stunning views of the Atlantic Ocean as you admire this beautiful structure.
Fort Williams Park: Located at the tip of Cape Elizabeth, this park offers spectacular views of the ocean and surrounding islands. Spend a day exploring this 90-acre park with its lush green lawns and rugged rocky coast. Visit the ruined fortifications for a glimpse of the area's military history.
Eastern Promenade: This popular spot along Portland's waterfront offers panoramic views of Casco Bay and many recreational activities. Stroll along the scenic path and admire the colorful sailboats bobbing in the harbor. You can also find several restaurants, shops, and galleries near the promenade.
Old Port. The heart of Portland's downtown district has cobblestone streets and 19th-century brick buildings. The Old Port is also a great place to enjoy an evening stroll while watching the boats in the harbor.
Ogunquit Beach: Just south of Portland is Ogunquit Beach, one of Maine's most beautiful stretches of sand. You'll find miles of pristine beach with towering dunes, crystal clear waters, and plenty of places to explore.
See lighthouses on a Private Lighthouse Sightseeing Charter.
Maine Historical Society
Portland Art Museum
Victoria Mansion (open from May through October)
Shopping
Regarding unique shopping experiences, Portland, Maine, has plenty to offer! Here are some of the more memorable and enjoyable shops in the area.
If you want something unique, check out the Portland Trading Company. This store offers a unique mix of modern and traditional items from artisans across the globe. You can find everything from textiles to home décor here.
Lisa Marie's Made in Maine for the most unique, handcrafted, and always made-in-Maine products.
Portland Antiques Center. This huge warehouse is filled with antiques and collectibles from all over the world. It's a great place to find a one-of-a-kind item or to browse and take in the atmosphere.
Hiking Trails
Portland, Maine, has some of the most beautiful trails in the northeast. There are a variety of trails that offer different levels of difficulty and views.
Portland Head Light Trail. One of the most popular hikes is the historic Portland Head Light Trail. This trail offers stunning views of the Atlantic Ocean and picturesque lighthouses. It's an easy-to-moderate hike that can be completed in about two hours.
The Three-Mile Loop Trail is a moderate hike that takes you up to the peak of Munjoy Hill. The trail offers amazing views of the Portland Harbor and Casco Bay. It's a great way to get an overview of Portland from the highest point in the city.
If you're looking for a more challenging hike, check out Bradbury Mountain State Park. This park has multiple trails that vary in difficulty and length. From short, easy hikes to longer, difficult ones, there is something for every level of hiker.
Dining
Portland has everything, no matter what type of cuisine you're craving! You won't have trouble finding a great place to eat during your yacht charter vacation.
For seafood lovers, Portland is home to some of the freshest seafood in the United States. Check out Eventide Oyster Co. or Fore Street Restaurant for delicious seafood dishes.
If you want an upscale dining experience, head to Hugo's for award-winning dishes with locally sourced ingredients.
Portland also offers a wide range of international cuisines. For Mediterranean fare, visit Blue Rooster Food Company. Their hummus and pita bread are especially noteworthy. Or, for authentic Mexican cuisine, try El Rayo Taqueria, where their tacos and burritos will leave you wanting more.
If you're in the mood for something quick and casual, grab some grub from one of the many food trucks around town. From tacos to burgers and more, there is something to satisfy all taste buds.
Things to do
Taste the locally produced beers.
Experience a large variety of restaurants. Portland has carved out a place for its cuisine and has many vegan and vegetarian restaurants.
Wander through galleries and museums.
Watch the sunset on the city from the top of the Bayside Bowl. Afterward, have a cocktail at the rooftop full-service bar.
Cruise and explore the local islands: Bailey Island, Chebeague Island, Cliff Island, and Peaks Island.
Kayak or paddleboard Casco Bay.
Walking Foodie Tour
Tour one of the local breweries (Bissell Brothers, Shipyard, Rising Tide, Oxbow, Allagash, Maine Beer Co., to name a few!)
Enjoy the beautiful harbor views while walking or biking along the Eastern Promenade Trail.
Lobster Bake. Your yacht crew can organize this through a local company.
Day trip to Freeport, home to L.L. Bean.
Marinas | Portland Yacht Charter
Fore Points Marina is steps away from downtown Portland on Casco Bay. This new marina has 150 slips and 12 mega-yacht berths. Additionally, locally owned Fore Points Marina provides an accessible management team and a full-service concierge.
Maine Yacht Center has a floating concrete breakwater that protects it from the east and any ocean swells or wind-generated waves. In addition to a great location, MYC offers 80 slips and 400′ of "along-side" tie-ups that accommodate yachts up to 150′. Guest facilities include bathrooms, showers, laundry, a kitchen, a comfortable lounge with beautiful views of Casco Bay, and a store with ice, basic supplies, snacks, and refreshments.
Sample Maine Sailing Itinerary.
Portland to Portland Itinerary
5 Cabins
Year/Rebuilt: 2010 Refit:
Built: 2010
$199,000 - $220,000 /wk
164.00 Ft Power
6 Cabins
Year/Rebuilt: 2008 Refit:
Built: 2008
$195,000 - $225,000 /wk
163.00 Ft Power
5 Cabins
Year/Rebuilt: 2006 Refit:
Built: 2006
$160,000 /wk
157.00 Ft Power
Please call us today at 1 (321) 777-1707 or describe Your Vacation Vision to help you plan your fully-crewed private luxury yachting vacation! Inquire as soon as possible about your custom, crewed yacht charter.
You make the memories. We make the arrangements.