The Complete Bahamas Travel Guide
Are you planning a trip to the Bahamas? Look no further – this Bahamas Travel Guide is your ultimate vacation planner! Here, you will find all the necessary information on the best Bahamas destinations, activities, and attractions to make your vacation memorable.
From breathtaking beaches to vibrant culture, the Bahamas has something for everyone. Needless to say, the Bahamas are best explored by luxury yacht charter, an unforgettable experience you deserve!
Essentials To Know Before You Go
Bahamas Travel Visa
When planning your trip to the Bahamas Islands, one important thing to consider is the travel visa requirements. Depending on your country of origin, you may need to obtain a visa before arriving in the Bahamas. For the latest Bahamas travel restrictions, please see the official Bahamas tourism page.
Fortunately, citizens of many countries, including the United States, Canada, and the United Kingdom, do not require a visa to enter the Bahamas as a tourist. These travelers can present a valid passport and return ticket upon arrival in the Bahamas.
However, citizens of some countries, such as China and India, must obtain a visa before traveling to the Bahamas. It's important to check with your embassy or consulate to determine what the requirements are for your country.
Another important factor to consider is the length of your stay. Tourists can typically stay in the Bahamas for up to 90 days without a visa. If you plan to stay longer, you must apply for an extension or a different type of visa.
Planning and ensuring you have all the necessary documents before traveling to the Bahamas Islands is always best. With the proper preparations, you'll be able to enjoy all the beauty and adventure this stunning destination offers.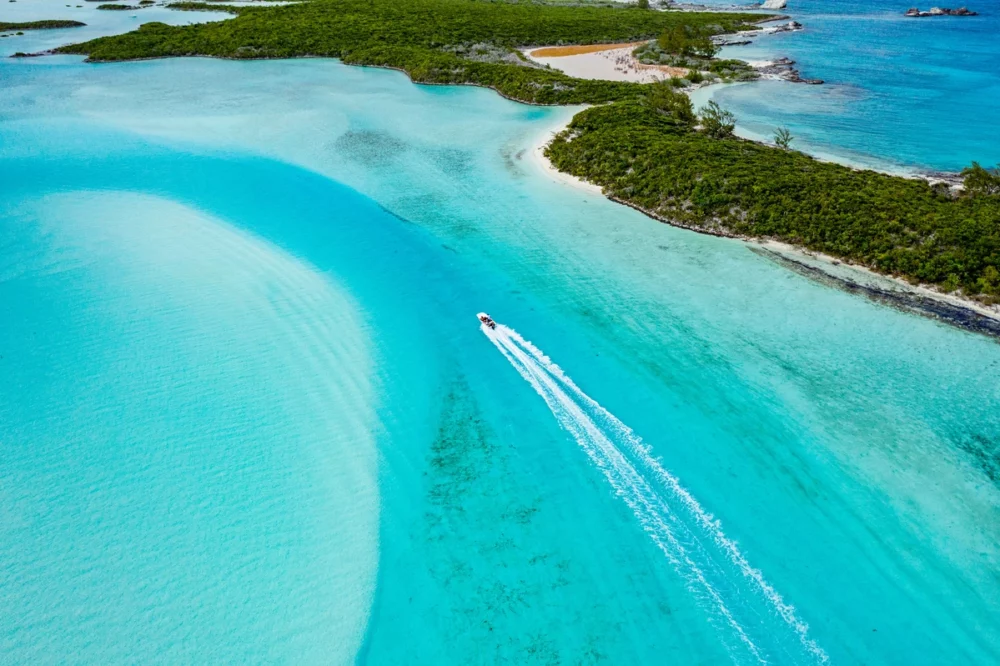 Best Time To Visit the Bahamas
The Bahamas Islands are a year-round destination with warm weather and crystal clear waters. However, the best time to visit is between December and April, when temperatures are cooler and the risk of hurricanes is low. This is also peak season, so expect higher prices and crowds.
If you prefer a quieter vacation and don't mind the heat, consider visiting between May and November in the off-season. Remember that hurricane season is from June to November, so watching the weather forecast is important. Overall, no matter when you visit the Bahamas Islands, you're sure to enjoy the breathtaking beauty and warm hospitality of this tropical paradise.
How to Get to the Bahamas
Fortunately, getting to the Bahamas is fairly easy, with several airlines and cruise lines offering flights and sailings to the island nation. Our brokers and this Bahamas travel guide will help you get there.
By Air:
The Bahamas has several airports, including Lynden Pindling International Airport in Nassau, Grand Bahama International Airport in Freeport, and Marsh Harbour Airport in Abaco. Several airlines offer daily flights to these airports from major US, Canadian, and European cities.
By Sea:
The Bahamas can be reached from the coast of Florida, weather depending. A private yacht charter from Florida to the Bahamas is a great option for the brave, as the waters may not be calm. Otherwise, fly to the Bahamas and start your private yacht charter there.
By Private Plane:
If you want a more luxurious travel experience, you can fly to the Bahamas on a private plane. Several private airports throughout the Bahamas allow for direct flights to the islands. We can arrange this for you, so don't hesitate to contact us.
Check travel restrictions and entry requirements beforehand, regardless of how you get to the Bahamas.
Top Islands to Visit in the Bahamas | Bahamas Travel Guide
The Bahamas is the most uninhabited archipelago of 700 islands and islets in the Atlantic Ocean. However, some islands are perfect for tourists to visit. Here are the top islands in the Bahamas that you must visit:
Nassau | Bahamas Travel Guide
The capital city of the Bahamas, Nassau, is a vibrant and bustling island with a mix of historic landmarks, modern attractions, and nightlife.
When visiting Nassau and Paradise Island in the Bahamas, be sure to explore the vibrant Downtown Nassau. Immerse yourself in the local culture and savor the delectable flavors of fried conch, a Bahamian specialty. Discover the charm of Nassau's bustling streets and immerse yourself in its lively atmosphere. Don't miss the opportunity to unwind on the stunning white sand beaches that have made the Bahamas world-famous.
Exumas:
The Exumas is a chain of 365 cays and islands, a hidden gem in the Bahamas. With crystal clear waters, powder-soft sand, and a laid-back vibe, it's the perfect island to relax and unwind. Don't miss out on visiting the famous Pig Beach, where you can swim with the adorable pigs!
Eleuthera | Bahamas Travel Guide
Known for its stunning pink sand beaches, Eleuthera is a popular island among photographers and Instagram influencers. It's also a great island for surfing, fishing, and exploring hidden coves and sea caves.
Grand Bahama:
Home to Freeport, the second-largest city in the Bahamas, Grand Bahama is a shopping, dining, and entertainment hub. The island also boasts some of the most beautiful beaches in the Bahamas, like Lucayan Beach and Taino Beach.
Bimini: | Bahamas Travel Guide
Just 50 miles off the coast of Florida, Bimini is a favorite among anglers and water sports enthusiasts. The island is also known for its rich history, as it was a favorite destination for famous figures like Ernest Hemingway and Martin Luther King Jr.
Abacos:
These stunning islands comprise Great Abaco Island and a collection of smaller cays and islands that make for the perfect tropical paradise getaway. The Abaco Islands boast a charming mix of quaint towns and modern amenities, and it's no wonder they are becoming increasingly popular with travelers looking for a unique Caribbean experience.
No matter which island(s) you visit in the Bahamas, you're in for a treat. Each island has its own unique culture, landscape, and activities to offer. Make sure to add some of these top islands to your Bahamas itinerary!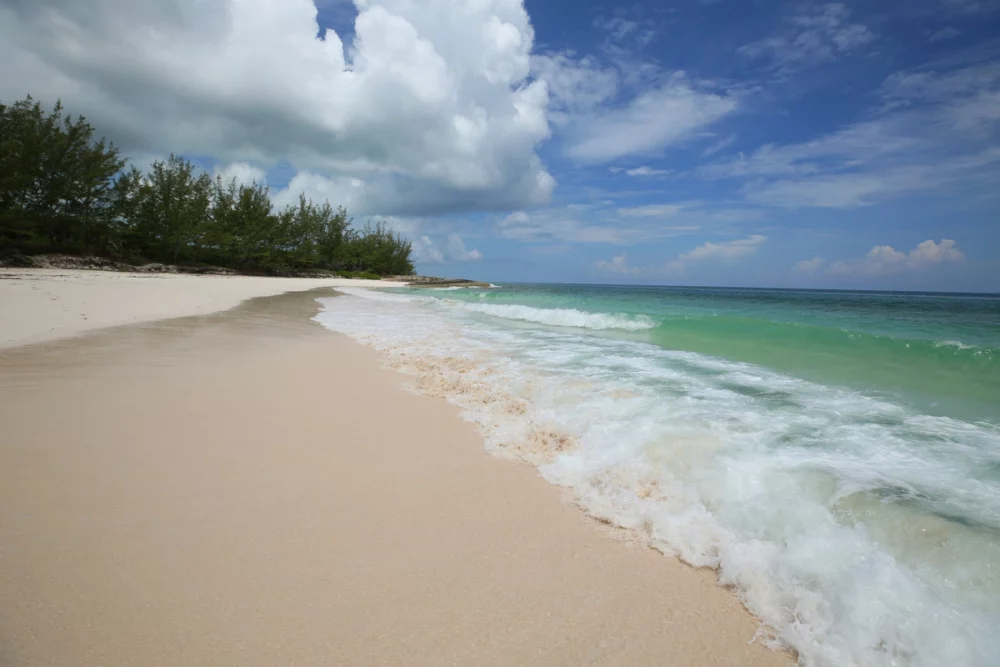 Get To Know the Bahamas People
The Bahamas is home to a vibrant and diverse population, reflecting its unique history and culture. Most of the population is of African descent, with smaller populations of European, Asian, and Middle Eastern descent.
Bahamians are known for their warm and friendly nature and a strong sense of community and hospitality. They are proud of their country and its history and often express this through their music, art, and cuisine. Religion plays an important role in Bahamian culture, with Christianity being the predominant religion. However, there are also small populations of other religions, including Hinduism and Islam.
Despite its status as a popular tourist destination, the Bahamas is also a working nation with a thriving economy based on tourism, finance, and shipping. This creates a diverse and dynamic society where visitors can experience the excitement of a cosmopolitan city and the laid-back charm of a beachfront village.
Baham visitors can expect to be welcomed by its friendly and hospitable people.
Water Sports and Activities in the Bahamas
There is never a dull moment when it comes to things to do in the Bahamas. Whether you are traveling with family or friends, there is something for everyone in this beautiful destination. Here are some of the top activities to enjoy during your visit to the Bahamas:
Snorkeling, Fishing, and Scuba Diving: The Bahamas is famous for its crystal clear waters, making it a perfect destination for snorkeling and scuba diving. You can explore the colorful coral reefs and spot marine life, such as sea turtles, stingrays, and dolphins.
Island Hopping: With over 700 islands, the Bahamas is the perfect place for island hopping. From Nassau to Eleuthera to Exuma, each island has its unique charm, stunning beaches, and a variety of outdoor activities.
Swimming with Pigs: Yes, you read that right! In the Exumas, you can take a boat tour and swim with the famous swimming pigs. These cute little animals will swim out to your boat, and you can feed and swim with them.
Relax on the Beach: The Bahamas has some of the most beautiful beaches in the world. You can lay out in the sun, read a book, and soak in the ocean views. Cable Beach, Paradise Beach, and Pink Sands Beach are popular beaches.
Visit Local Attractions: In addition to outdoor activities, the Bahamas also has plenty of local attractions to visit, such as the Pirates of Nassau Museum, the Clifton Heritage National Park, and the Nassau Straw Market.
Tips For Visiting the Bahamas | Bahamas Travel Guide
When visiting the Bahamas, some tips can help you make the most of your experience. Here are a few tips to consider besides reading our travel guide to the Bahamas:
Pack appropriately: The weather in the Bahamas is typically warm and sunny, so pack plenty of light clothing and sunscreen. However, it's also important to pack a few items for when it gets cooler in the evening, such as a light jacket or sweater.
Plan Ahead: Many popular attractions and tours in the Bahamas require reservations, so planning and booking in advance is best to avoid disappointment.
Be mindful of the culture: The people of the Bahamas are known for their friendly and welcoming nature, but it's still important to respect the local culture. Dress modestly when visiting churches or other religious sites, and ask for permission before taking photos of people or their property.
Watch out for the wildlife: The Bahamas has unique wildlife, including iguanas, stingrays, and sharks. While many of these creatures are harmless, it's still important to be cautious and respectful when encountering them.
Explore the local cuisine: The Bahamas is famous for its seafood, conch, and rum-based drinks. Be sure to try some of the local cuisine and drinks during your stay, as it's a great way to experience the culture and flavors of the region.
By following these tips, you can make the most of your visit to the Bahamas and enjoy all these beautiful destination offers.
Top Bahamas Yacht Charters | Bahamas Travel Guide
Please call us today at 1 (321) 777-1707 or describe Your Vacation Vision to help you plan your fully-crewed private luxury yachting vacation! Inquire as soon as possible about your custom, crewed yacht charter.
You make the memories. We make the arrangements.