Top 10 Things to Do in the Bahamas
The Bahamas is a beautiful archipelago of islands in the Caribbean, full of incredible things to do! From sandy white beaches to vibrant coral reefs, the Bahamas offer some of the most stunning scenery in the world. If you're searching for a honeymoon getaway or an adventure-filled vacation, the Bahamas has something for everyone. Here are 10 amazing things to do in the Bahamas that will make your trip unforgettable.
From snorkeling to hiking, there are plenty of exciting activities to explore in this paradise. Charter a private yacht to truly experience everything the islands and thousands of cays offer. Your customized Bahamas itinerary will allow you to visit some of the amazing locations we highlight below.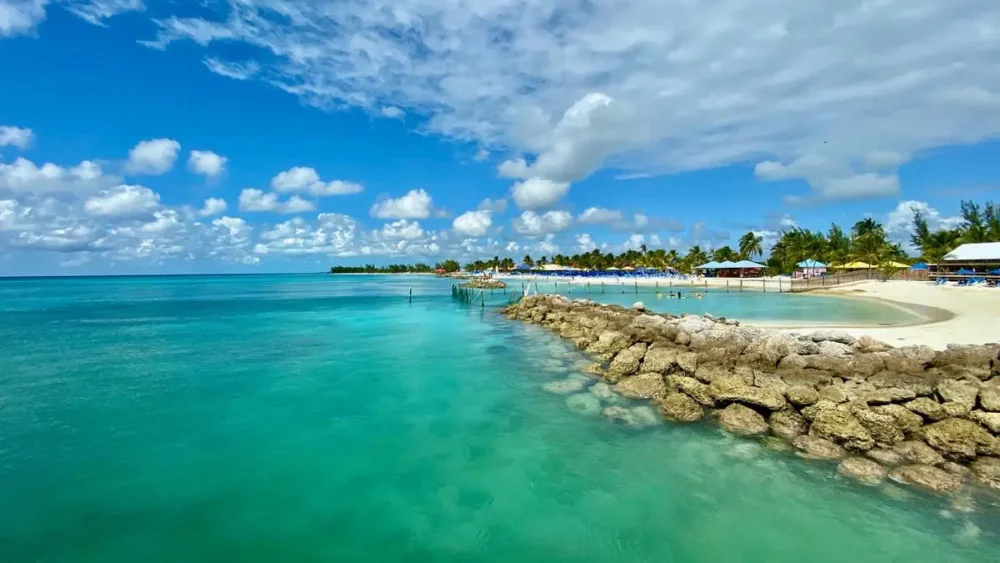 1. Go Snorkeling in the Exumas Islands
If you love snorkeling, the Exuma Islands should be on your list of must-visit destinations in the Bahamas. The crystal-clear waters and diverse marine life make for an unforgettable experience. The Exuma Islands consist of 365 small islands and cays in the southern part of the Bahamas. Many of these islands are uninhabited, and the surrounding waters are home to various coral reefs, colorful fish, and other fascinating sea creatures.
One of the best spots for snorkeling (and scuba diving) in the Exuma Islands is Thunderball Grotto, which is famous for being a filming location for the James Bond movie "Thunderball." The grotto is accessible only by boat, and you'll need to swim through a small underwater entrance to get inside. Once inside, you'll be amazed by the abundance of colorful fish, sea fans, and coral formations.
If you want a unique snorkeling experience, consider a trip to the Exuma Cays Land and Sea Park. This protected area is home to diverse marine life, including nurse sharks, barracudas, and stingrays. You can also explore the park's coral reefs and underwater caves.
Don't forget to bring your underwater camera and capture some amazing photos of the colorful marine life and stunning coral reefs.
2. Visit Cable Beach
Cable Beach is one of the best beaches in the Bahamas, and it's easy to see why. Cable Beach is perfect for soaking up the sun and enjoying crystal-clear waters. The lively and energetic atmosphere makes it a great place to spend an afternoon.
If you're feeling adventurous, take a jet ski or try parasailing to get a bird's-eye view of the coastline. You can also take a fishing trip or relax in one of the many beachfront bars and restaurants.
But the beach is not the only attraction in Cable Beach. Plenty of other things to do, including shopping, golfing, and sightseeing. The Crystal Palace Casino and the nearby Baha Mar Resort have world-class gaming and entertainment options. Additionally, the local markets and boutiques offer various souvenirs and handicrafts.
If you want a more laid-back experience, stroll through the nearby Botanical Gardens. See rare plants and flowers or explore the local history at the National Art Gallery of The Bahamas.
3. Take a Trip to Blue Lagoon Island
If you're looking for an idyllic tropical paradise, a boat trip to Blue Lagoon Island is a must-do in the Bahamas. This stunning private island, just off the coast of Nassau, boasts clear waters, white beaches, and exciting activities to enjoy.
One of the highlights of Blue Lagoon Island is the chance to swim with dolphins. You can book a once-in-a-lifetime experience and spend time with these magnificent creatures in the water. You'll be able to learn about dolphin behavior and communication while enjoying an unforgettable encounter.
If swimming with dolphins isn't your thing, plenty of other activities keep you entertained on the island. Relax on the beach, take a snorkeling tour to explore the vibrant coral reefs surrounding the island, or enjoy a kayak or paddleboard adventure.
Blue Lagoon Island is also home to various restaurants and bars, serving delicious Bahamian cuisine and refreshing cocktails. Take some time to explore the island's vibrant culture, with traditional Bahamian music and dancing performances available to enjoy.
4. Spend Time Exploring the Capital of Nassau
Nassau is the bustling capital city of the Bahamas and should be on your must-visit list when you're in the area. It is on New Providence Island and is one of the most popular tourist destinations in the Caribbean.
One of the most iconic places in Nassau is the Straw Market, where you can find local crafts, jewelry, and souvenirs. If you're looking to experience the culture of the Bahamas, the market is the perfect place to start. You can try the traditional Bahamian dish and conch salad and see locals at work, making crafts.
If you're a history buff, Nassau has plenty of landmarks to explore. You can visit the Queen's Staircase, a historic site in honor of Queen Victoria's reign. The staircase is 65 steps carved out of solid limestone by slaves in the 18th century.
Another landmark you won't want to miss is Fort Charlotte, a British fort built in the 18th century.
Nassau also offers stunning beaches like Cable Beach and Junkanoo Beach. Both offer pristine sand and crystal-clear waters, making them the perfect spot for a relaxing day in the sun.
To fully immerse yourself in the local culture, visit Nassau during a Boxing Day or New Year's Day celebration. The parade features traditional Bahamian costumes, music, and dance. It is a sight you won't want to miss.
Nassau is easily accessible. It is a short flight from Florida, making it a perfect starting point for your Bahamas yacht charter. With its mix of history, culture, and stunning beaches, Nassau is a must-visit destination in the Bahamas.
5. Visit Hope Town in the Abacos | Top 10 Things to Do in The Bahamas
Located on Elbow Cay, Hope Town is a quaint village in the Bahamas that boasts stunning scenery and charming architecture. It is famous for its iconic candy-striped lighthouse, which has been lighting up the coastline for over 150 years,
One of the best things to do in Hope Town is to stroll through the narrow, picturesque streets and admire the colorful colonial houses that line them. You can also stop by the local shops and boutiques to browse through unique souvenirs and handcrafted goods.
If you're up for some adventure, take a kayaking or paddleboarding tour around Hope Town and explore the scenic mangroves surrounding it.
You can also go diving or snorkeling in the nearby reefs and marvel at the vibrant marine life that inhabits them.
If you're looking for some quiet time, picnic on one of the many secluded beaches that dot the coast of Hope Town. These serene stretches of sand offer stunning views of the turquoise waters and are the perfect spot for a lazy day of sunbathing and relaxation.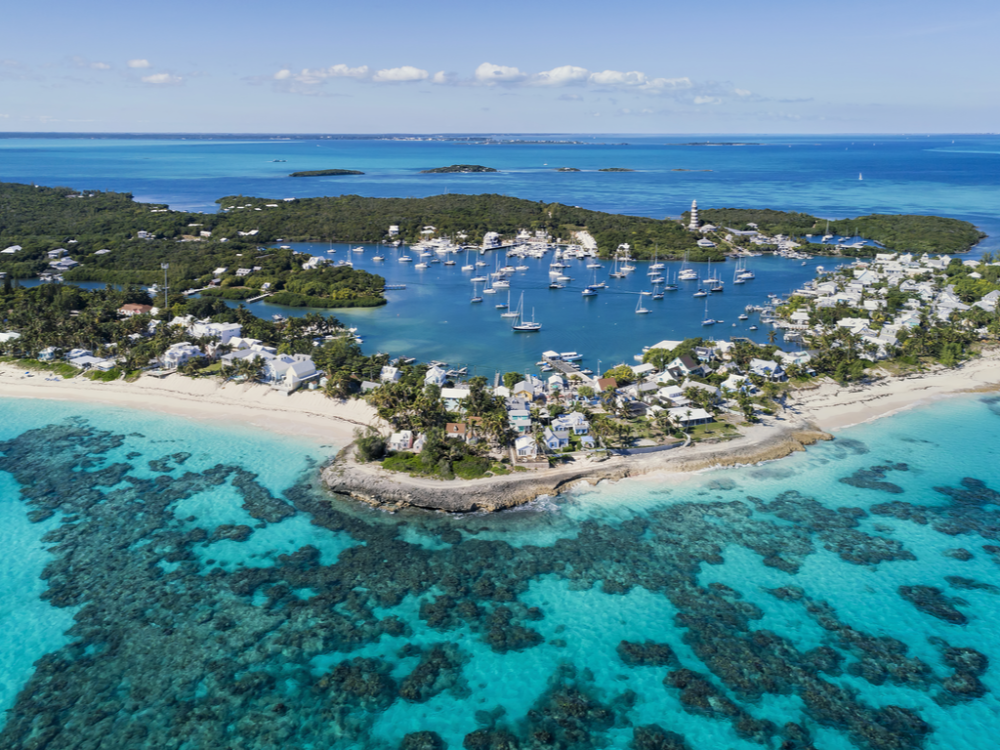 6. Discover Freeport, Grand Bahama
Located on the island of Grand Bahama, Freeport is the second largest city in the Bahamas and offers plenty of activities for tourists to enjoy.
Don't miss Lucayan National Park, which features underwater caves, beautiful beaches, and trails for hiking and birdwatching.
Another must-visit spot in Freeport is Port Lucaya Marketplace, where you can shop for souvenirs, enjoy live music, and dine on delicious seafood.
A visit to the Garden of the Groves is a must for nature enthusiasts. This botanical garden boasts a variety of plant species and waterfalls and even has resident animals such as turtles, birds, and ducks. If adventurous, you can zipline and soar through the lush canopy.
For beach lovers, Gold Rock Beach is a stunning stretch of sand that you won't want to miss. Located in the eastern part of Grand Bahama, the beach is part of the Lucayan National Park and offers blue water, perfect for swimming and snorkeling.
Freeport also offers many opportunities for water sports, such as jet skiing, kayaking, and paddleboarding. And for those who love to fish, many charter companies offer deep-sea fishing trips for marlin, tuna, and other species.
7. Visit the Wild Island of Eleuthera | Top 10 Things To Do In The Bahamas
If you're looking for an off-the-beaten-path adventure, look no further than Eleuthera. This narrow island, stretching over 100 miles long, is home to breathtaking beaches, hidden coves, and unique local culture.
After sailing around the beautiful coast, head ashore to explore the interior. Take a scenic drive down its length. The island's terrain varies greatly, from rocky cliffs to serene bays, so you'll never tire of the views.
On your drive, visit the gorgeous natural Glass Window Bridge, and witness the most striking blue waters.
Be sure to stop in charming towns like Governor's Harbour and Harbour Island, where you can find fresh seafood, local art, and colorful colonial architecture.
For beach lovers, Eleuthera is a true paradise. Head to the pink sand beaches of French Leave or Lighthouse Point, where you can relax in the sun and dip in crystal-clear waters.
Surfers will want to check out the swells at Surfer's Beach, while adventurers can hike to the hidden cove at Ocean Hole.
No matter how you spend your time in Eleuthera, you'll find that it's a laid-back, welcoming place that invites you to slow down and savor life. So why not add this enchanting island to your Bahamas itinerary? It's sure to be a highlight of your trip.
8. Swim with the Pigs in Big Major Cay
You read that right – you can swim with pigs in the Bahamas! The uninhabited island of Big Major Cay is home to a group of friendly pigs who have made a name for themselves as some of the unique beach companions.
As soon as you arrive on the island, these adorable porkers will greet you. They love to swim! Jump into the crystal-clear ocean with them and watch them paddle around, playing and splashing alongside you. You might even get to feed them their favorite snack – apples!
This once-in-a-lifetime experience is a must-do for anyone visiting the Bahamas. Remember to bring your camera – you'll want to capture every adorable moment with your new piggy friends.
So why not add "swimming with pigs" to your bucket list and head to Big Major Cay? It's an adventure you won't soon forget.
9. Cruise on Over to Bimini Island
The beautiful island of Bimini is a must-visit destination for any traveler who wants to experience its beautiful white sandy beaches, crystal clear waters, and vibrant local culture.
One of the most popular attractions on Bimini is the famous Fountain of Youth, a natural freshwater spring believed to have healing powers. Lush vegetation surrounds the fountain. It is a beautiful place to relax and soak up the island's natural beauty.
Bimini is also famous for its incredible fishing opportunities. The waters around the island are home to various fish species, including marlin, tuna, and wahoo. Fishing charters are available for visitors who want to try reeling in a big catch.
Another must-visit spot on Bimini is Bimini Road. Some believe this mysterious underwater structure to be the remains of Atlantis's legendary lost city. It is also a popular site for snorkeling and diving,
10. Explore Clifton Heritage National Park
One of the hidden gems of the Bahamas is Clifton Heritage National Park, located on the western end of New Providence Island. The park spans over 208 acres and is a tribute to the cultural and historical heritage of the Bahamas.
At the park, visitors can explore a range of natural wonders and historical sites, including wetlands, forests, and ruins dating back to the 18th century. One of the main attractions of the park is the Clifton plantation, which is a restored plantation house from the 18th century.
Visitors can also walk through the slave village and better understand the brutal history of the slave trade in the Bahamas. Numerous interpretive signs give insight into the experiences of the enslaved people who once lived on the island.
For those interested in nature, the park offers bird-watching opportunities, nature trails, and mangrove forests.
Additionally, visitors can explore the undersea world through snorkeling and diving excursions. The park offers several dive sites, including coral reefs and underwater caves.
Please call us today at 1 (321) 777-1707 or describe Your Vacation Vision to help you plan your fully-crewed private luxury yachting vacation! Inquire as soon as possible about your custom, crewed yacht charter.
You make the memories. We make the arrangements.