The Exumas' Thunderball Grotto in the Bahamas has some of the world's most stunning snorkeling and diving. The grotto doesn't look like much on the outside. However, if you are willing to explore the interior you'll certainly find the sea's treasure.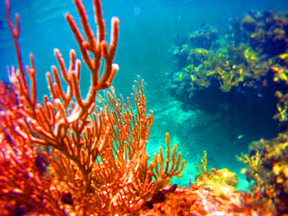 Your heartbeat might quicken slightly as you swim through short underwater tunnels. Look up and see that the ceiling of the cavern is open to the sky. Streams of sunlight flood the sapphire waters inside. Fish swirl and dance in the grotto, providing opportunities to share breadcrumbs if you bring them.
History
So picturesque is this spot that it's been filmed in several Hollywood movies. These include "Splash" (1984), and "Into the Blue" (2005). Most notably its namesake, "Thunderball" the 1965 James Bond film featuring Sean Connery, won the Academy Award for best picture.
In fact, 2015 marked the 50th anniversary of Thunderball. The dive site is as pristine today as it was then. If you want to get a glimpse of Thunderball Grotto and see a terrific 007 film, the video is available through Amazon.com.
Better yet, visit the Exumas with a crew on a catamaran charter, such as Freebird, and see some of the most brilliant islands in the Caribbean for yourself. Blu-ray may be better than nothing, but it's nothing compared to the real thing.
When you do go to Thunderball Grotto, you'll want to make sure to be with a local crew on your first trip, as high tide presents some tricky conditions. Locals will also know when the least crowded times are for diving in the area. Don't worry, though, as the Exumas are some of the least commercial, untouched islands in the Bahamas, so 'crowded' is a relative term.
For more information about Thunderball Grotto and the yacht charter crews who know the Exumas best, contact CKIM Group at (321) 777-1707.
You make the memories. We make the arrangements.
Please call us today at 1 (321) 777-1707 or describe Your Vacation Vision to help you plan your fully-crewed private luxury yachting vacation! Inquire as soon as possible about your custom, crewed yacht charter.
You make the memories. We make the arrangements.