Calling all nature lovers and thrill-seekers! The Bahamas Islands are like a slice of paradise, and if you're up for some awe-inspiring exploration, you can't miss diving Thunderball Grotto. This place is pure magic, with its underwater caves and colorful sea life. Best of all, you can dive into this wonderland during your luxury yacht charter.
Prepare for an epic adventure as we take you on a wild ride through Thunderball Grotto. Find out what makes this place so special and how a luxury yacht charter takes your experience to the next level.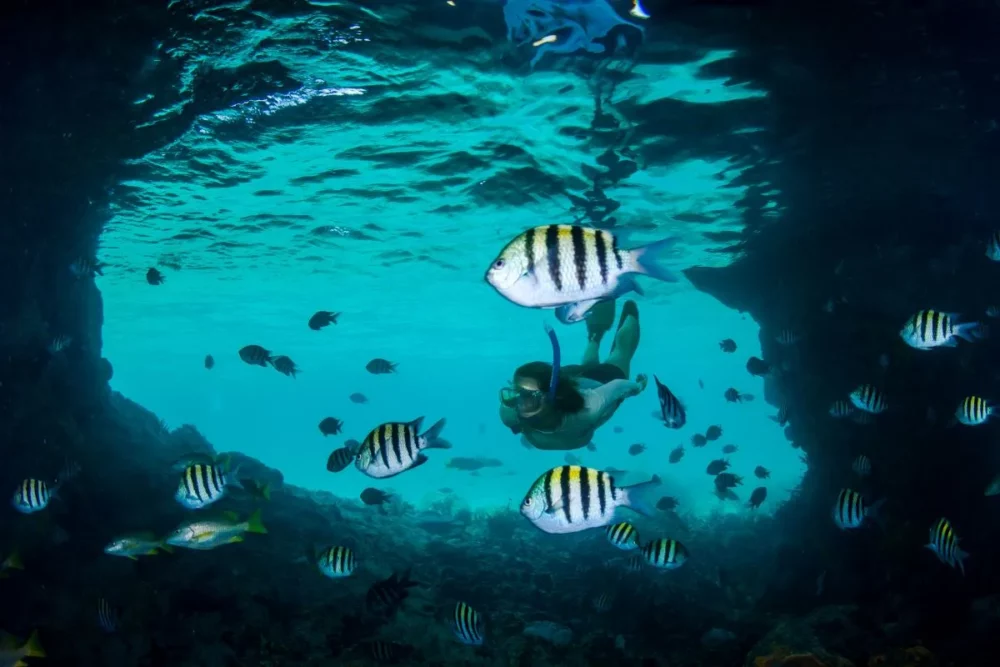 Discovering Thunderball Grotto | A Brief History
Thunderball Grotto became famous after appearing in the 1965 James Bond movie, "Thunderball." The grotto was a backdrop for thrilling underwater scenes and action sequences in the movie.
After the movie's success, people from all over the globe couldn't wait to dive into this incredible spot. It became THE place for divers and snorkelers craving underwater action. The movie really put Thunderball Grotto on the map, and now it's a hot spot for adventurers like you to explore.
Over time, Thunderball Grotto has become the go-to place for explorers, thrill-seekers, and nature enthusiasts. It's got something special that captures the imagination—a mix of cinematic fame and thrilling adventure.
You can't deny the allure of this place. It's like stepping into a real-life movie set and immersing yourself in its breathtaking beauty.
Entering the Grotto
To get inside, swim through a small opening when the tide is low, or grab your snorkels and navigate through the crystal-clear water. Once you're in, brace yourself for a jaw-dropping sight. Sunlight streams through cracks in the cave ceiling, casting magical beams of light on the underwater wonderland below.
Underwater Marvels
Prepare to be amazed. Thunderball Grotto's walls are like a living work of art, covered in vibrant coral formations that act as a canvas for a kaleidoscope of marine life.
You'll swim alongside schools of brightly colored tropical fish while big boys like grouper and nurse sharks glide effortlessly through the water. Seriously, the biodiversity here is off the charts. Sponges, sea fans, and anemones add to the vibrant ecosystem that calls this place home.
Snorkelers Can Enjoy Thunderball Grotto, Too!
Snorkelers, don't fret! You, too, can soak in the enchanting beauty of Thunderball Grotto. Just strap on your gear, kick your fins, and let the underwater wonderland unfold before your eyes. Look down through the crystal-clear waters and feast your eyes on stunning coral reefs and a parade of friendly fish.
And the best part? Snorkeling here is for everyone, from beginners to pros. So grab your family and friends and dive in for an unforgettable experience.
The Luxury Yacht Charter Experience
To truly experience the wonder of the Bahamas, a luxury yacht charter is the way to go. Imagine cruising through the Islands on your private yacht, exploring Thunderball Grotto and other gorgeous spots at your own pace. And guess what? You won't need to lift a finger.
The yacht crew handles everything, ensuring your diving adventure is smooth sailing. They'll also hook you up with top-notch dive instructors who'll show you the best spots in Thunderball Grotto and reveal hidden gems teeming with marine life.
After an adrenaline-pumping dive, it's time to chill out on your yacht. Feast on gourmet cuisine cooked by expert chefs, kick back in luxurious surroundings and relish in the memories of your underwater escapades. It's pure bliss.
Add Diving Thunderball Grotto to Your Bucket List
So, get ready to dive into the mind-blowing world of Thunderball Grotto during your luxury yacht charter in the Bahamas. With vibrant marine life, spectacular coral formations, and fascinating underwater caves, it's an adventure unlike any other.
Whether you're a pro diver or a snorkeling newbie, this place has something special for everyone. And with the added luxury and comfort of a private yacht charter, you'll be living the dream, fully immersing yourself in the magical depths of the Bahamas Islands. So, grab your gear, hop on that yacht, and let the adventure begin!
In addition, Big Major Cay is close by with its swimming pigs. As is Staniel Cay Yacht club.
Please call us today at 1 (321) 777-1707 or describe Your Vacation Vision to help you plan your fully-crewed private luxury yachting vacation! Inquire as soon as possible about your custom, crewed yacht charter.
You make the memories. We make the arrangements.