Bahamas General Information
Here's the Bahamas General information you might find helpful when traveling in the Bahamas:
Capital: Nassau

Population

: 300,000
Area: 700 islands of 5,380 square miles (13,900 sq km)
Currency: Bahamian $; US$1=Ba$1
Language: English. However major European languages are spoken at tourist centers
Political status: independent nation; member of the Commonwealth
Religion: Traditional Christian denomination churches with Anglican and Roman Catholic the largest

Business

: In Nassau, Paradise Island and Freeport, banks are open 9.30am-3pm, Monday to Thursday. On Friday, they are open 9.30am-5pm. Hours vary in the other islands. The main banks are Central Bank of The Bahamas, Bank of Nova Scotia, Barclays Bank International, Canadian Imperial Bank of Commerce, Chase Manhattan Bank, Citibank, and Royal Bank of Canada. Shops open 9am-5pm or later with early closing on one weekday afternoon. Major payment cards accepted.
Electricity: 120 volts AC, 60 cycles
Telecommunications: the international dialing code for the Bahamas is +1 242 followed by seven digits. On the island, use the seven digits alone. Time: GMT-5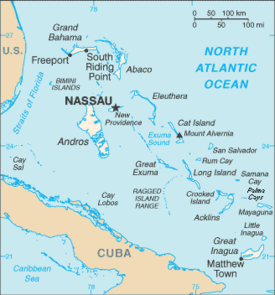 For yacht chartering the main cruising areas are The Exuma Islands and Cays, Abacos Islands and the Berry Islands. Nassau is usually the main departure city for the Exumas while Marsh Harbour or Treasure Cay are options for the Abacos.
As all Bahamas yacht charter itineraries are customized based on your preferences. You will need to communicate the desired experience so your captain can plan accordingly.
Abacos Islands | Berry Islands | Exuma Islands | General Information
CONTACT US today at (321) 777-1707 to discover your Bahamas yacht charter vacation!