Can you rent a yacht for a week and not break the bank? Find out about the costs associated with this type of indulgent getaway. Several factors can impact the overall price of your yacht rental. Let's take a look at what you can expect when you rent a yacht for a week.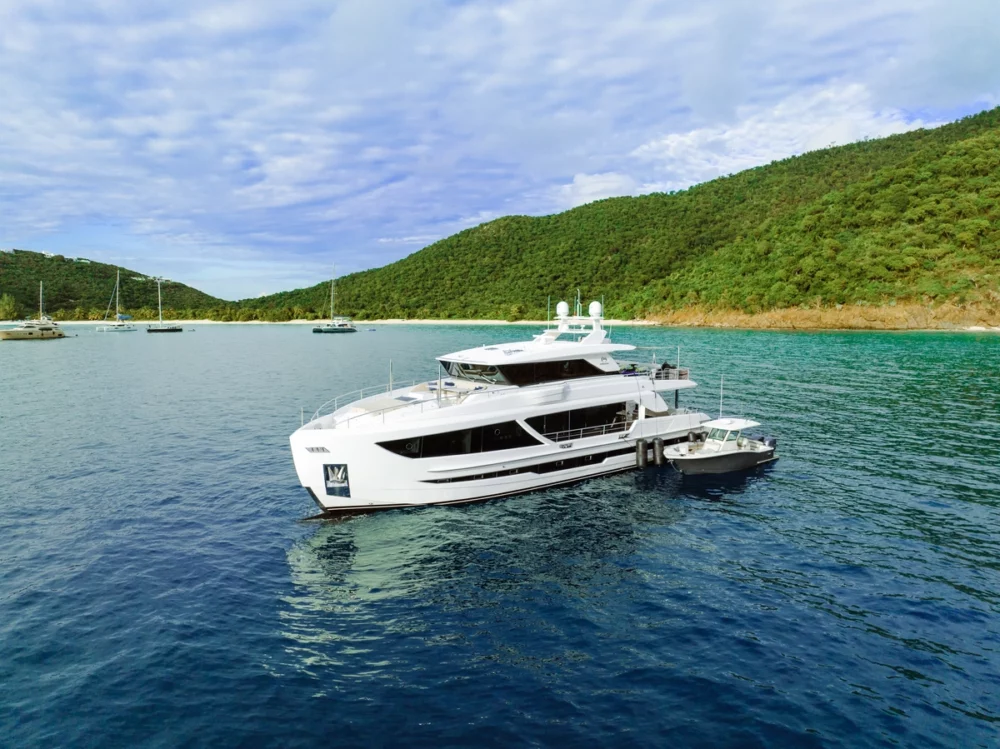 What are the types of Charter Rates?
There are generally 3 types of charter rates. The following are charter rate options depending on the yacht and sailing region:
Inclusive Charter Rate
An inclusive charter includes daily breakfast, lunch, dinner, and the ship's bar. Not included are vintage wines, champagne, dockage, and communication.
Water toys and all onboard amenities are in the charter fee. The British Virgin Islands cruising taxes and fees are sometimes in the inclusive charter rate.
Caribbean Terms
Caribbean terms are the "inclusive rate" except for the ship's bar and beverages. Government taxes and fees may be an extra charge in both cases.
Plus Expenses (APA – Advance Provisioning Allowance)
Plus expenses are all of the expenses incurred while chartering a boat.
What is the APA (Advanced Provisioning Allowance)?
An Advance Provisioning Allowance is a down payment for the operating cost of the yacht. It is usually between 20 – 50% of the charter rate, depending on the type of boat.
It is pre-paid in addition to the weekly charter rate and VAT if any to cover the cost of the following:
Fuel for the main engines, generators, tenders, motorized water toys
Food and drinks for your charter
Port fees, harbor fees, marina dues
Customs clearance
Personal laundry
Communications
Consumables for the charter party
Any shore excursions and transfers arranged by the yacht for the guests
During your charter, you can view the APA expenses with the captain. When your cruise comes to an end, the captain will determine if you owe money or if you are due a refund.
Some APA statements are more detailed than others. Reviewing the details and requesting receipts if there are questions is essential.
Luxury Amenities Included in Your Yacht Rental
When you rent a yacht for a week, you are not just getting a mode of transportation or a place to sleep. You are stepping into a world of unparalleled luxury and indulgence.
The Yacht
A roomy and well-appointed living area is a yacht's most luxurious space. The yacht's interiors provide comfort and elegance with plush furnishings, high-quality materials, and exquisite finishes. From stylish lounges to opulent dining areas, these spaces are perfect for relaxing, socializing, and enjoying gourmet meals.
Water Toys
Yacht rentals also include access to water toys and equipment. Jet skis, kayaks, snorkeling equipment, standup paddleboards, wakeboards, and floating toys are a few examples.
Spa Facilities
Some yacht rentals offer luxurious spa facilities, relaxation and rejuvenation. Imagine pampering yourself with a soothing massage, indulging in a facial, or unwinding in a sauna.
Entertainment
Another popular inclusion in luxury yacht rentals is a state-of-the-art entertainment system. Large flat-screen TVs and surround sound systems ensure you are never bored during your yacht vacation.
Can you rent a yacht for a week? Additional Expenses to Consider
When you rent a yacht for a week, consider additional expenses that may arise during your luxurious voyage. While the rental price of the yacht itself is the primary cost, other factors can impact the overall expense.
Transportation and Transfers
Transportation to and from the yacht is another expense. You may incur costs for flights, water taxis, or ground transportation if you need to travel to a specific port or marina.
Additional Services
Consider any additional services you may need during your yacht vacation. For example, there may be extra costs if for scuba diving or deep-sea fishing. Additionally, if you plan to hire a personal photographer, videographer, or nanny, this may be another expense to consider.
Popular Destinations and Their Yacht Rental Costs
As you plan your dream yacht vacation, you may wonder which destinations are the most popular for yacht rentals and their rental costs. Here, we will explore some of the top destinations and give you an idea of what you can expect regarding yacht rental prices.
The Mediterranean
Known for its stunning coastlines, vibrant cultures, and glamorous cities, the Mediterranean is a favorite destination for yacht charters. Explore the French Riviera, the Greek Islands, or the Amalfi Coast in Italy,
Prices in the Mediterranean can vary depending on the yacht's size, type, and age. You can generally expect to pay anywhere from $30,000 to over $1 million weekly.
The Caribbean
With its crystal clear waters, white sandy beaches, and island vibes, the Caribbean is a popular choice for yacht rentals. From St. Barts to the British Virgin Islands, the Caribbean offers a multitude of picturesque destinations to explore.
Charter yacht rental prices in the Caribbean are slightly lower than in the Mediterranean. Prices range from $15,000 to $750,000 per week.
The Bahamas
Located just off the coast of Florida, the Bahamas is a paradise of over 700 islands and cays. It's a favorite destination for those seeking pristine beaches, vibrant coral reefs, and world-class fishing.
Yacht rental prices in the Bahamas are similar to those in the Caribbean, ranging from $15,000 to $750,000 per week.
Can You Rent a Yacht for a Week? Yes!
When you rent a yacht for a week, budget for the overall costs. Aside from the basic yacht rental, factor in things like fuel, crew tips, and extra amenities. Also, consider additional expenses such as provisioning, docking fees, and transportation.
A clear understanding of these costs ensures a smooth and enjoyable week-long yacht vacation.
Please call us today at 1 (321) 777-1707 or describe Your Vacation Vision to help you plan your fully-crewed private luxury yachting vacation! Inquire as soon as possible about your custom, crewed yacht charter.
You make the memories. We make the arrangements.