Italy Yacht Charters for Your Next Holiday
Italy luxury yacht charters promise a vacation like none other. Italy is a gorgeous country of majestic mountains, tranquil lakes, idyllic islands, splendid cities, and beautiful villages. Cruise along the Amalfi Coast to visit the famous Positano, Priano, and Ravello. Then, sail to the storied island of Capri.
Head to Sicily for sailing, savor an aperitivo in Taormina or hike up Mt. Etna's active volcano. An Italian yacht charter offers a perfect mix of culture, history, and coastal adventures. Everyone in your group will enjoy this stunning destination.
Whether you're looking to visit Italy with young kids or on a couples trip, there is something special for everyone. Italy yacht charters are also great for honeymoons and multi-generational charters.
Italian Yacht Charter Areas
Places to See
Here are some places you shouldn't miss on your Italy yacht charters:
Sicily (Ustica, Aeolian Islands, Lipari, Stromboli, and Egadi Islands).
Calabria (Vibo Valentia, and Reggio di Calabria).
Sardinia (Madalena, Santa Teresa, Portisco, and Alghero).
Naples and Salerno (Capri, Ischia, and Pompeii).
Rome (Ostia and the Pontine Islands).
Tuscany (Elba, Argentario, Eastern Corsica).
Ligurian Riviera (Cinque Terre, Portofino, Genoa).
Things to Do on an Italy Yacht Charter
Visitors will never run out of things to do while on board Italy yacht charters:
Swim. You'll find many swimming places since you are never far from the coastline.
Hike. Italy has many hiking paths to explore.
Sightseeing. Ancient history, museums, UNESCO World Heritage sites, and more invite you to learn about this beautiful country.
Shop. You'll have plenty of shops and boutiques to browse. Look for local shops offering olive oil, leather bags, sandals, wine, perfumes, and candies.
See the Blue Grotto on the island of Capri. Here, sunlight shines through the water in a sea cave, creating a beautiful, iridescent blue.
Take a food tour or cooking lesson to learn about Italian cuisine. Most importantly, don't forget street food; eating hot arancini while walking is a real treat.
Island Hop
Featured Italy Yacht Charters
Climate
Italy has a Mediterranean climate with hot, dry summers and cool, wet winters. July is the hottest month, while January is the coldest. The late Spring and early Fall months are typically sunny and make for excellent yacht charter vacations.
As many festivals occur along the coast, September is best for a relaxing and local experience. On a private yacht, explore Italy's local food and music festivals. You'll find them scattered among the small fishing villages.
Gastronomy
When most people think of Italian food, they think of pasta and pizza. However, the traditional cuisine of Italy includes many other tastes, such as seafood, ossobuco, risotto, and veal saltimbocca. Tiramisu, panna cotta, or lemon cake made with fresh Amalfi lemons are great ways to top off a delicious meal.
It is no wonder that Italy yacht charters are often the first choice for travelers interested in quality food and wine. A customized Italy yacht charter experience offers top-quality cuisine and a wide range of dining options onboard.
Iconic Italian Yacht Charter Destinations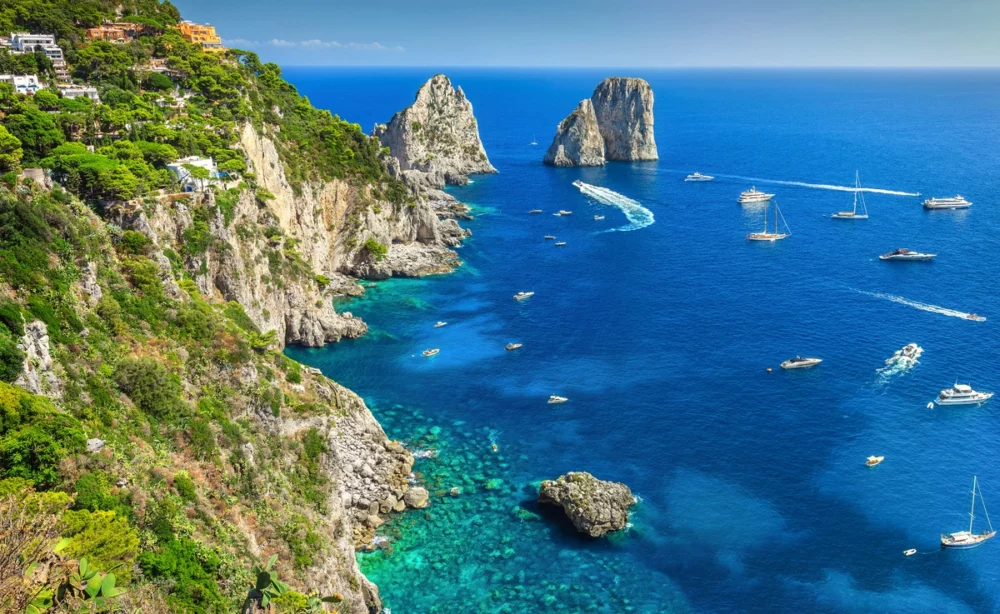 Portofino
We recommend Portofino for a romantic getaway or a high-end experience. It has unparalleled views of the Mediterranean and is one of the prettiest harbors on Earth. While an excellent choice for the summer months, this charming seaside village is best visited in the off-season. September through October are typically times when crowds are thinner.
Things to Do and to See:
Scuba dive. See the Statue of Christ of the Abyss, a bronze statue of Jesus by sculptor Guido Galleti. It is in San Fruttuoso Bay.
Visit a marine protected area, Marina Protetta Portofino, between Camogli, Santa Margherita Ligure, and Portofino.
Climb to the Church of San Giorgio and enjoy a breathtaking view.
See the Faro di Portofino – Lighthouse of Portofino.
Soak in the atmosphere of Piazza Martiri Dell'Olivetta – Heart of Portofino. The atmosphere here is reminiscent of the small fishermen's village that Portofino once was.
Chiesa di San Martino – Simple but elegant architecture and beautiful interior, San Martino Church dominates the uphill of Portofino.
Museo del Parco. Visit the Museum of Outdoor Statues in Portofino. There, admire works of art by some of the world's most renowned sculptors. You can also have a nice view of Portofino Riviera from the terraced garden.
Amalfi Coast | Italy Yacht Charters
An Amalfi Coast yacht adventure offers the ultimate Mediterranean getaway and an authentic taste of Italian life. The coastline is home to charming towns like Positano, Sorrento, Ravello, and the captivating island of Capri. Limited land routes along the Amalfi Coast make a yacht the ideal way to truly experience this destination.
With its dramatic cliffs and postcard-perfect towns, the Amalfi Coast graces the Campania region of Italy. The Tyrrhenian Sea, the Bay of Naples to the north, and the Salerno Gulf to the south embrace it. This area, also called the Sorrentine Peninsula, covers about 50 kilometers of coastline.
During April and June, the Amalfi Coast is at its finest. The weather is pleasant, and flowers bloom at this time of year. It is most crowded with tourists In July and August. No matter what time you decide to charter, motor yacht VICTORIA DEL MAR is a fantastic yacht to consider.
Capri
First on the list when visiting Capri is to see the Blue Grotto. This world-famous sea cave is famous for its bright blue waters. The sunlight creates magical reflections as it passes through the Grotto's opening. The experience is truly one-of-a-kind!
Another attraction on your Capri yacht charter is the famous Faraglioni rock formations. These limestone cliffs rise dramatically out of the sea, creating a natural masterpiece that will leave you in awe.
Next, visit the town of Anacapri, which sits atop the island's highest point. Here, you will find winding streets, white-washed houses, and picturesque squares where you can soak in the island's beauty.
Aeolian Islands of Sicily
Italy yacht charters to the Aeolian Islands will take you through Italy's most spectacular Mediterranean landscapes. You'll also have spectacular coastal views of Sicily. Located off the mainland of Italy and Sicily, this small archipelago comprises seven islands. The islands have rugged terrain, volcanic activity, and lush vegetation.
The countryside is dotted with villages. They range from historical medieval towns to modern hamlets catering to vacationers looking for a true escape.
A few things to do on your charter in Italy include:
Take a donkey ride on Alicudi.
Snorkel underwater fumaroles in Panarea.
Sample Lipari's Malvasia wine is a sweet raisin wine produced in the Aeolian islands.
Have a mud bath in an open-air spa on Mount Vulcano.
Sardinia
Charter a yacht in Sardinia. It is famous for its jagged limestone cliffs and rocky coves. This lush island offers some of the best sailing routes in the world. The island is also home to some of Italy's best archaeological sites, including the Nuraghe and Domus de Janas.
Costa Smeralda of Sardinia
Costa Smeralda's crystal-clear waters and white sand beaches offer opportunities for various water sports. Snorkel, kayak, and scuba dive. Sunbathers can enjoy a beautiful six miles of the pure, pristine Sardinian coastline.
Just off Sardinia's coast, the archipelago of the Maddalena Islands is best explored by yacht. Traverse the transparent green waters and stroll around the islands' quaint towns. Costa Smeralda is one of Europe's most secluded yachting destinations along the coast of Italy's southern region.
The luxury ports feature elegant restaurants and bars with sea views, while the beaches offer pink sands.
Italy Yacht Charter Map
Contact our professional brokers for more information about Italy yacht charters.
Please call us today at 1 (321) 777-1707 or describe Your Vacation Vision to help you plan your fully-crewed private luxury yachting vacation! Inquire as soon as possible about your custom, crewed yacht charter.
You make the memories. We make the arrangements.