Italy Yacht Charters
Italy is a gorgeous country of majestic mountains, placid lakes, idyllic islands, splendid cities, and beautiful villages. You will travel in luxury and style on your Italy yacht charter. You can charter a boat along the Amalfi Coast to visit picturesque Positano, Priano, and Ravello before sailing to the storied island of Capri.
Instead, head to Sicily to tour the Aeolian Islands, have an aperitivo in Taormina or even venture up the active volcano Mt. Etna.
An Italian yacht charter provides a beautiful mix of culture, history, and seaside adventure for charter guests of all ages. Whether you're looking to visit Italy with young kids or on a couples trip, there is something special for everyone. Italy yacht charters are also great for multi-generational charters.
Grandparents can enjoy revisiting favorite spots while their children and grandchildren experience Italy's charm for the first time. In addition, if you have more time, you can easily combine your yacht charter with visits to Italy's iconic cities of Rome, Florence, and Venice. We can help arrange the luxury vacation experience of your dreams.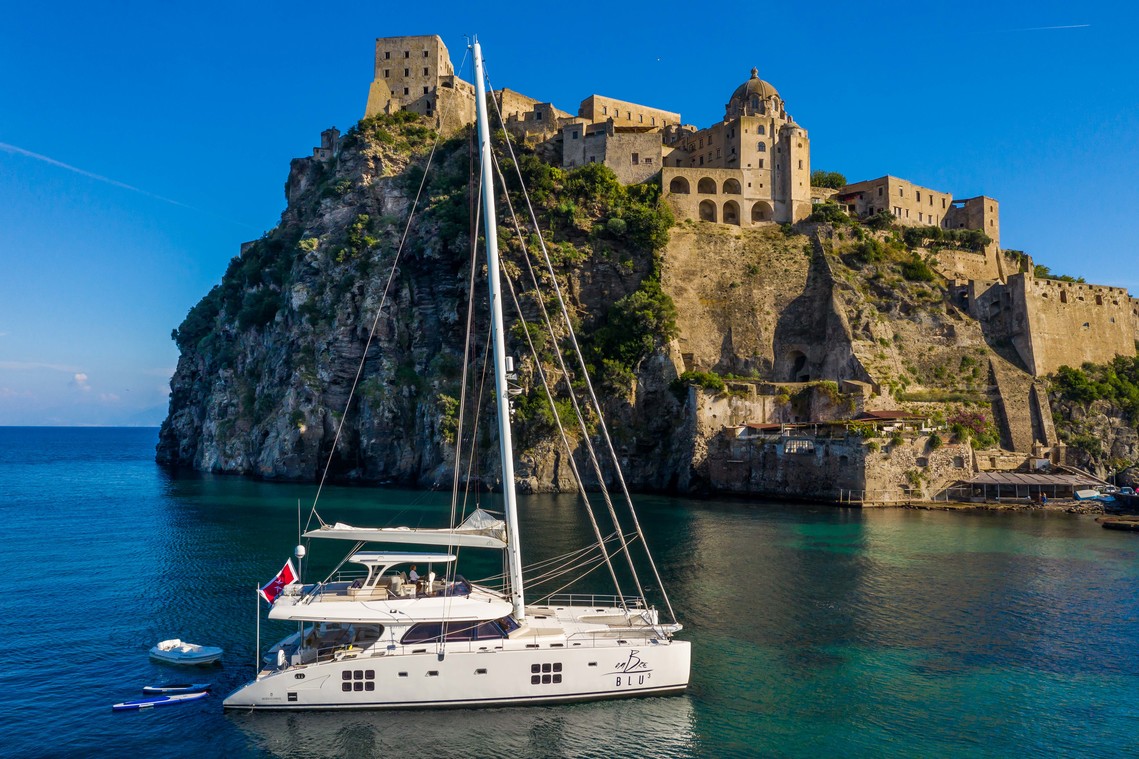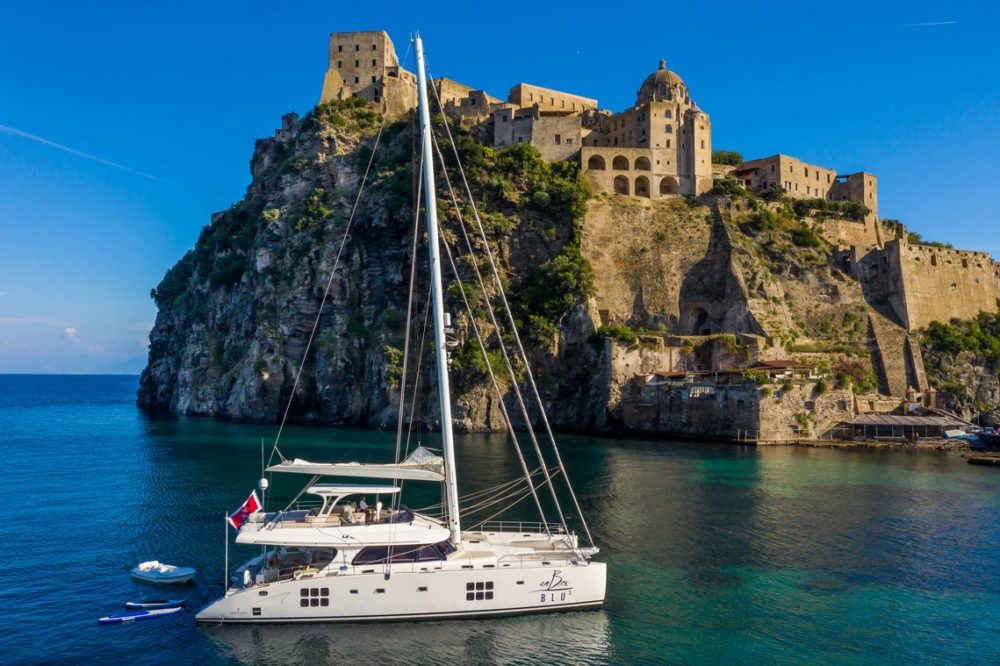 Italian Yacht Charter Areas
Highlights to see in Italy:
Here are some itineraries you shouldn't miss when you go on your Italy yacht charters:
Sicily (Ustica, Aeolian Islands, Lipari, Stromboli, and Egadi Islands).
Calabria (Vibo Valentia, and Reggio di Calabria).
Sardinia (Madalena, Santa Teresa, Portisco, and Alghero).
Naples and Salerno (Capri, Ischia, and Pompeii).
Rome (Ostia and the Pontine Islands).
Tuscany (Elba, Argentario, Eastern Corsica).
Ligurian Riviera (Cinque Terre, Portofino, Genoa).
Things to do in Italy:
Tourists will never run out of things to do while on board Italy yacht charters:
Swim. Since you are never far from the coastline, you'll find lots of places to take a swim.
Hike. Although Italy is sometimes overlooked as a hiking destination, there are many paths to enjoy.
Sightseeing. Ancient history, museums, UNESCO World Heritage sites, and more invite you to learn about this beautiful country.
Shop. You'll have plenty of shops and boutiques to browse. Look for local shops offering things such as olive oil, leather bags and sandals, wine, perfumes, and candies.
See the Blue Grotto on the island of Capri. Here, sunlight shines through the water in a sea cave, creating a beautiful, iridescent blue.
Take a food tour or cooking lesson to learn about Italian cuisine. Most importantly, don't forget street food, and it's a real treat to eat hot arancini while you walk.
Featured Italy Yacht Charters
Climate | Italy Yacht Charter
Italy has a Mediterranean climate with hot, dry summers and cool, wet winters. July is the hottest month, while January is the coldest. Additionally, the late Spring and early Fall months are typically sunny and make for great yacht charter vacations.
September makes for a relaxing and more local experience, as many festivals take place along the coast. From music to fish and food festivals celebrating the harvest of certain foods, you are bound to have a great time exploring Italy on a private yacht.
Gastronomy:
When most people think of Italian food, they think of pasta and pizza. However, the traditional cuisine of Italy includes many other tastes, such as seafood, ossobuco, risotto, and veal saltimbocca. In addition, tiramisu, panna cotta, or lemon cake made with fresh Amalfi lemons are great ways to top off a delicious meal.
It is no wonder that Italy yacht charters are often the first choice for travelers interested in quality food and wine. A customized Italy yacht charter experience offers top-quality cuisine and a wide range of dining options onboard.
In addition to making gourmet breakfasts, lunches, and hors d'oeuvres each evening; the Italy yacht charters also feature Italian wines and liquors. Additionally, the crew organizes special events such as cooking demonstrations and regional cuisine dinners.
Iconic Italian Yacht Charter Destinations
Portofino
We recommend Portofino if you want a romantic getaway or a high-end experience. It has unparalleled views of the Mediterranean and is one of the prettiest harbors on earth. While an excellent choice for the summer months, this charming seaside village is best visited in the off-season (September through October) when crowds are thinner.
In addition to the port's medieval architecture, shops, restaurants, and more, visitors will also find ancient catacombs that hold some spectacular Roman frescoes.
Amalfi Coast
The Amalfi Coast is one of the most beautiful coastlines in Italy and is known as one of the world's great sailing destinations. The coast has towering cliffs, deep-blue water, vineyards, and breathtaking mountain views. When you're not on your private yacht, you can enjoy stunning walks along Italy's coastline and explore Positano or one of many other seaside towns. Don't forget to head to the island of Capri for extraordinary views high atop the island after you a ride on the funicular.
Aeolian Islands of Sicily
A boat charter to the Aeolian Islands will take you through some of Italy's most spectacular Mediterranean landscapes while offering unique and uninterrupted views of Sicily. Located off the mainland of Italy and Sicily, this small archipelago comprises seven islands characterized by rugged terrain, volcanic activity, and green vegetation. The countryside is dotted with villages that range from historical medieval towns to modern tourist-driven hamlets catering to vacationers looking for a true escape.
Costa Smeralda of Sardinia
Boasting not only luxury but also sophistication, Costa Smeralda's crystal-clear waters, and its serene white sand beaches offer opportunities for a multitude of water sports, such as snorkeling, kayaking, and scuba diving. Sunbathers can enjoy a stunning six miles of the pure, pristine Sardinian coastline.
In addition, just off the coast, the archipelago of the Maddalena Islands is best explored by yacht. Traverse the transparent green waters and take a leisurely walk around the islands' quaint towns. Nestled away on the coast of Italy's southern region, Costa Smeralda is one of Europe's most secluded yachting destinations. The luxury ports feature elegant restaurants and bars with sea views, while the beaches offer pink sands.
Italy Yacht Charter Map
Please contact us at 1 (321) 777-1707 or complete our contact form to start planning your yacht charter vacation! It's never too early, or too late to inquire about your bespoke private yacht charter.
You make the memories. We make the arrangements.