Sicily Yacht Charters
Sicily yacht charters are one of the best ways to enjoy the island. The many villages, cities, and upscale ports welcome visitors year-round. Explore the island, feast on local cuisine, and learn about the island's unique history. Quaint fishing villages such as Cefalu and Syracuse are popular yachting destinations, along with the famed Taormina.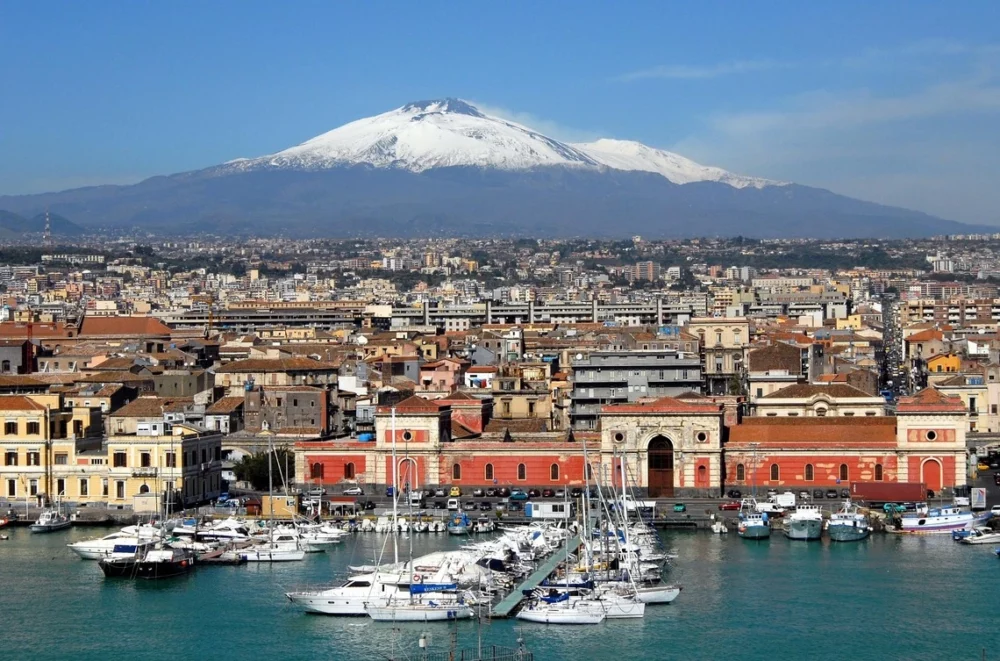 Climate
Sicily has a Mediterranean climate with mild, somewhat rainy winters and hot, dry summers. At nearly 11,000 feet above sea level, Mount Etna is usually covered in snow during the winter. Summer, especially July and August, is the peak season. During this time, locals and foreign tourists visit to enjoy outdoor activities such as going to the beach, festivals, food fairs, and concerts.
Sicily Yacht Charters | Places to See
The Aeolian Islands
Sail to the volcanic archipelago to see ancient ruins, forts, and wineries.
Syracuse
Home to remarkable archeological remains of the Greek and Roman empires. The Ear of Dionysius is a significant attraction. And it's a limestone cave that looks like an ear. Be sure to stroll the streets of the island of Ortigia, a magical and picturesque part of old-town Syracuse.
Taormina
There's an interesting ancient Greek theater where you will have fantastic views of Mount Etna. Gardens, beaches, cathedrals, and fine restaurants make Taormina a "must-see" on your Sicily yacht charter vacation.
Mount Etna
Mount Etna is the highest volcano in Europe and one of the most active in the world. Visit a winery, trek across the lava, or take a 4X4 tour for a day you won't soon forget.
Catania
Catania, the second largest city in Sicily, is located on Sicily's east coast. Authentic fish markets await you.
The Necropolis of Pantàlica
A collection of cemeteries with approximately 4,000 rock-cut chamber tombs. It is a UNESCO World Heritage Site.
Sicily Yacht Charters | Things to Do
Visit archaeological sites such as Selinunte.
Have a picnic of local food and wine.
Walk. In Palermo and Taormina, there are lots of interesting cafes and shops.
Hike. Mount Etna offers a unique and challenging hiking experience.
Bike. You'll be dazzled by unexpected landscapes as you roll through the countryside.
Soak up the atmosphere at the market in Catania.
Sicily Yacht Charters | Gastronomy
Sicilian food is quite diverse, with influences from Italian, Greek, Spanish, and French cuisine. Fragrant olive oil, rich tomato sauce, exquisite cheeses, and wines are staples in Sicilian dishes. Of course, since Sicily is an island, fresh fish is prominent in the local cuisine. While on your Sicily yacht charter, sample some of the local delicacies.
In addition, Jane visited five yachts in Palermo, Sicily, during May 2023 as part of a Fam Trip.
Please call us today at 1 (321) 777-1707 or describe Your Vacation Vision to help you plan your fully-crewed private luxury yachting vacation! Inquire as soon as possible about your custom, crewed yacht charter.
You make the memories. We make the arrangements.