Lying off the boot of Italy, the island of Sicily is an up-and-coming destination. It's also a fine point of departure for a yacht charter vacation, with plenty of smaller islets nearby. In May 2023, Jane Foster attended a three-night Palermo Sicily Yacht Show. She tells us about the yachts, the city, and the best sailing routes nearby.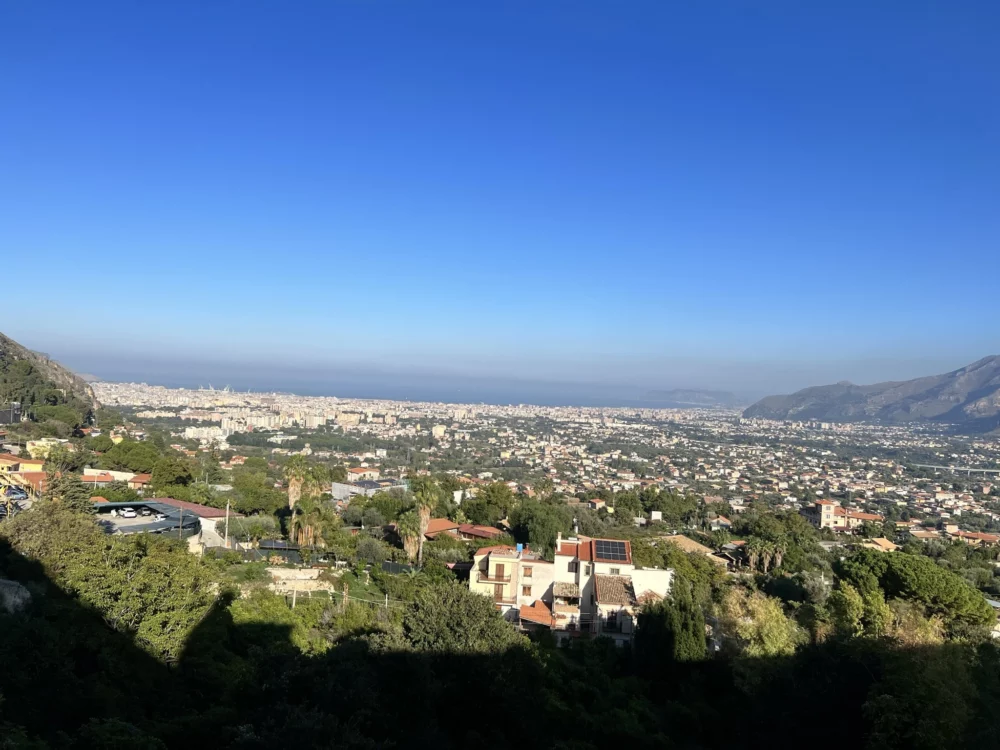 Could you tell us about the West Coast International Palermo Fleet Show?
It was held at the 400-berth Villa Igiea Marina in Palermo. The fleet consisted of six luxury yachts. Three single-hull sailing boats (My Lottie, Tess, and Malizia) and three catamarans (Aria, Didymos, and Blue Destiny). They'll all be based at the marina through summer 2023, available for crewed charter.
We were 26 guests, mainly yacht brokers, from Italy, France, Croatia, Greece, Switzerland, and the US. We slept aboard for three days, inspected the individual boats, and got to know their crews. Each day we had lunch and dinner on a different boat to sample all the chefs' cooking.
I was aboard My Lottie (27m; sleeps eight guests in 4 cabins; on request, can be converted to sleep 10 in 5 cabins), built in 1983 by Benetti (refurbished in 2013 and 2021).
What did you like best about My Lottie?
My Lottie is ideal for a family or group of friends who're interested in wind-powered sailing. She has two masts and a ketch navigation system. So you can hoist up the sails, switch off the motor, and harmonize with the elements – sea, wind, and sky.
But what made an impression on me was the crew. They were lovely: the captain, Giuseppe; deckhand Jose; chef Stefania; and stewardess Dominique. One evening we had a cocktail competition. Each crew prepared a cocktail accompanied by finger food, and all the guests had to visit each boat and taste and judge their offer. My Lottie won! Stefania concocted a punchy cocktail using tequila, lemon, capers, black pepper, and salt beautifully presented.
The catamarans are more suitable for guests less interested in sailing and wanting to spend more time aboard. They all have spacious minimalist white socializing interiors, expansive sunbathing decks, and an open-air Jacuzzi on the top deck.
Can you tell us about the food aboard during the Palermo Sicily Yacht Show
On My Lottie, each morning, we woke to the smell of freshly-baked cake. We found a fresh fruit platter on the table – strawberries, blueberries, kiwi, pears, and melon, all peeled and sliced. We had strong Italian espresso coffee made-to-order, toast and jam, and delicious cake.
Lunch and dinner were authentic feasts on all the boats. We had a lot of raw fish for appetizers, such as swordfish tartar and prawn carpaccio. This being Italy, almost every meal included a pasta dish. The one that really impressed me was paccheri pasta in a creamy shrimp sauce, topped with raw shrimp (that was on Tess). Of the main courses, my favorite was the sea bass baked in a salt crust (on My Lottie). Of the deserts, I'm still dreaming about the basil sorbet topped with pistachios and warm salted caramel sauce.
We also had dinner out one night, so we tasted some classic Sicilian specialties. Arancini (rice balls filled with mozzarella and ham, deep-fried) and cannoli (pastry rolls filled with sweet ricotta).
Sicily produces some good wines – did you try any?
We had guided wine tasting with a lady from Tasca, Sicily's biggest wine producer, founded in 1830. And we drank their excellent wines with most of our meals aboard. Their Tasca d'Almerita Mozia Grillo is a summery white, which pairs well with seafood. They have five estates, including vineyards on the slopes of Mount Etna and the tiny island of Mozia. Their estate on Salina, one of the Aeolian islets, has a residence called Capofaro in the vineyard. That looks really special!
Where can someone expect to sail if someone charters a boat on Sicily? | Sicily Yacht Charter
The most popular route takes you northeast on the Tyrrhenian Sea to the Aeolian archipelago, which is Unesco-protected. These extraordinary islands are volcanic; the seven largest are Lipari, Vulcano, Salina, Filicudi, Stromboli, Alicudi, and Panarea. To reach them, it's best to set sail from Sicily's nearest marina, Capo d'Orlando. If you sail from Palermo, it's a 6-hour voyage.
Each islet is unique. They have sulfurous waters, mud baths, and a natural Jacuzzi – Stromboli and Vulcano are still active. Locals live from fishing, farming, winemaking, and tourism. The islets are great for hiking and scuba diving; you can even take helicopter tours above the volcanoes. To see how the islands looked 80 years ago, watch Rossellini's classic film, Stromboli (1950), starring Ingrid Bergman.
Then off Sicily's west coast, opposite Trapani, you have the Egadi islands. They're not volcanic, and they're less visited, very peaceful, and lie within the Mediterranean's largest marine reserve. They offer safe anchorages and are great for snorkeling as the seabed is rich in biodiversity and archaeological finds. A Roman-Carthaginian naval battle took place here in 241 BC.
The largest island, Favigliana, is flat, so it's ideal for cycling, and it's also known for fishing for bluefin tuna. It has an excellent restaurant, Cibo Chiacchiere Vino, where all the produce is homemade. Opposite Trapani, in a sheltered lagoon, you can also visit the tiny island of Mozia. It's home to Tasca vineyards and has a museum displaying archaeological finds.
For guests arriving in Palermo long-haul, I'd recommend a recuperation night at Villa Igiea set in gardens overlooking the marina. Recently reopened following restoration, it has gorgeous frescoed interiors.
What did you do beyond the marina?
We had an excellent guided tour of Palermo with an art historian. She took us around the car-free city center to see its Arab-Norman monuments, mainly churches, which are Unesco-listed. Palermo was founded by the Phoenicians, who arrived in the 8th century BC.
There are so many layers of history; it's a real mixing pot of diverse cultures. It was also very wealthy in late-1800's, thanks mainly to the Florio shipping family, who traded Marsala wine. You can see some elegant villas from that time and imagine how well people lived then.
Did you go anywhere else outside Palermo?
On the final day, I visited Cefalu, a pretty seaside town with a long sandy beach one-hour east of Palermo. I hope to visit Sicily again when I'd like to see Taormina on the east coast. And I'd love to sail around those Aeolian islands too.
In summary, it was an excellent experience to attend the Palermo Sicily Yacht Show. We thank West Coast International for their hospitality.
Please call us today at 1 (321) 777-1707 or describe Your Vacation Vision to help you plan your fully-crewed private luxury yachting vacation! Inquire as soon as possible about your custom, crewed yacht charter.
You make the memories. We make the arrangements.