Ischia
Ischia is a beautiful and historical island located in the Tyrrhenian Sea off the coast of Naples, Italy. It is the largest island in the bay of Naples and is known for its natural beauty, hot springs, and ancient ruins. Ischia, also known as the green island, boasts stunning botanical gardens and vineyards.
A luxury yacht vacation is the perfect opportunity to explore Ischia and the nearby island of Procida. You can start or end your yacht charter on these lovely islands, just a short trip from nearby Naples.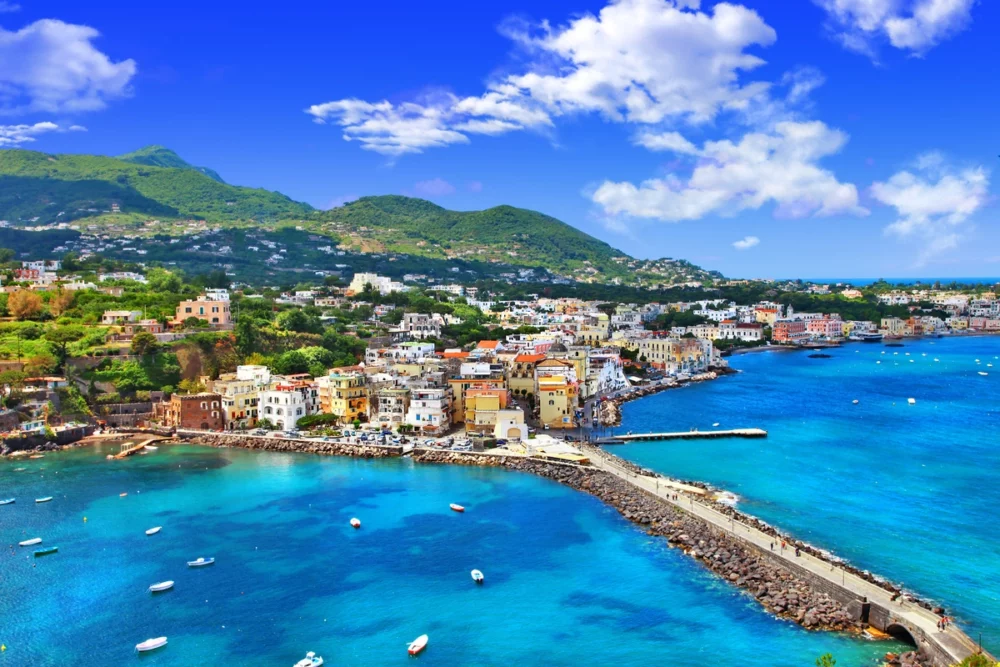 Things to See and Do on Ischia
Take a dip in the healing thermal baths at one of many thermal parks. You can indulge in spa treatments or even swim in thermal water pools.
Wander the streets of old town Ischia and pick up handmade sandals, spa creams, and gels made with thermal water.
Explore the island's many archaeological sites.
Cruise around the island to see the many lighthouses, churches, and villas that line the seaside cliffs.
Hike up the 2,600ft high Monte Epomeo peak for great exercise and rewarding views from the volcano.
Dine on fresh seafood at one of many excellent beachfront restaurants.
Make sure to visit Ischia's Aragonese castle and soak up some of the island's breathtaking views.
Taste the locally produced Biancolella wine, grown only on Ischia.
Relax on guitar beach, Spiaggia di Citara, named for its unique shape.
Yacht Charter Destinations to Visit Nearby
Pontine Islands
With your yacht, you can venture to the idyllic islands of the Pontine archipelago. Of these, Ponza is the most impressive and alluring Tyrrhenian paradise. Explore its quiet fishing villages and vibrant marinas, or take a day to unwind on the pristine beaches, basking in its stunning views. Palmarola is another beautiful stop known for its unique cathedral rock formations in the northern cape.
Capri
Cruise to the famed Capri for an elegant meal, a rigorous hike, or a relaxing time on the beach. You can also take a cable car up to the island's top. Known for its glitz, Capri also has excellent shopping and dining. Of course, don't miss a visit to the blue grottos, stunning caves with electric blue water.
Naples
Naples will make your journey unforgettable, from its bustling culture to its breathtaking landscape. Stroll down its narrow alleys, investigate the historic ruins, and experience the vibrant nightlife. Set sail with a Naples yacht charter and witness an exceptional experience.
Amalfi Coast
South of Ischia and Procida, you can find the luxurious Amalfi Coast. This beautiful stretch of land boasts cliffside towns, and charming beaches, surrounded by olive groves and vineyards. Stop for a cocktail in posh Positano, or walk above Amalfi, on the Pathway to the Gods. Be sure to stop in picturesque Ravello and tour the majestic seaside gardens.
Please call us today at 1 (321) 777-1707 or describe Your Vacation Vision to help you plan your fully-crewed private luxury yachting vacation! Inquire as soon as possible about your custom, crewed yacht charter.
You make the memories. We make the arrangements.