If you're looking for the epitome of luxury and glamour, nothing matches the experience of yacht vacations in Portofino. This charming Italian village has been a magnet for the rich and famous since the 1950s.
Its timeless beauty continues to captivate visitors, making it an irresistible destination for a truly Instagram-worthy holiday. Let's explore the allure of Portofino and why a yachting vacation there is the ultimate choice for an unforgettable getaway.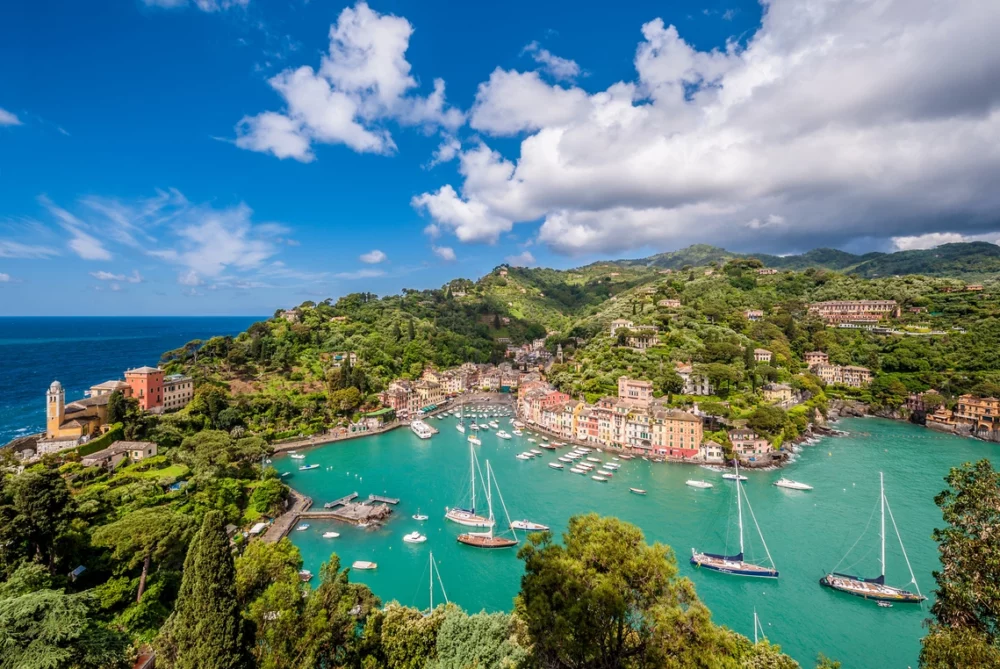 The Glamour of Portofino
Nestled on the southeastern coast of the Italian Riviera, Portofino exudes an air of opulence and elegance. The heart of the village, the Piazzetta, overlooks a stunning harbor. There, luxurious superyachts shimmer against the backdrop of the azure sea.
The presence of these luxurious superyachts further emphasizes Portofino's glamorous appeal. These impressive vessels, often owned by wealthy individuals and celebrities, contribute to the village's reputation as a playground for the elite.
Quaint and colorful houses line the shores, adding to the idyllic setting. Notably, Portofino has long been a favorite haunt of celebrities. In the past, iconic Hollywood stars such as Liz Taylor, Richard Burton, Humphrey Bogart, and Clark Gable frequented this dazzling village. Today, the tradition continues with A-list stars like Sarah Jessica Parker, Matthew Broderick, and Kourtney Kardashian gracing its streets.
Abundant Activities for your Yacht Vacation in Portofino, Italy
Portofino offers a wide range of activities to cater to everyone's preferences. Portofino has something for you, from a relaxed and easy-going experience or an exciting and adventurous one.
Here are some must-see attractions and things to do:
Brown Castle is an ancient military fortress in Portofino, offering enchanting bay views and picturesque surroundings. Visitors can explore its lovely gardens and immerse themselves in the historical charm of this captivating landmark.
Shopping: Portofino offers a delightful shopping experience. The village offers luxury boutiques and high-end shops, where you'll find various fashionable items and souvenirs.
San Martino Church: San Martino Church is a stunning little church on a hill just off the piazza in Portofino. The charming architecture and serene ambiance provide a peaceful escape for visitors seeking a moment of reflection and tranquility. The church offers captivating views of the surrounding landscape.
Lighthouse Walk: The Lighthouse Walk in Portofino is a scenic and leisurely stroll that leads to the iconic lighthouse. As you follow the path along the coastline, enjoy breathtaking views of the shimmering sea and the picturesque village.
Hike or Bike: Discover panoramic trails that wind through the scenic countryside.
San Fruttuoso Abbey. This ancient abbey is a must-visit for history enthusiasts and those seeking a unique experience. However, it is only accessible by foot or sea. Additionally, scuba diving enthusiasts can explore the colossal bronze statue of Christ submerged beneath the azure waters.
Paraggi Beach: Relax on this popular beach, known for its emerald green waters and stunning surroundings.
Dining: Dine at renowned Michelin-rated restaurants such as Cracco Portofino and DaV Mare. Savor iconic dishes and regional specialties prepared with fresh local ingredients.
Explore Nearby Gems on Your Yacht Vacation in Portofino
Beyond Portofino, the Italian Riviera offers a plethora of captivating destinations worth visiting. Consider expanding your itinerary to include these nearby gems:
Cinque Terre: A UNESCO World Heritage Site boasting five charming villages connected by scenic walking trails overlooking the Mediterranean Sea.
Tuscany: Tuscany is certainly the heart of Italy's artistic and cultural heritage. Its capital, Florence, showcases iconic Renaissance art and architecture. See masterpieces such as Michelangelo's "David" statue and Botticelli's paintings in the Uffizi Gallery.
Elba Island: A quaint island in the Tuscan Archipelago.
Plan Your Yacht Vacation
Indeed, embarking on a yacht vacation in Portofino promises an extraordinary experience. To fully immerse yourself in the Italian way of life, consider a two-week charter from Portofino to the Cote Azur. Then you can spend more time in each area, relishing the beauty and culture along the way.
Yachts for Your Yacht Vacation in Portofino
You'll have many yacht options when planning your dream yacht vacation in Portofino. Each type of yacht offers a unique experience, catering to different preferences and desires.
Let's explore the four types of yachts you can choose from:
Motor Yachts
If you crave a sense of luxury, comfort, and speed, motor yachts are an excellent choice. These yachts have powerful engines, allowing you to effortlessly cruise through the waters. Motor yachts often boast spacious interiors, providing lavish accommodations for relaxation and entertainment.
Sailboats
Sailboats are great for those seeking a more traditional and serene yachting experience. Set sail and feel the exhilarating rush as the wind propels your vessel through the azure waters.
These yachts often feature beautiful wooden finishes and a cozy ambiance. Sailboats are ideal for immersing yourself in nature and enjoying the soothing sounds of the ocean.
Power Catamarans
Combining stability, space, and efficiency, power catamarans offer a fantastic yachting experience for families and groups. These dual-hulled vessels provide exceptional stability, ensuring a smooth ride even in choppier waters.
With their generous deck space, power catamarans offer ample room for sunbathing and socializing while taking in coastal views. They are perfect for water sports enthusiasts, as you can easily access the water from the wide swim platforms. If you seek a balance of comfort, speed, and practicality, a power catamaran will not disappoint.
Sailing Catamarans
Sailing catamarans are both spacious and stable. These yachts have remarkable balance and agility, providing a smooth and enjoyable journey across the waves.
Since they have multiple cabins and roomy living areas, these yachts offer excellent comfort and privacy for larger groups or families. Sailing catamarans are a fantastic choice if you want the thrill of sailing without sacrificing space.
Portofino Marina for Your Yacht Vacation
Porto di Portofino is a picturesque harbor and a popular marina for luxury yachts and boats worldwide. With its well-equipped facilities and services, the marina provides a convenient and bustling hub for yacht owners and visitors alike.
Surrounded by elegant yachts and colorful buildings, the marina's beauty adds to Portofino's overall charm and allure. It is a delightful spot to explore and enjoy the coastal atmosphere.
Your Perfect Luxury Yacht Charter Vacation
When planning your yacht vacation in Portofino, you can rest assured that we will assist you in finding the ideal yacht.
Take a look at some of the yachts available:
Please call us today at 1 (321) 777-1707 or describe Your Vacation Vision to help you plan your fully-crewed private luxury yachting vacation! Inquire as soon as possible about your custom, crewed yacht charter.
You make the memories. We make the arrangements.