Capri
Situated just off Italy's famed Amalfi Coast, you can find the intriguing island of Capri.  The small Italian island is one of the most famous tourist destinations in the world and an ideal place to charter a luxury yacht. Capri has been attracting visitors to its natural wonders at the southern tip of the Bay of Naples.
Some highlights you can see on a Capri yacht charter include the Blue Grotto, renowned since Roman times. You can spend days exploring this beautiful region by boat with your private yacht. Navigate harbors, hidden coves, inlets, and more unreachable by foot.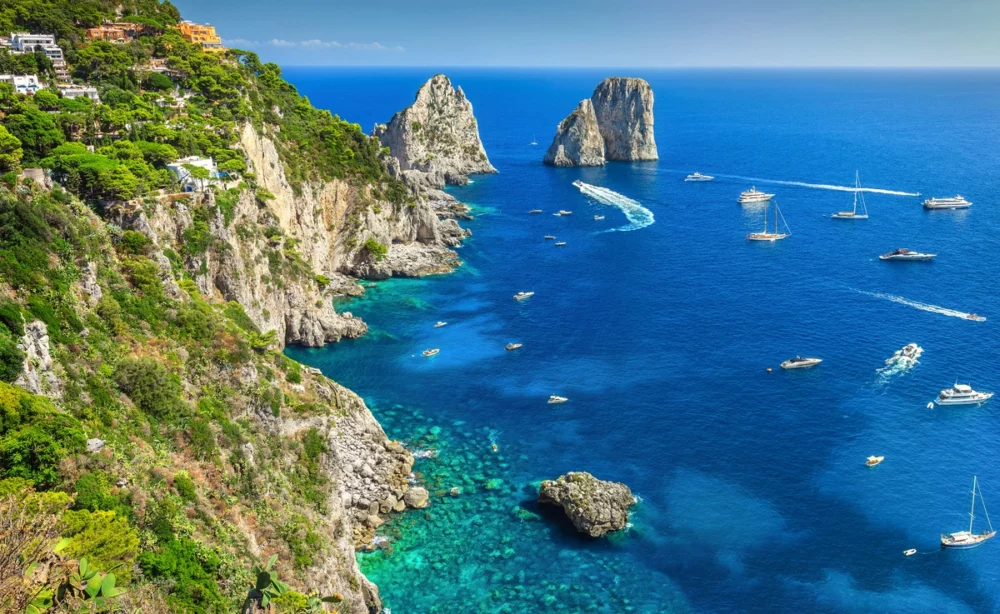 What Makes Capri So Special?
The Amalfi Coast and Capri are romantic destinations that offer the perfect relaxing place. Chartering a yacht in Capri will allow you to explore the coast, which is full of high cliffs adorned by ancient castles and artifacts of the area's long history.
Spend your day sailing around the coastline, stopping at picturesque villages and secret caves. The island is famous for its historic buildings, scenic views from the water, and high atop its nearly 2,000 ft. peak of Monte Solaro. 
Things To Do on a Capri Yacht Charter
Hike – If you're looking to explore some of the more secluded areas of Capri, take a hike up to Anacapri. Instead, take the funicular for outstanding views of Monte Solaro and a much easier journey.
Swim – Go exploring and swimming in the pristine water at Marina Piccola Bay.
Dine – Enjoy dinner ashore at one of many haute cuisine restaurants before heading back for another evening relaxing on your private yacht.
Learn – For those interested in history, don't miss out on Villa Jovis, once home to emperor Tiberius, or Villa San Michele, which features stunning gardens.
View Artwork – For art lovers, visit Museo Archeologico Nazionale di Capri with its collection of sculptures, coins, and artifacts dating back three millennia.
Explore – Be sure to stop by Grotta Azzurra for its blue-green water, underwater caves, and natural swimming pool.
Taste Wine – Visit the island's only vineyard and underground cellar for a magical experience.
Visit Anacapri and explore its charming cobblestone streets and colorful villas.
While in Anacapri, visit Casa Rossa, a museum that houses a permanent exhibition of images of 19th and 20th-century Capri and four ancient roman statues found in the Grotta Azzurra in 1964 and 1974.
Check out the Blue Grotto, a sea cave with bright blue waters lit up by sunlight streaming through underwater holes.
Places To See Near Capri
Ancient Ruins – Back on Italy's mainland, you can also spend your days wandering through ancient ruins. These include sites such as the Forum at Herculaneum or Villa San Marco, both abandoned after Mount Vesuvius erupted in 79 AD.
Sorrento – The Peninsula across from Capri is home to many gorgeous parks, a cliff-top town, and walking places.
Positano – The place to see and be seen. Sip coffee or a drink on the beach or walk above the town to the Pathway of the Gods.
Ravello – While not beachfront, this lush green town is just off the coast, not far from Positano. Boasting gardens, quaint squares, and tons of charms, it's worth a visit.
Naples – You can't visit this part of the world without trying authentic Napoletana pizza in Naples. While there, be sure to visit the two seaside castles.
If time allows, cruise up the coast from Capri and visit gorgeous Ischia, known for its natural thermal baths, stunning gardens, castles, and lovely vineyards.
Climate
Given its location, Italy has a temperate Mediterranean climate characterized by hot, dry summers and colder but wetter winters. July is its hottest month, while January and February are the coldest. Spring and fall typically feature bright, sunny days perfect for taking trips out on the water – either sailing or cruising on a motor yacht!
Gastronomy in Italy
Where do we begin? Capri is fortunate to be situated in Campania, a region rich in culinary delights! From seafood, including every imaginable shellfish and local fish, to excellent pasta and pizza, you will not go hungry in Capri. Notably, the island is excellent for vegetarians as you can find namesake Caprese salads and ravioli Caprese dishes with fresh tomatoes, basil, and mozzarella.
One of the most delightful ways to end a meal is by enjoying a slice of Torta Caprese. This traditional Italian cake, filled with almonds and dark chocolate, is typically served with a small shot of limoncello (lemon liqueur), which according to legend, was first concocted on the island of Capri. Though, its origin is a topic of hot debate.
A few of the most famous restaurants on Capri are Da Paolino, Aurora, and Da Giorgio.
When Should You Take a Capri Yacht Charter?
Summer
Summer on the Amalfi Coast is one of the best times to take your luxury yacht charter vacation. With stunning views and plenty of activities, you'll never get bored exploring this beautiful coastline.
Fall or Spring
However, if you're looking for more tranquil months, when should you go? You can avoid the peak summer months and charter in May or September-October. Local events and less crowded shores are just some of the benefits.
Winter
If you're thinking about visiting during the winter months, don't worry! The weather here is still milder than in other European regions like Croatia or New England in North America.
If you're lucky enough to be able to spend some time near Naples over New Year's Eve, head inland to visit the crater lake Lago D'Averno where Romans held their celebrations after sacrifices had been made to ensure good fortune for the coming year.
Please call us today at 1 (321) 777-1707 or describe Your Vacation Vision to help you plan your fully-crewed private luxury yachting vacation! Inquire as soon as possible about your custom, crewed yacht charter.
You make the memories. We make the arrangements.