Amalfi Coast Yacht Charters
The Amalfi Coast of Italy has everything. Amazing views, fantastic food, and near-perfect weather make this slice of Italy undeniably noteworthy. However, that's only scratching the surface. Did you know that this piece of Southern Italy is also home to awe-inspiring history? See for yourself on one of our Amalfi Coast yacht charters. Depart from Naples, or start directly from one of the great Amalfi towns we discuss below.
When the Romans were taken over by invaders in 410 AD, wealthy citizens sought refuge. This resulted in the establishment of three towns – Positano, Amalfi, and Ravello. Though they may be small now (Amalfi is still quite a thriving city), each town has something unique to offer visitors looking for adventure. As such, the coast is famous in the Summer months. Don't worry; you can escape the crowds and traffic and see these seaside villages from your Amalfi Coast yacht charter.
Positano is known for its picturesque blue seaside; Inland, Ravello features incredible coastal gardens and exceptional villas, while Amalfi (the oldest) retains much of its original medieval-maritime charm amidst centuries-old stone walls.
Take advantage of the excellent wines and local limoncello no matter which town you visit. You won't regret spending some time getting to know this colorful region. As there are many places to visit, a crewed yacht charter is the easiest, most comfortable, and most peaceful way to explore the area.


Types of Yachts to Charter on the Amalfi Coast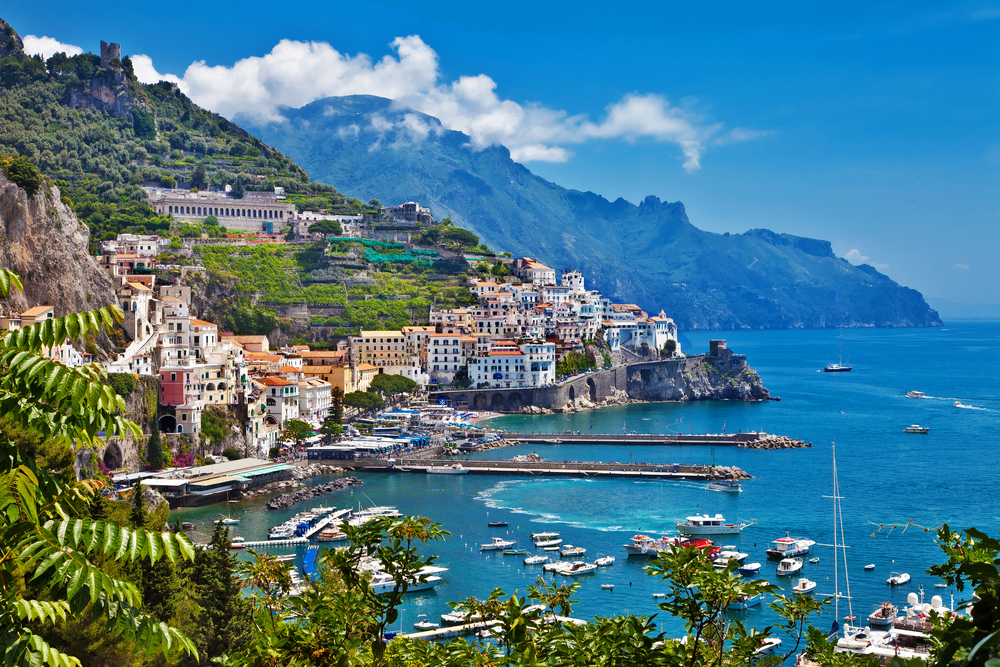 Things to See and Do on the Amalfi Coast
View Ancient Sites. See the remnants of the past left behind in places like Pompeii or Sorrento's Valley of the Mills.
Hike to discover incredible views. Stroll through beautiful cliffside paths with breathtaking views from the Pathway of the Gods above Amalfi.
Hit the beach. It's time to take a much-deserved break! Relax on one of these stunning beaches like Praino or Vietri Sul Mare. Go ahead and bask in Italy's natural beauty, perhaps with a refreshing local wine.
Explore the Amalfi Coast on a Two Week Amalfi Yacht Charter Rental.
Ravello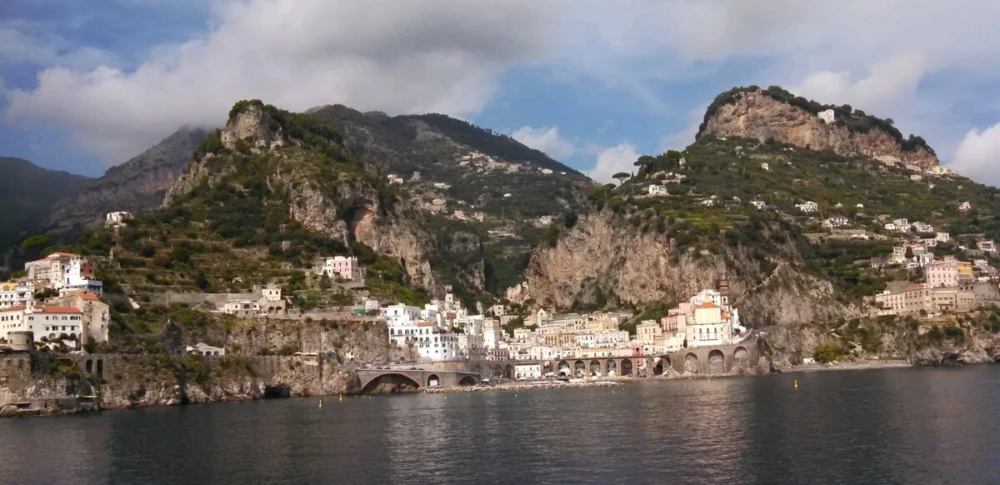 Ravello is known as one of the most beautiful towns in southern Italy, and it's easy to see why. From its ancient architecture to stunning views of the Tyrrhenian and Mediterranean Seas, Ravello is a lovely place to visit. Charming piazzas greet you with historic churches, palaces, and gorgeous botanical gardens. In addition, its location makes Ravello an excellent choice for a day excursion from your Amalfi Coast yacht charter vacation. Amalfi Coast, Italy Where Is Ravello on the Amalfi Coast? The small town of Ravello is perched above the Amalfi Coast in Campania, Italy. Located about 80 miles south of Naples and only 12 miles from Salerno, Ravello is a short trip up from the shore via nearby seaside towns like Amalfi, Atrani, or Positano. Ravello's elevation atop a hill provides visitors with breathtaking views of the surrounding landscape and coastline. From the town center, it is possible to...
Places to See on your Amalfi Coast Yacht Charter
Positano
The gorgeous Italian town of Positano sits on a cliff overlooking the Mediterranean. Positano is around 2,000 years old and has a lot of spectacular views to offer. One way to experience Positano is to hike or drive up high for the best vantage points.
If you love nature, you'll want to check out places like Montepurtusso Il Buco, a wonderfully strange outcropping of rocks. They offer scenic views of the ocean and fantastic opportunities for photos of gorgeous homes. Nestled in lush green hillsides, you can find villas next to vineyards filled with olives and lemons. To enjoy Positano's unique atmosphere, visit one of its beaches, like Il Fornaillo or Arienzo Beach.
Capri
Known for its glitz and glamour, Capri wasn't always just a desirable vacation spot positioned just off of the Amalfi Coast. In the past, its position made it most valuable for trade. Today, you can see ruins left over from Capri's times as a Roman trading center and Byzantine Roman colony before it was added to Italy in 1866. Capri's atmosphere is from a fairy tale mixed with incredible gardens, fruit, and olive trees.
From your private yacht, head ashore and take the funicular to reach the small inland town of Capri. Explore quaint piazzas, have a bite to eat, and try some authentic gelato. If you're interested in some additional thrills, you can take a single-rider mountain chairlift up to the top of Mount Anacapri. It's an incredible experience to add to your bucket list for an Amalfi Coast yacht rental.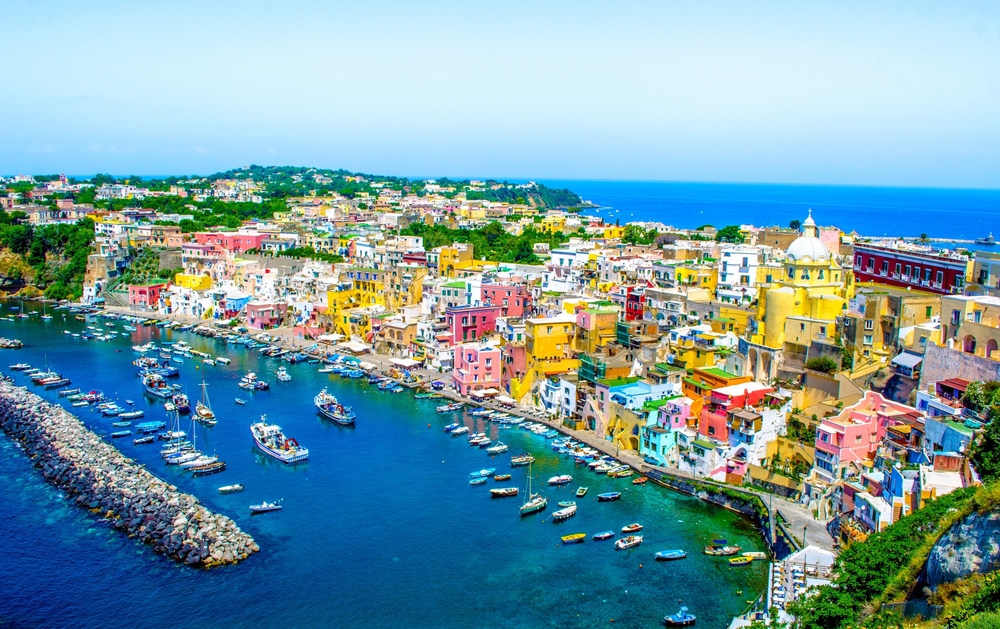 Ischia & Procida
Ischia and Procida lay off the coast of Naples but feel like a world away. You can return to an archaeological museum with floor mosaics from the ancient Roman Villa of 313 AD. Yacht visitors looking for a relaxing atmosphere may also visit one of many thermal baths that date back as far as 110 BC. Of course, wine tasting is a must while visiting Procida. Don't leave without enjoying the island's own Biancolella grape.
You can head to the little sister island of Procida for gorgeous scenery and adventure. You can climb to the highest point on the island, Monte Epomeo, at 1,400 feet above sea level. For beautiful coastal vistas, head to Belvedere Esla Morante. These are just a few destinations possible on our Amalfi Coast yacht charters.
Extended Amalfi Coast Yacht Rentals
If you're looking to explore southern Italy, you can combine an Amalfi Coast private yacht rental with another week exploring nearby Sicily or up the coast along the Tyrrhenian Sea. For more, please see our two-week Amalfi Coast Itinerary example.
Aeolian Islands
The lush, volcanic paradise of Lipari and Panarea in the Aeolian Islands are popular destinations for the region and Italy, attracting yacht charterers. Situated just north of Sicily, these islands make for an easy trip from mainland Sicily or the Amalfi coast.
The Aeolian Islands are a group of islands in the Tyrrhenian Sea north of Sicily, containing one of three active volcanos in Italy, Mount Stromboli. The other significant island is Vulcano. Steaming fumaroles and thermal waters can be found on most of the islands.
Tyrrhenian Sea
Explore the tiny islands of Ponza, Palmarola, and Zannone, all located in the Pontine Islands off Italy's southwestern coast. Secluded caves, fortresses, beaches, and crystal clear waters await you in this unique part of Italy. As the islands are between Rome and Naples, you reach them on a private yacht charter from the Amalfi Coast or Italy's Tuscan Coast. You can tour the island of Elba, Giglio, and many more places in the Tuscan archipelago.
There's more to Amalfi Coast Yacht Charters. Indeed the yacht, its water toys, and its cuisine.
Browse Our Amalfi Coast Yachts
Please call us today at 1 (321) 777-1707 or describe Your Vacation Vision to help you plan your fully-crewed private luxury yachting vacation! Inquire as soon as possible about your custom, crewed yacht charter.
You make the memories. We make the arrangements.