Discover RIVIERA, an elegant and powerful 78-foot Alalunga flybridge motor yacht in Sorrento, Italy, near Naples. On RIVIERA, you can enjoy an Amalfi Coast boat rental around the Gulf of Naples, Sicily, the Aeolian Islands, and Sardinia. Originally built in 2009, she was recently refit in 2021 and is ready to show you Italy!
RIVIERA sleeps up to nine guests in four luxurious ensuite cabins. The cabins have finishes of ivory, blonde oak panels, delicate lighting, and artwork depicting sea life that creates a tranquil atmosphere.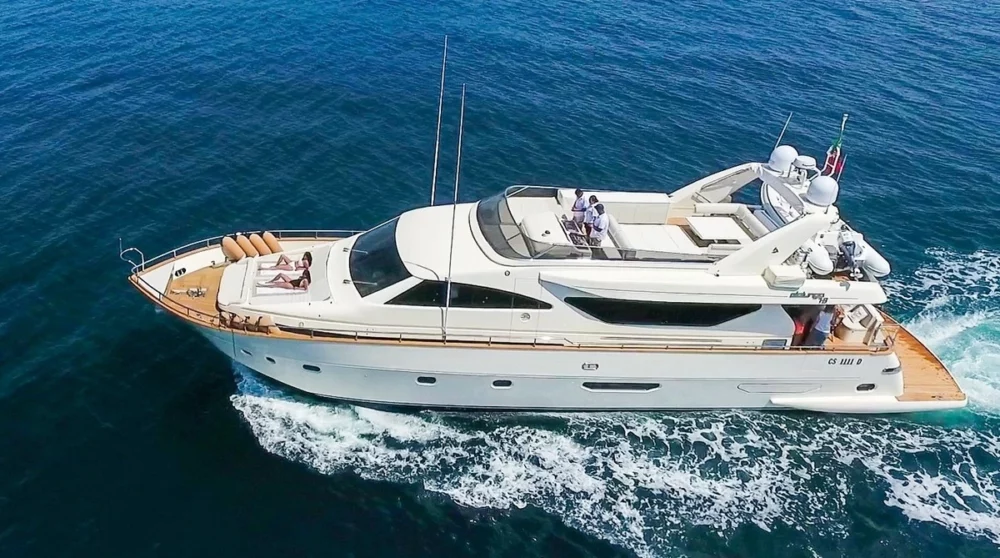 Key Features
A teak-decked cockpit with an outdoor dining space for twelve.
Her salon has two sections, a lavish living room and a dining room for eight.
She features four cabins on the lower deck, each with an ensuite, a TV, and air-conditioning.
A full beam Owner's cabin fitted with Bellora linens, a walk-in closet, and a plasma SAT TV. The ensuite features a teak shower.
RIVIERA's flybridge is an ideal area for sunbathing and recreational activities. It has an extensive sundeck with sun pads, a couch, a BBQ and bar area, and a dining table. It also has a second helm station.
All the gear necessary gear for on-water adventure for those energetic charterers. RIVIERA provides water skis, inflatable banana boats, snorkels, and fishing gear.
Additionally, RIVIERA has a maximum speed of 35 knots. Guests can explore remote coves and hidden treasures of the Mediterranean. Then, return in time for sunset drinks at the dock.
Amalfi Coast Boat Rental | Water Toys
Tender 4,40mt outboard engine 40 Hp
Towable Tender 6.70 mt. Joker Boat 200 hp (available upon request for charters along the Amalfi Coast)
1 Stand-up paddleboard
Snorkeling gear
Professional fishing equipment
Water-ski
Donuts
Inflatables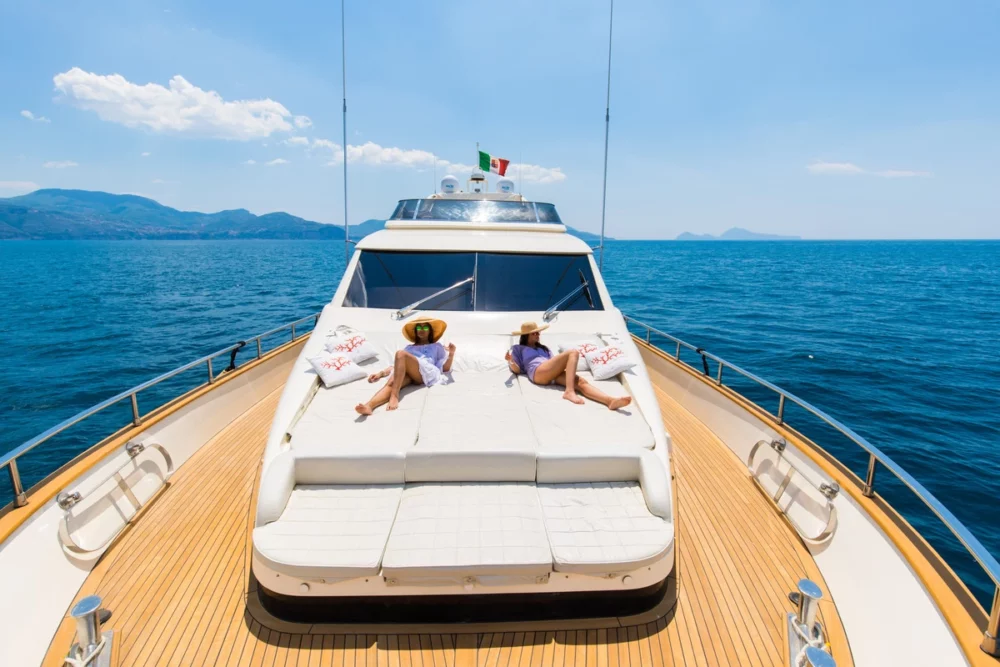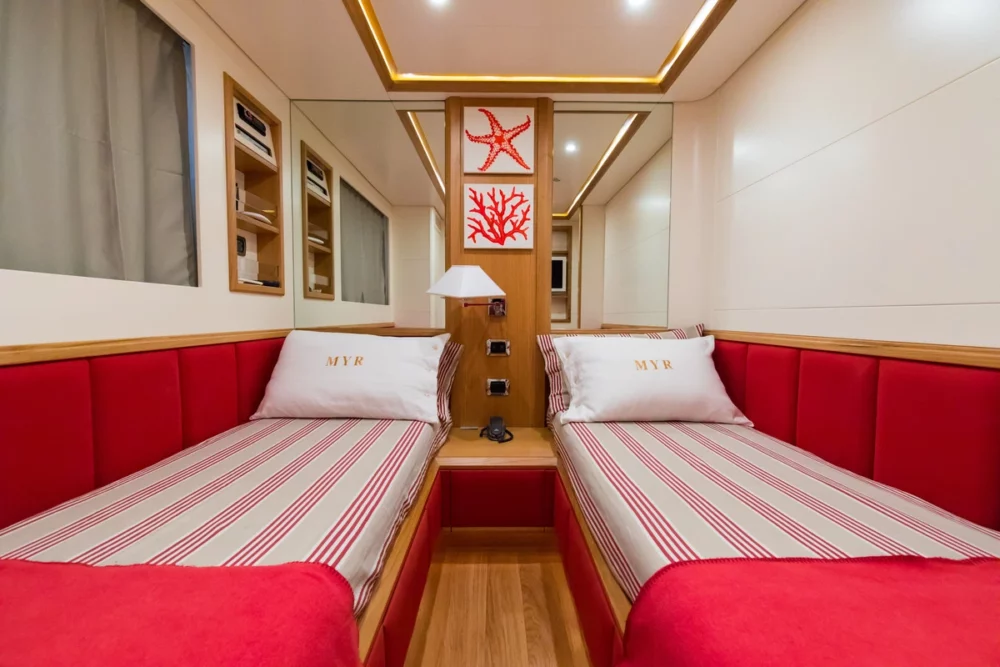 Crew Aboard RIVIERA | Amalfi Coast Boat Rental
Captain Antonino Aiello
Antonio, born in 1983, is from the Amalfi Coast. Since his father was a professional sailor, he developed a love for the sea when he was young. After completing his studies at the Nautical Institute, Antonino spent five years working in the yachting industry on cruise ships. He then moved on to tour the wonderful island of Capri as a charter Captain on private yachts.
His extensive sailing experience, combined with his welcoming attitude, is a perfect combination to ensure his guests feel comfortable and safe. Furthermore, he knows the Amalfi Coast and the Gulf of Naples, allowing guests to discover secret spots known only to locals.
Additionally, Antonino holds multiple certifications in First Aid, including Basic Life Support and Defibrillation. He is also fluent in Italian and English.
Chef Salvatore Aiello
Salvatore is the man behind the 5-star floating restaurant of the Riviera yacht. Salvatore's learned his cooking skills at his family's restaurant in Sorrento. His fresh, natural and local Mediterranean-style dishes have impressed even the most critical clients.
He creates customized, innovative recipes using the finest ingredients to delight each guest.
Moreover, Salvatore has over a decade of experience as a deckhand and additional specialized training in yacht charters. Salvatore is also in charge of all the watersports activities. He ensures the safety of his guests during their stay. Salvatore is proficient in both Italian and basic English.
Places to Visit on an Amalfi Coast Boat Rental
Italy is a dream destination for a yacht charter, offering a wealth of stunning coastal towns, historical sites, and beautiful islands. Here are some of the best places to visit on an Italy yacht charter:
Amalfi Coast
The Amalfi Coast is a breathtaking stretch of coastline renowned for its picturesque towns, colorful cliffside villages, and crystal-clear waters. Visit the charming towns of Amalfi, Positano, and Ravello, and explore the ancient ruins of Pompeii. Of course, don't forget to enjoy the region's renowned cuisine.
Ischia
Known as the "Green Island," Ischia is the largest in the Gulf of Naples. It is famous for its thermal springs, beautiful beaches, and lush vegetation.
Explore the picturesque towns of Ischia Porto, Forio, and Sant'Angelo, and visit the impressive Aragonese Castle. It sits on a rocky islet connected to the main island by a bridge. Enjoy soaking in the island's thermal baths, indulge in delicious seafood, and relax on stunning beaches like Maronti and Citara.
Procida
Procida is a small and charming island that offers a more tranquil and traditional atmosphere than its neighboring island. Its colorful houses, narrow streets, and local fishing culture make it a picturesque destination.
Stroll through the colorful streets of Procida Town, and visit the medieval Terra Murata. You can also relax on the beautiful beaches of Chiaiolella and Chiaia. Don't miss the chance to sample the island's renowned local cuisine, including fresh seafood dishes.
Capri
The island of Capri, located in the Bay of Naples, is synonymous with luxury and natural beauty. Anchor your yacht in the Marina Grande and explore the famous Blue Grotto. Next, stroll through the stylish streets of Capri Town, and visit the Villa San Michele and the Gardens of Augustus.
Sardinia | Amalfi Coast Boat Rental on RIVIERA
Sardinia is a paradise for yacht charters with its pristine beaches, turquoise waters, and rugged landscapes. Explore the Costa Smeralda, known for its upscale resorts and vibrant nightlife. Sail around the stunning Maddalena Archipelago, and discover the ancient Nuragic ruins scattered across the island.
Sicily
The largest island in the Mediterranean, Sicily offers a fascinating mix of history, culture, and natural beauty. Dock in the vibrant city of Palermo. Then, explore the ancient Greek ruins of Agrigento, visit the picturesque town of Taormina, and marvel at the majestic Mount Etna. You can also visit the gorgeous volcanic Aeolian Islands.
Cinque Terre
Located on the Italian Riviera, the five colorful villages of Cinque Terre are a UNESCO site and a must-visit destination. Explore the charming villages of Riomaggiore, Manarola, Corniglia, Vernazza, and Monterosso al Mare, and hike along the stunning coastal trails.
Portofino
Nestled on the Italian Riviera, Portofino is a picturesque fishing village known for its colorful buildings, luxury yachts, and glamorous atmosphere. Explore the charming harbor, dine in waterfront restaurants, and enjoy the scenic hiking trails of the Portofino Natural Park.
Amalfi Coast Boat Rental on RIVIERA
These destinations in Italy offer a mix of natural beauty, cultural heritage, and luxurious experiences. It is the perfect place for a yacht charter. Exploring by yacht allows you to enjoy the stunning coastlines and islands at your own pace. Above all, you can't go wrong with an Amalfi coast boat rental or a charter anywhere in Italy!
Please call us today at 1 (321) 777-1707 or describe Your Vacation Vision to help you plan your fully-crewed private luxury yachting vacation! Inquire as soon as possible about your custom, crewed yacht charter.
You make the memories. We make the arrangements.