Best Italy Honeymoon Charter Vacations
Are you looking for the perfect Italy honeymoon charter destination? Italy has some of the world's most romantic and adventurous honeymoon destinations. From Sardinia's beaches to Tuscany's rolling hills, couples will find a wealth of experiences to share and create lasting memories.
Below, we've outlined some of the best Italy honeymoon destinations, including renting a private yacht in Italy for your honeymoon.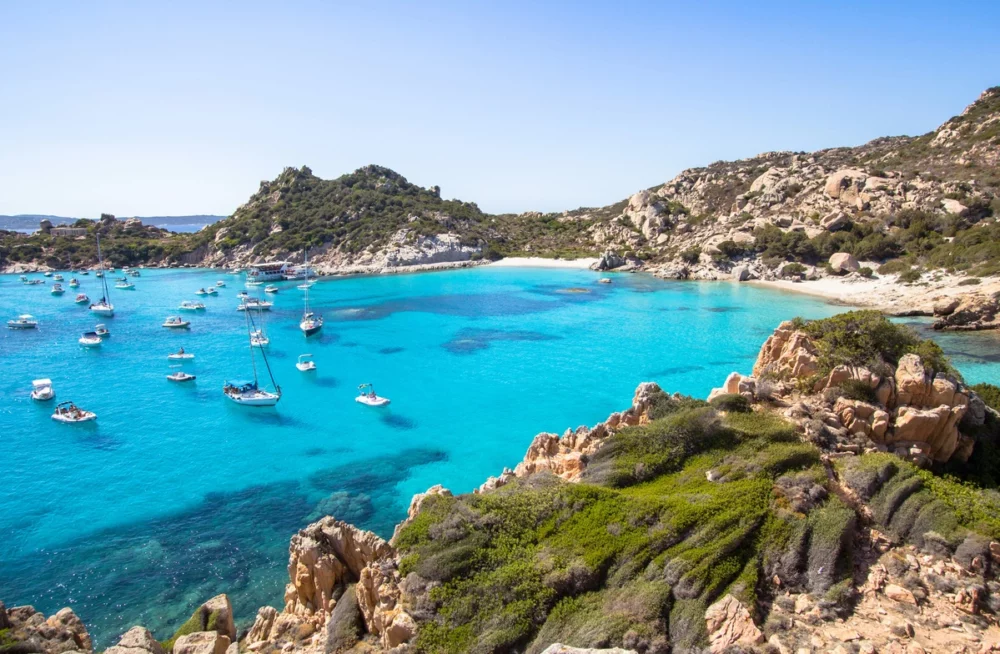 Italy Honeymoon Destinations
Sardinia
Sardinia is the second-largest island in the Mediterranean Sea. It is a great option for couples seeking a romantic honeymoon in Italy. With pristine beaches, crystal-clear water, and incredible sunsets, Sardinia provides an ideal backdrop for a romantic getaway.
Nature and Adventure
For couples looking for adventure, there are plenty of options in Sardinia. You can hike through the beautiful Gennargentu National Park or explore the ancient ruins of Nora and Su Nuraxi di Barumini.
There are also plenty of snorkeling and diving spots around the island. La Maddalena Islands are perfect for your Italy beach honeymoon.
The archipelago boasts incredible green waters and secluded beaches. Consider a yacht charter aboard VICTORIA DEL MAR and explore Sardinia, Sicily, or even the French Riviera.
Nightlife and Restaurants
At night, Sardinia comes alive with romantic restaurants, bars, and nightclubs. Whether you're looking to relax and take in the stunning views or dance the night away, Sardinia has something to offer. There's even a vibrant nightlife scene in Olbia or Porto Cervo.
Whether you're looking for a romantic retreat or a thrilling adventure, Sardinia is one of the best honeymoon destinations in Italy. With its stunning scenery and numerous activities, it's easy to see why many couples choose it for their romantic getaway. With its proximity to Corsica, you can combine the two countries for an incredible two-week Italy honeymoon vacation.
Honeymoon Resorts in Tuscany
Tuscany is one of Italy's most romantic regions, and it's an ideal destination for a honeymoon. With its rolling hills, lush vineyards, and beautiful cities, Tuscany has everything couples need for an unforgettable getaway. When choosing where to stay during your honeymoon in Tuscany, plenty of luxurious resorts exist. Whether you prefer a luxury villa or a romantic agriturismo, here are some top Italian honeymoon resorts in Tuscany.
Rosewood Castiglion del Bosco Resort & Spa
First up is the iconic Castiglion del Bosco Resort & Spa, located just outside Montalcino. This sprawling 5-star resort offers breathtaking views of the surrounding countryside and a chance to relax in private seclusion. You'll find an on-site spa and several fine-dining restaurants inside the resort. The resort offers horseback riding, hiking trails, and even an on-site golf course for outdoor activities.
Grand Hotel Royal Viareggio | Italy Honeymoon Charter
This elegant seaside resort is on the coast of the Tyrrhenian Sea and boasts a private beach. Swim in the hotel's heated pool or dip in the sea. Afterward, have a romantic dinner at one of the hotel's restaurants. Other activities include wine tastings, yoga classes, and cooking lessons.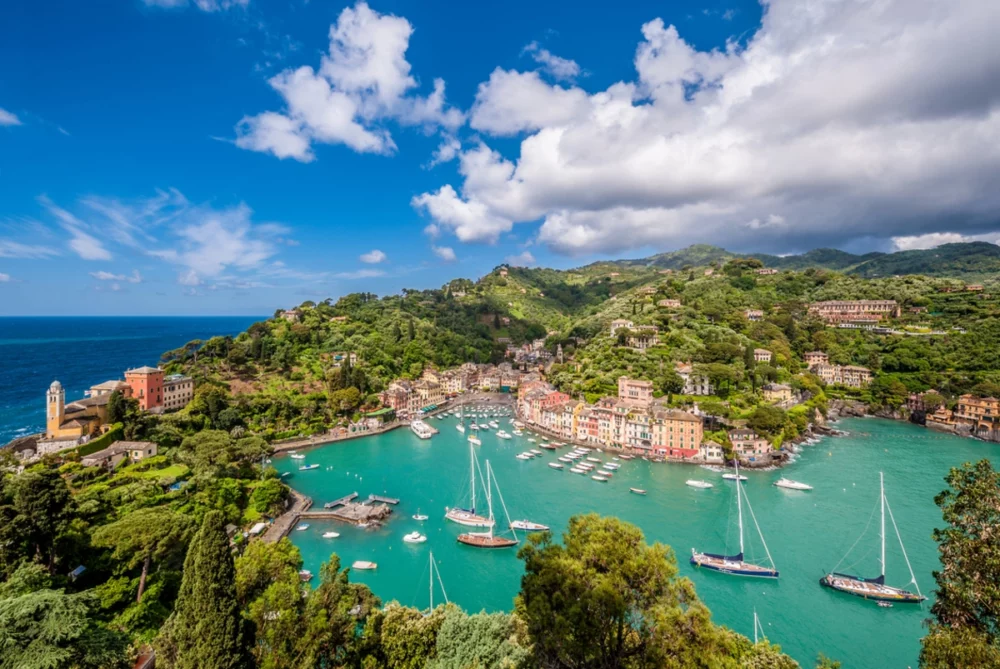 Cinque Terre | Italy Honeymoon Charter Vacations
Cinque Terre is one of Italy's most beautiful and romantic places on the Italian Riviera. With its five picturesque towns overlooking the sparkling Mediterranean Sea, Cinque Terre is perfect for honeymooners looking for a romantic getaway. Cinque Terre should be high on your list of where to go in Italy for a honeymoon.
A luxury yacht charter is one of the best ways to explore this gorgeous area's hidden coves. For more on exploring Italy, visit our ultimate travel guide.
Hiking Trails
For those looking to explore the area, there are plenty of activities to enjoy, including visiting nearby Portofino. Cinque Terre, meaning "five lands" in Italian, is a stunningly beautiful string of five fishing villages. It's a popular destination for honeymooners for its breathtaking views and abundant outdoor activities.
One of the best ways to experience the beauty of Cinque Terre is on foot. Hike on a trail that will take you through all five villages. The trails offer spectacular views of the coastline. You'll also see the colorful buildings and the deep blue waters of the Mediterranean Sea.
Dining
Cinque Terre also has many romantic restaurants, cafes, and bars. Spend your evenings strolling along the narrow, cobbled streets of the towns before sitting down to enjoy a delicious dinner. There's something for everyone here, from fresh seafood to traditional Italian dishes.
Cinque Terre is undoubtedly one of the most romantic places in Italy for a honeymoon. The region has everything from a beach getaway to an active adventure. It is an ideal destination for an unforgettable Italian honeymoon.
Amalfi Coast Honeymoon
The Amalfi Coast should be at the top of your list when you think of romance. Located along the stunningly beautiful Sorrentine Peninsula in Southern Italy, this is one of the most romantic places in the world. This is a fantastic honeymoon destination, thanks to its stunning cliffs, quaint villages, and pristine white sand beaches.
While you can also rent a boat for the wedding ceremony, remember most yachts have week-long minimums. Moreover, yachts can only accommodate small numbers of guests.
You'll find plenty of activities and sights on the Amalfi Coast. The picturesque town of Amalfi is a great place to start. Discover colorful homes and streets lined with shops, restaurants, and bars.
From here, you can take your private yacht along the coast and visit the grottos. If you prefer, head to the islands of Capri or Ischia. You can also visit Positano or Ravello for breathtaking views and delicious seafood.
For a truly unforgettable experience, you can rent a yacht and sail along the coast. Enjoy the spectacular views and stop at all the hidden coves and beaches. Renting a yacht is a great way to explore the Amalfi Coast on your Italy honeymoon.
Taormina, Sicily
Located on the east coast of Sicily, Taormina is a stunning destination for honeymooners looking for romantic getaways. With breathtaking views of the Mediterranean Sea and nearby Mount Etna, Taormina is ideal for couples wanting to escape it all. From strolling the cobblestone streets of the old town to exploring the ancient Greek theatre, plenty of attractions keep couples busy.
For more adventurous honeymooners, Taormina is also the perfect base for exploring the rest of Sicily, such as Mt. Etna, the Aeolian Islands, and even the Amalfi Coast. To create an unforgettable experience, couples can rent a yacht and explore the Amalfi Coast from the sea. Makie stops at some of Italy's most beautiful towns along the way.
Honeymoon on an Amalfi Coast Yacht Rental
The Amalfi Coast is one of the best Italian destinations for couples. This is true for those celebrating birthdays, reunions, or just enjoying a hard-earned vacation. However, it is also a perfect place for a romantic Italy honeymoon.
This beautiful coastline stretches for about 50 miles along the southwestern coast of Italy. It offers some of the most stunning views in the world. Yachting around the Amalfi Coast allows couples to experience this area's unique and captivating towns.
Capri Honeymoon
A honeymoon on Capri, off the Amalfi Coast, will surely be everything you're looking for. It is one of the most romantic and picturesque honeymoon destinations in Italy. This rocky, crescent-shaped island will bring you and your partner breathtaking views, delicious cuisine, and unforgettable experiences.
This stunningly beautiful coastline stretches for about 50 miles along the southwestern coast of Italy. Capri also offers some of the most incredible views in the world.
Visit Mount Solaro
Capri has it all whether you want an outdoor adventure or a more relaxed getaway. Popular activities include hiking up Mount Solaro, enjoying a romantic sunset dinner, and touring the island's grottos and bays.
The best way to explore the waters around Capri is by renting an Amalfi Coast yacht. Cruise the waters in style as you watch the sunset, sip on local wine, and take in the island's stunning views. Head ashore once you've experienced a bit of the island from the sea. Explore the quaint towns, cobblestone alleyways, and sandy beaches.
Capri will provide plenty of options for your romantic Italy honeymoon, no matter what celebration experience you seek. With its beautiful landscape and small towns, this magical Italian island will surely make your honeymoon unforgettable.
Positano Honeymoon
This colorful seaside village is a popular honeymoon destination with plenty of romance and adventure. Positano's main attractions are the dramatic cliffs and beach and the many shops, restaurants, and galleries. This stunningly beautiful coastline stretches for about 50 miles along the southwestern coast of Italy. It offers some of the most stunning views in the world.
Take a private yacht rental out on the turquoise waters for a romantic escape. Cruise along the stunning coastline and watch the sunset over the Mediterranean Sea. You can go swimming, snorkeling, or relaxing in the day's warmth with a private boat.
The beaches offer plenty of activities for couples, from kayaking and canoeing to sunbathing and beach volleyball. Or take an afternoon stroll along the waterfront and enjoy some local cuisine. Positano is also famous for its excellent shopping. Browse designer boutiques and small art galleries to find something special to take home.
Northern Italy | Side Trip
Nestled amidst the captivating landscapes of Lake Como in Northern Italy lies the romantic escape of a lifetime. People know this pristine region for its stunning natural beauty. This contrasts the bustling Eternal City, Rome, which is just a few hours to the south.
The Trevi fountain in the center of the Eternal City is grand. Lake Como's calm waters and charming villages provide a different but equally enchanting experience.
Yachts For Your Italy Honeymoon Charter
Embarking on an Italy honeymoon charter presents an exquisite opportunity to explore the breathtaking Mediterranean coastline in ultimate luxury and style. When selecting a yacht for this romantic voyage, you'll find many options to suit your preferences and desires.
We offer many yacht types to enhance your honeymoon, from sleek motor yachts to classic sailing vessels.
Motor Yachts
Motor yachts are popular for those seeking speed, comfort, and contemporary luxury. These yachts have powerful engines so you can reach your desired destinations quickly.
Motor yachts often feature spacious sun decks, Jacuzzis, and outdoor lounging areas perfect for sunbathing and enjoying the magnificent coastal scenery. You'll discover lavish cabins, modern amenities, and opulent salons designed to provide the utmost comfort and relaxation.
Sailing Yachts
A classic sailing yacht can be an enchanting choice for couples yearning for a more romantic and traditional sailing experience. These yachts evoke a sense of timeless elegance, combining graceful lines with the thrill of harnessing the wind.
Sailing yachts have spacious decks for alfresco dining and lounging. They also have beautifully appointed cabins with rich woodwork and luxurious amenities.
Catamarans
If you seek a blend of power and grace, a catamaran can be an excellent option for your Italy honeymoon charter. Multihull yachts offer exceptional stability, comfort, and spaciousness, so they're perfect for couples. Catamarans boast expansive deck areas, allowing you to sunbathe, dine, or enjoy the stunning panoramas. Inside, you'll find well-appointed cabins and spacious lounges.
An Italy honeymoon charter is an unforgettable experience regardless of your yacht type.
Italy Honeymoon Charter Vacations
Embarking on an Italy honeymoon yacht charter is an extraordinary way to experience the romance and beauty of this captivating country. Explore the enchanting canals of Venice or immerse yourselves in the vibrant atmosphere of Milan, known for its fashion and design.
Beyond the major cities, venture off the beaten path and take day trips along the coast. There, you can anchor near secluded beaches and explore local fishing villages.
End each day in luxurious comfort aboard your yacht. It's like being in a floating luxury hotel. Relax and enjoy the stunning sunsets over the Mediterranean in complete privacy.
Italy honeymoon itineraries offer a perfect blend of romance, culture, and off-the-beaten-path explorations for unforgettable memories.
We will work with you to create a custom Italian honeymoon to suit your needs and desires. The possibilities are endless, as this small country has tremendous diversity, culture, and beauty. Contact us to start planning your Italy honeymoon charter vacation. Also, please visit our romantic Greece honeymoon charters.
Please call us today at 1 (321) 777-1707 or describe Your Vacation Vision to help you plan your fully-crewed private luxury yachting vacation! Inquire as soon as possible about your custom, crewed yacht charter.
You make the memories. We make the arrangements.