Trogir, Croatia
The medieval-walled town of Trogir, Croatia sits on a tiny island, joined to the mainland by a footbridge. Trogir was settled by the Ancient Greeks, some 2300 years ago. After that, during the Middle Ages, it became an important cultural center, known for its artists, sculptors, and stonemasons.
More than 3,000 years old, Trogir is the sailing capital of the Adriatic. The surrounding islands are home to numerous coves and inlets, making them perfect for yacht charters in central Dalmatia. Below is a brief guide to the best yacht charter stops around Trogir Croatia.
As a result of its beautifully preserved historic architecture, today Trogir's Old Town is a UNESCO World Heritage Site. In short, the pedestrian-only Old Town is a joy to explore on foot. Above all, you should see the 13th-century Cathedral and the 15th-century Venetian loggia, both on the stone-paved main square. Situated in Central Dalmatia, Trogir is just 15.5 miles west of Split, making for an easy stop on any yacht charter itinerary.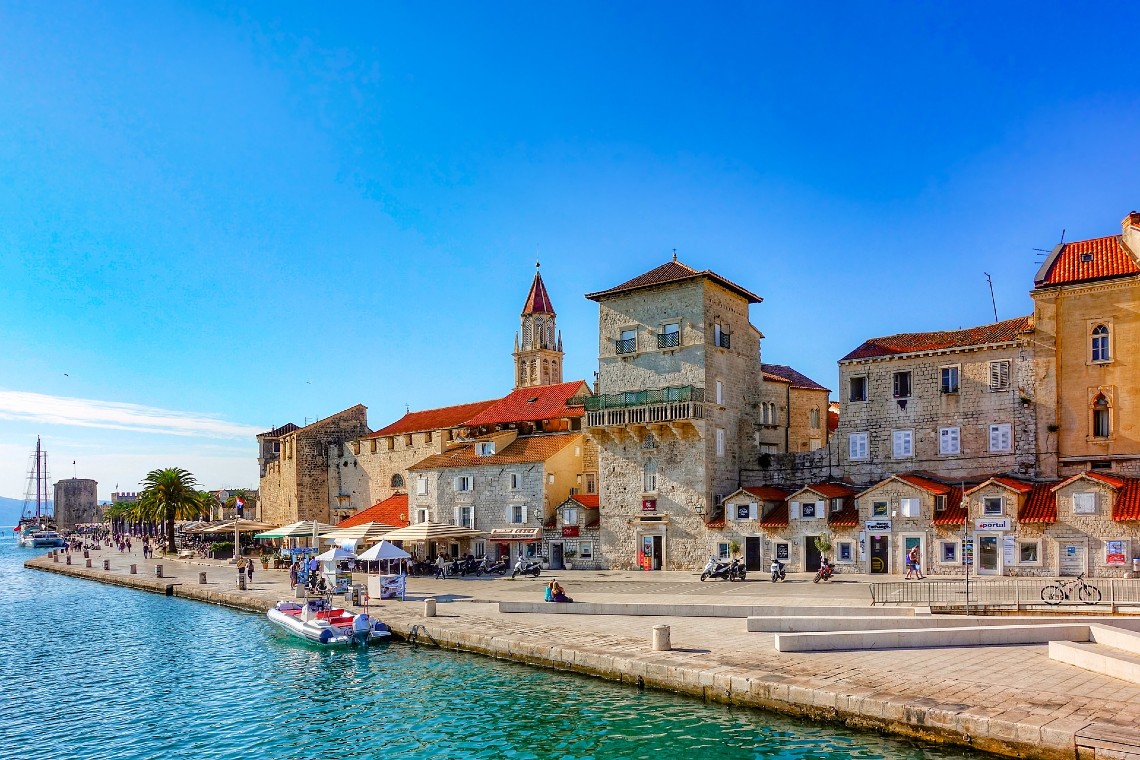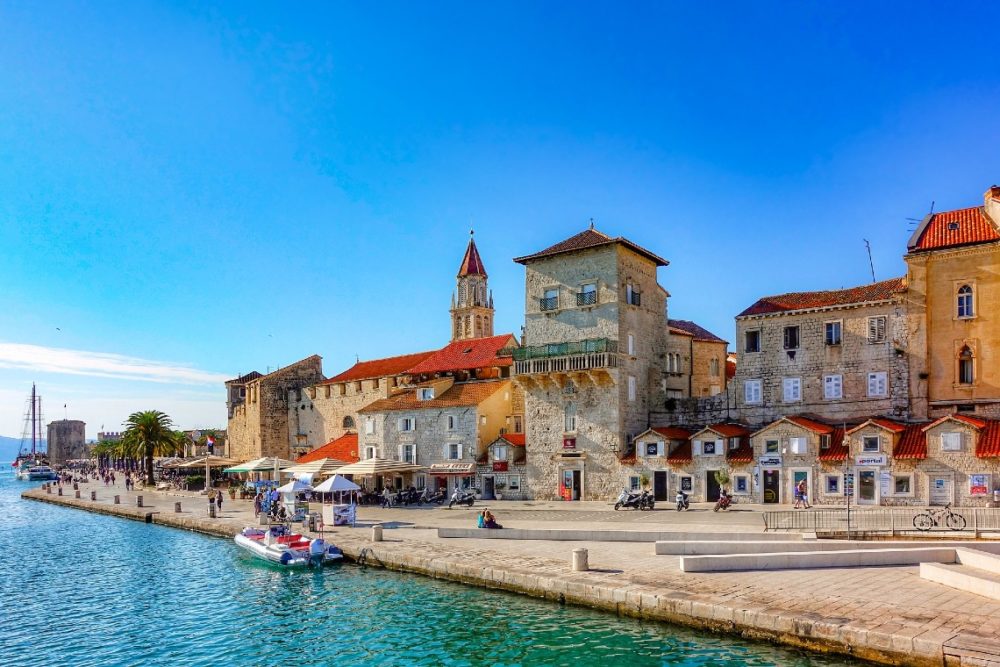 When to Visit Trogir Croatia
To see this town minus the crowds, it is best to visit in June or September. Although the yachting season is officially from April to November, you may want to avoid the high season in July and August.
Trogir | Things to see and do
Most importantly, begin in the main square. See Trogir Cathedral, with its magnificent Romanesque portal, carved by Master Radovan, and the elegant Gothic bell tower.
Next, explore Trogir's cobbled alleys, packed with restaurants and gift shops.
Stroll along the palm-lined seafront promenade, overlooked by cafes, restaurants, and ice cream parlors
Finally, attend an evening concert inside Kamerlengo Fortress, built by the Venetians around 1420.
See the Cathedral of ST LawrenceThe church of St Sebastian
Trogir Loggia
Cipiko Palace (great place to take photos)
Kamanlargo Fortress
Nearby Lavender fields in Ciovo
Best Yacht Charter Stops Around Trogir
This charming town has a lot to offer. In fact, it is a UNESCO World Heritage Open-Air museum. What's more, it is in the center of Croatia's coast, so you can cruise in all directions and toward one of the 1244 Croatian islands. If you are thinking of chartering a yacht in Croatia, this is the perfect place to start.
National Parks in Central Dalmatia
Šibenik-Knin County, National Park Kornati Islands. This is a region known for its cultural heritage as well as its impressive natural beauty. In fact, the country's first national park was founded here in 1949. It has miles of islands with crystal-clear waters that are great for diving and snorkeling.
Park Suma Marjan National Park and Biokovo Nature Park. Great choices to see stunning Croatian landscapes and picturesque views close to Trogir.
Foods to Try in Trogir
Sample some of the flavorful local foods. Besides local seafood, cheeses, and wines, try:
Black Risotto: The dark color of this seafood dish comes from squid ink. It usually also contains shellfish such as clams and mussels.
Čobanac : A meat stew with lamb, veal, and pork.
Manestra: Savory bean soup similar to Italian minestrone.
Kremsnita: Delicious vanilla cream cake with puff pastry.
Trogir, Croatia| Marinas
ACI Marina Trogir. Trogir marina lies opposite the historic center of Trogir, at the northern end of Ciovo. It is just 3 miles from Split airport, making it an ideal Croatia Yacht Charter starting point.
Contact CKIM Group to book your Trogir, Croatia luxury yacht charter today. 321 777-1707.
Please contact us at 1 (321) 777-1707 or complete our contact form to start planning your yacht charter vacation! It's never too early, or too late to inquire about your bespoke private yacht charter.
You make the memories. We make the arrangements.