Belize Charter Itinerary
Are you looking to plan the perfect Belize yacht charter vacation? Look no further! We've created the ideal 10-day Belize charter itinerary for your next luxury getaway. From secluded beaches to lush jungles, Belize has something for everyone.
If you're planning a family trip, a romantic getaway, or an adventure-filled holiday, there are plenty of amazing destinations to explore. This guide lets you easily plan an unforgettable experience with your Belize yacht charter.
Day 1 – Departure from the Marina in Belize City
As you depart the marina, take a moment to enjoy the view of the Belizean coast and the clear blue waters of the Caribbean Sea and Central America. The excitement and anticipation for the adventures ahead will start to set in.
Your experienced captain and crew will ensure your journey is safe and comfortable, while the beautiful scenery and the warm breeze will take care of the rest.
As you sail towards your first destination, take some time to familiarize yourself with your yacht and settle into your accommodations. Your will be weather dependent and carefully discussed each day.
Day 2 – Visit Goff's Cay
On the second day of your Belize charter itinerary, you will visit Goff's Cay. Located just 30 minutes from Belize City, this tiny island is a true tropical paradise that boasts white sandy beaches and blue waters.
As you approach the island, you will be struck by the beautiful coral reefs surrounding it, making it an ideal spot for snorkeling and diving enthusiasts.
Once you dock at Goff's Cay, you can explore the island, soak up the sun, and indulge in the local cuisine. This picturesque spot is perfect for a beach picnic or barbeque, so bring your favorite snacks and drinks.
If you're looking for a bit of adventure, take a walk along the island's scenic nature trail or try your hand at kayaking.
Day 3 – Explore Lighthouse Reef Atoll
After enjoying Goff's Cay on Day 2, it's time to head over to the Lighthouse Reef Atoll.
This atoll is a breathtaking destination and home to some of the best dive sites in the world. As you approach, the stunning shades of blue water will amaze you.
The Great Blue Hole is one of the main attractions of the atoll. It's a massive underwater sinkhole that was formed over thousands of years.
You can swim and snorkel around the perimeter to witness its beauty or go on a dive trip to explore the depths. The coral formations, sea creatures, and unique rock formations are awe-inspiring.
Day 4 – Half Moon Caye
Located within the Lighthouse Reef Atoll, this stunning caye is home to several unique wildlife species, including the rare red-footed booby bird.
Take some time to explore the island's natural beauty by taking a guided tour of the caye's pristine beaches and crystal-clear waters. For snorkeling enthusiasts, the surrounding coral reef offers a glimpse into the diverse marine life that inhabits the area.
One of the highlights of Half Moon Caye is undoubtedly the Half Moon Caye Natural Monument. This protected area is home to several endemic plant species and wildlife, including the red-footed booby bird. The bird's breeding colony on the island is one of the largest in the Caribbean, a must-see for bird watchers.
In the afternoon, take a break from exploring Half Moon Caye and enjoy lounging on the beach or relaxing on your yacht. Take in the stunning views of the Caribbean Sea and enjoy a refreshing cocktail as you watch the sunset. After a day of exploration on Half Moon Caye, you can enjoy a delicious dinner from your private chef.
Day 5 – Thatch Caye | Belize Charter Itinerary
As you wake up to the stunning sunrise and enjoy breakfast on the deck, you'll find yourself at Thatch Cay. This beautiful island is one of the smallest of the Cayes and offers a secluded getaway where you can soak in the sun, unwind, and relax.
Thatch Cay is the perfect spot to spend the day lounging on the beach, snorkeling, or kayaking around the island. The coral reef surrounding the island is teeming with marine life, making it an ideal spot for snorkeling. You'll be amazed by the diversity of colorful fish, sea turtles, and stingrays that swim around you.
After a morning spent soaking in the sun and exploring the coral reef, take a break from the water activities and indulge in a beach picnic lunch. You can opt for a freshly caught fish grill with salads or a selection of tasty sandwiches.
The island is also known for its diverse birdlife, with red-footed boobies, ospreys, and pelicans. Be sure to bring your binoculars to take in the incredible views of the birds.
Day 6 – Hatchett Caye
Day 6 is all about experiencing the charm of Hatchett Cay. This private island is a paradise for travelers who want to unwind while enjoying the Caribbean views and clear waters.
Hatchett Cay has some of the best snorkeling spots in Belize. Take a plunge into the turquoise waters and explore the Barrier Reef, home to diverse marine life, colorful coral reefs, and rare fish.
After enjoying a refreshing swim, grab a book or a magazine, and soak up some sun on the beautiful white sandy beach. The palm trees offer plenty of shade, making it a perfect spot for an afternoon siesta.
If you're feeling more adventurous, take a kayaking tour of the surrounding islands, or explore the surrounding mangroves. You may spot manatees, dolphins, and sea turtles. And, if you're a fishing enthusiast, Hatchett Cay offers excellent opportunities to reel in some fish, such as snappers, groupers, and barracuda.
Day 7- Ranguana Caye
This secluded and beautiful island on the southern coast of Belize is the perfect place to unwind and soak up the sun.
Ranguana Cay is known for its clear turquoise waters, sandy beaches, and thriving marine life. Snorkeling is a must-do activity here, as the reef teems with colorful fish, sea turtles, and other fascinating sea creatures.
If you prefer to stay on land, you can take a leisurely walk along the beach or read a book. The island has a small bar and restaurant where you can enjoy a refreshing cocktail or a delicious meal.
One of the unique experiences on Ranguana Cay is the opportunity to release baby turtles back into the sea. The island has a conservation program, where they help protect sea turtle nests and release hatchlings into the ocean. It's an incredible moment to witness and something you will remember forever.
Day 8 – Placencia | Belize Charter Itinerary
Placencia is a small but charming town on a narrow peninsula stretching into the Caribbean Sea. Known for its white sand beaches, palm trees, and laid-back vibe, Placencia is the perfect place to relax and recharge before returning to reality.
When you arrive in Placencia, head to the beach and dip in the warm, turquoise waters. The beach is long and wide, so you can choose a secluded or more crowded spot, depending on your preference. You'll also find several beach bars and restaurants along the sand, where you can grab a cold drink or a bite.
If you feel more adventurous, rent a bicycle and explore the town. Placencia has a small but bustling main street filled with colorful buildings, souvenir shops, and local restaurants. Stop by the local fish market and buy fresh seafood to cook on board your yacht later that night.
In the evening, head to the pier and catch the sunset. Placencia's pier is one of the town's most iconic landmarks, offering stunning views of the sea and the nearby islands. You might even see some dolphins or sea turtles swimming around!
Day 9 – Lagoon Cay
As your Belize yacht charter vacation winds down, it's time to soak up every last bit of the beauty this incredible country has to offer. Day 9 of your itinerary brings you to Lagoon Cay, a breathtakingly beautiful private island that boasts white sand beaches, crystal-clear waters, and unparalleled seclusion.
Start your day with a leisurely breakfast on board your yacht before disembarking and exploring the island.
There are plenty of activities to keep you busy, from snorkeling and swimming to kayaking and stand-up paddleboarding.
Alternatively, you can lounge on the beach and enjoy the stunning views.
For a more active experience, take a guided nature walk to learn more about the island's unique flora and fauna, or embark on a fishing trip to catch your dinner.
Day 10 – South Water Cay and Return to Belize City
As the last day of your Belize yacht charter vacation, it's time to head back to Belize City. But before you do, spend some time at the beautiful South Water Cay.
South Water Cay is a tiny island with crystal-clear waters and sandy beaches. You can also go snorkeling or scuba diving to explore the area's coral reefs and underwater life.
After enjoying South Water Cay, it's time to head back to Belize City. Take this opportunity to reflect on your incredible experiences on your yacht charter vacation in Belize. The memories you've made will surely last a lifetime.
As you approach the marina in Belize City, take in the sights and sounds of the bustling city. You'll no doubt miss the calm and tranquility of being out on the water, but you can always plan another yacht charter vacation in Belize.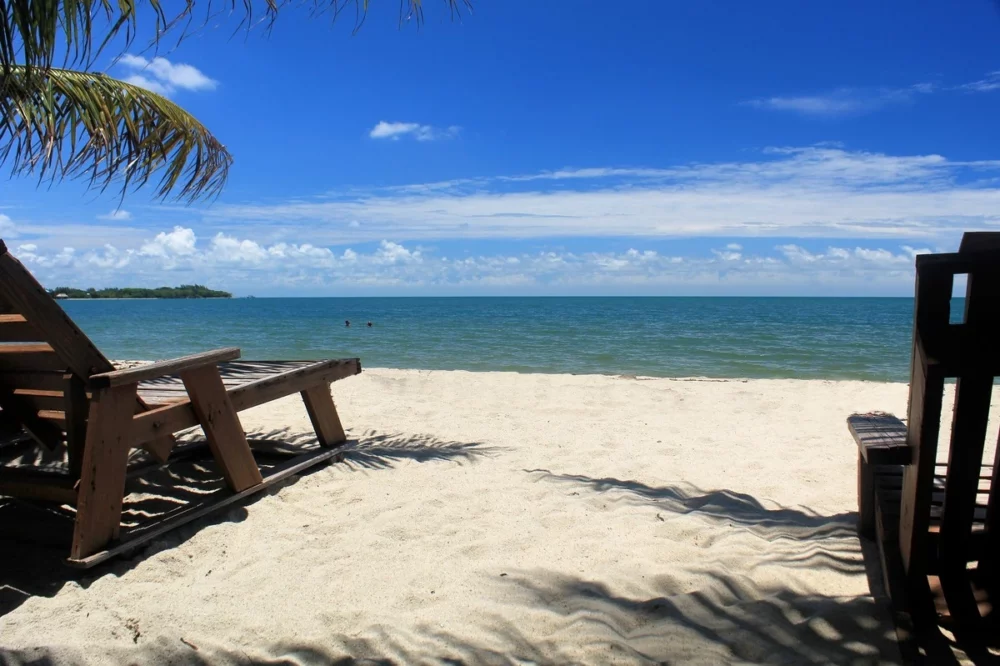 Ultimate10-Day Belize Charter Itinerary
Overall, this 10-day itinerary has allowed you to explore some of Belize's most beautiful and remote parts. Furthermore, while enjoying the comfort and luxury of your private yacht. We hope this ultimate guide to creating your ideal Belize charter itinerary has inspired you to plan your own unforgettable yacht charter vacation in Belize.
Belize Sailing Catamaran VENTANA AL MAR is a great choice for your sailing holiday.
Please call us today at 1 (321) 777-1707 or describe Your Vacation Vision to help you plan your fully-crewed private luxury yachting vacation! Inquire as soon as possible about your custom, crewed yacht charter.
You make the memories. We make the arrangements.