Set sail on an unforgettable adventure aboard Belize Sailing Catamaran VENTANA AL MAR. Picture yourself cruising through azure waters, exploring charming islands, and immersing yourself in the laid-back local culture.
Belize may not be the first place that comes to mind when you think of sailing destinations, but it's an absolute hidden gem waiting to be discovered. So grab your sunglasses, hop aboard, and prepare for an adventure!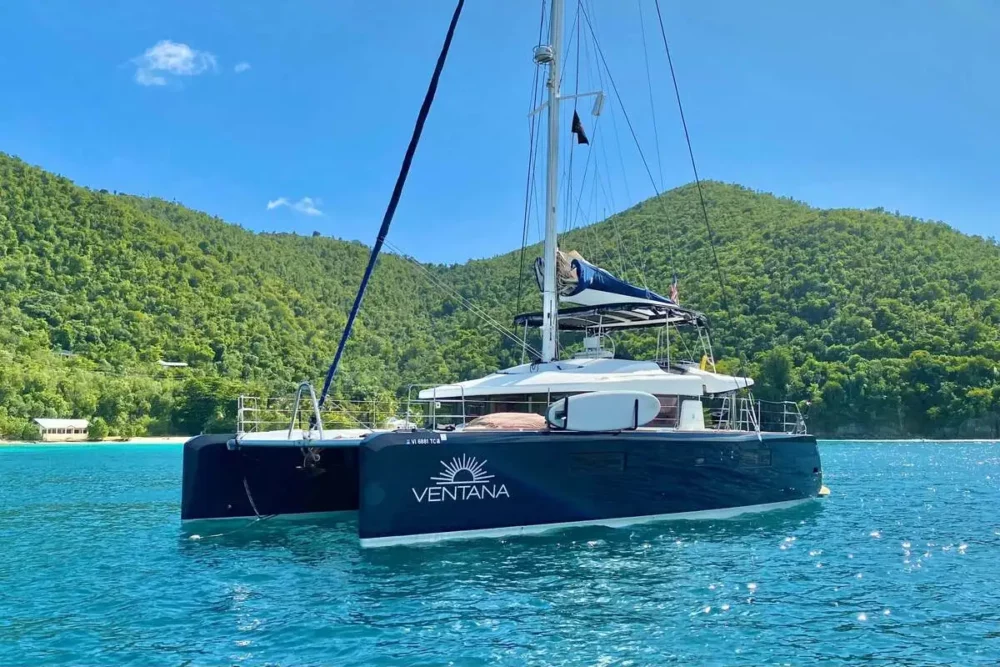 Your home-away-from-home for this unforgettable trip is VENTANA AL MAR, an elegant and spacious 52-foot Lagoon catamaran. Its modern design and luxurious amenities ensure your comfort throughout the journey.
VENTANA AL MAR offers various outdoor areas to enjoy as you sail or while at anchor. You can relax on the flybridge, enjoying the breathtaking views from comfortable seating. There's also room to lounge on the lower deck behind the trampolines. It's a peaceful spot for relaxing and soaking up the sun.
Accommodations
Belize Sailing Catamaran Ventana al Mar accommodates up to 10 guests in 5 spacious queen-size cabins. In addition to air-conditioning, each cabin has a private bathroom and shower.
Dining | Sample Menu
You won't be hungry aboard Ventana al Mar. Indeed, your private chef will create culinary masterpieces for each meal. A sample day's menu might include the following:
Breakfast

Stuffed French Toast (desired fruit or liquor filling)
Breakfast sausage
Fresh Fruit
Lunch

Blackened Mahi
Salad of cabbage, salsa fresca, corn, and avocado
Shrimp Ceviche
Dinner

Bruchetta, fresh basil
Haricoverts
New Zealand Rack of Lamb with pistachio gremolata and cherry gastrique
Roasted vegetables with herb-infused balsamic reduction
In addition, your chef will prepare various amazing desserts that will surely please everyone. Vegan and vegetarian options will also be available.
Water Toys
Since you will be surrounded by some of the planet's most beautiful water, you will want to use Ventana al Mar's water toys. Jump in and enjoy toys such as:
Towable Tube
Sub Wing
Wakeboard
Paddleboards
Surfboards
Big floating mat
Snorkel gear
Scurfer
Fishing gear
Beach games
Belize | Sailing Catamaran Ventana al Mar
Belize is not only about sailing; it also offers incredible opportunities for exploration. This country offers so much, from vibrant coral reefs teeming with marine life to ancient Mayan ruins nestled in lush rainforests. Dive into the clear blue depths to witness the vibrant underwater world, or join a land excursion to learn about Belize's fascinating history and culture.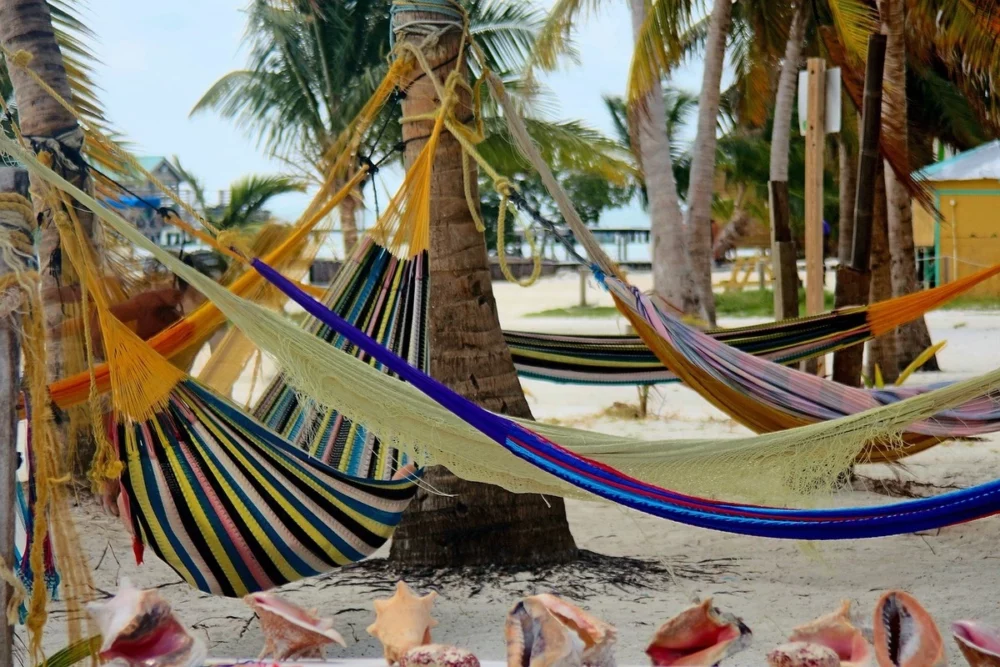 Every day brings new wonders as you cruise through this stunning region. You'll have the opportunity to visit three of the Caribbean's major atolls, which are pristine and largely untouched.
Turneffe Atoll: Located off the coast of Belize, Turneffe Atoll is the largest and most diverse coral atoll in the Western Hemisphere. It boasts abundant marine life, including vibrant coral reefs, tropical fish, and majestic sea turtles. With its mangrove forests and expansive lagoon, Turneffe Atoll is a haven for snorkelers, divers, and nature enthusiasts.
Lighthouse Reef Atoll: Renowned for its iconic Great Blue Hole, a massive underwater sinkhole that attracts divers worldwide. This UNESCO World Heritage Site offers incredible diving opportunities with its crystal-clear waters and fascinating geological formations. Aside from the Great Blue Hole, the atoll is home to many marine species, stunning coral gardens, and vibrant marine ecosystems.
Glover's Reef Atoll: Glover's Reef Atoll is a remote and pristine coral atoll located off the southern coast of Belize. Protected as a marine reserve, it offers unparalleled opportunities for snorkeling, diving, and kayaking amidst its stunning coral reefs and turquoise waters.
You'll also have the opportunity to visit Caye Caulker, a laid-back paradise where time seems to slow down. Here, you can experience the peaceful atmosphere, interact with friendly locals, and savor the island's fresh seafood.
Please call us today at 1 (321) 777-1707 or describe Your Vacation Vision to help you plan your fully-crewed private luxury yachting vacation! Inquire as soon as possible about your custom, crewed yacht charter.
You make the memories. We make the arrangements.