Allan Cay | A Tropical Oasis
Allan Cay is in the Northern Exuma Islands, about thirty-seven miles southeast of Nassau, Bahamas. This long, thin cay has very few trees. This scenic destination is a must-visit for those seeking the ultimate luxury yacht charter experience. Its pristine beaches, crystal-clear waters, and beautiful wildlife promise an unforgettable journey into paradise.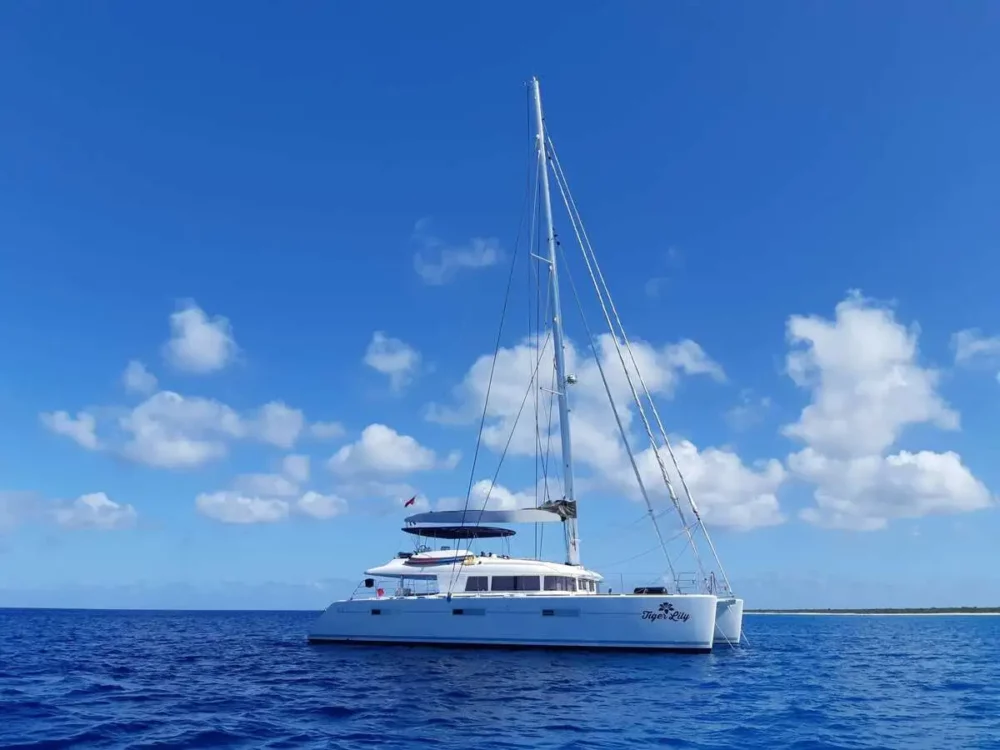 A Brief History
Allan Cay gets its name from Captain William Allen, a British privateer. This region has a rich history, dating back to the era of pirates and privateers who sought refuge in the hidden coves and islets of the Bahamas. Today, Allan Cay is a sanctuary for nature enthusiasts and luxury travelers.
Weather | Exumas
In Allan Cay, the summers are hot, humid, and partly cloudy. The winters are comfortable, humid, dry, and mostly clear. Tropical breezes blow year-round. The temperature typically varies from 70°F to 88°F and is rarely below 65°F or above 90°F.
Allan Cay | Things to See and Do
The cay is uninhabited, and Allan Cay Rock Iguanas is the main attraction. This is one of the few places these gentle but fearsome-looking creatures can still be found. The iguanas are protected by law and are friendly and welcoming to visitors who bring them vegetables and fruits.
Be cautious when interacting with the iguanas, not only because they are endangered and protected by law but also because they are still wild animals. Place a piece of lettuce or perhaps a grape tomato on a long stick and hold it out. Then, let them come to you.
Two other species call this cay home. They are Audubon's Shearwater seabird and the Bahama Yellowthroat.
The Audobon's Shearwater is a small back-and-white bird with a long tail and somewhat rounded wings. It usually flies low to the water. The Bahama Yellowthroat is a colorful bird living in the island's thick, low scrub. It makes its nests near the ground.
Other activities to do while on this small cay include:
Beach Picnics and BBQs: Picnic on one of Allan Cay's secluded shores. Bask in the sunshine, sip refreshing cocktails, and indulge in a delicious gourmet feast prepared by your onboard chef.
Kayak and Paddleboard: Explore the hidden coves and mangrove forests surrounding Allan Cay by kayak or paddleboard.
Snorkel Flat Rock Reef, which is close to Allan's Cay. Also, beyond the cay's northern end, Barracuda Shoal is another excellent spot to snorkel.
Bring your yoga mat to the beach for a sunrise salutation.
Explore the beach.
Cast a line in the water and try your luck catching a fish.
Swim in the calm cove.
Jet ski, kayak, or SUP
Allan Cay is on most Exuma yacht charter itineraries from Nassau, Norman, Staniel Cay, and the Exuma Cays Land and Sea Park.
Bahamas Yachts
Here are a few yachts to consider for your Bahamas yacht charter vacation:
Please call us today at 1 (321) 777-1707 or describe Your Vacation Vision to help you plan your fully-crewed private luxury yachting vacation! Inquire as soon as possible about your custom, crewed yacht charter.
You make the memories. We make the arrangements.