Little Exuma
Little Exuma is only twelve square miles. It is here that scenes from two of the Pirates of the Caribbean movies were filmed. This is a lovely stop on a Bahamas yacht charter itinerary.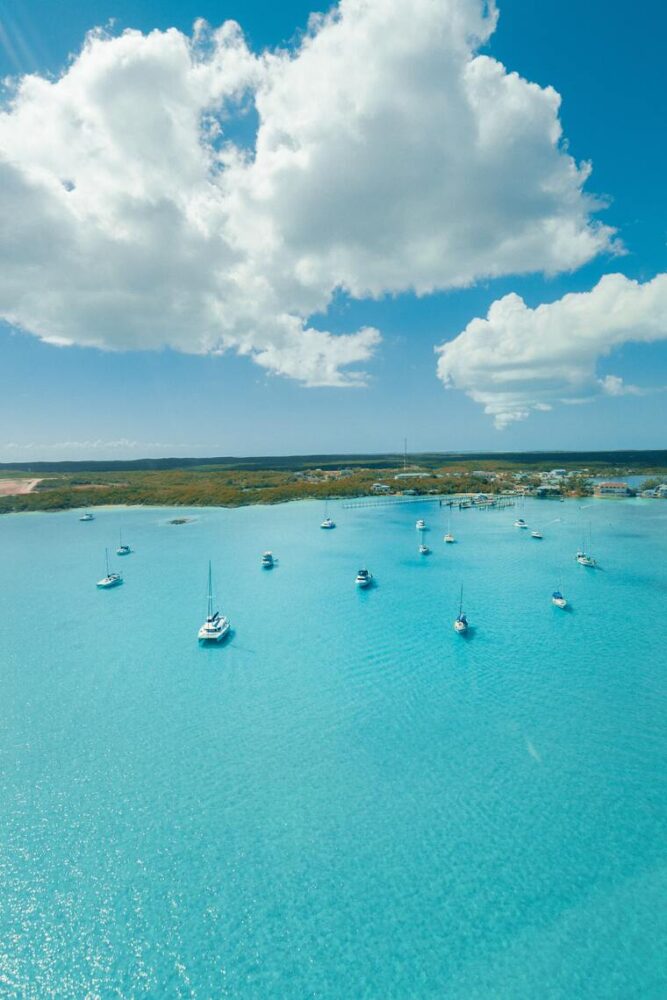 Little Exuma | Weather
The weather in Little Exuma is very similar to that of Great Exuma. The summers are hot and humid, and the winters are very comfortable, mostly clear, and windy year-round. The temperature typically varies from 70°F to 88°F and is rarely below 65°F or above 90°F. Although the island isn't in hurricane alley, it does get tropical storms.
Little Exuma | Things to see and do
Eat at Santana's Grill Pit, an open-air beach shack restaurant. Local favorites include cracked lobster, cracked conch, shrimp, grilled grouper, peas and rice, and macaroni and cheese.
Visit the salt lake near Williams Town. Here, salt was once harvested and shipped abroad.
Hike old footpaths and look for ruins of old plantation buildings such as the Hermitage Estate.
Stand on the line that marks the Tropic of cancer at the Tropic of Cancer Beach, also called Pelican's Bay Beach.
Explore Moriah Harbour Cay, National Park. The marine environment includes many habitats, including dunes, pristine beaches, mangrove creeks, and seagrass beds.
Spend the afternoon at Forbes Hill Beach, a lovely secluded beach. There's some good snorkeling here.
Settlements on Little Exuma
William's Town
Little Exuma's southernmost settlement is William's Town. In addition to its ruins of former plantation homes, this quaint town also has one of the region's most stunning beaches. You can watch local fishermen bring in their catch and see the haunting remains of the salt lake that once filled the town.
Explore the unusual Salt Beacon near William's Town along the Queen's Highway. In the 18th or 19th century, this Tuscan-style pillar was built to guide ships to the salt port. Until refrigeration was developed in the 20th century, Exuma's salt-raking industry flourished. The site has a small plaque describing the beacon and a cannon that once served as a defense against pirates.
The Salt Beacon's base makes for an excellent lookout point, offering ocean and inland views of the Great Salt Pond. This eerie body of water once served as a salt harvesting area.
The ruins of the Hermitage, a cotton plantation from the 18th century, are spectacular. This is the last remaining example of the many plantations that once covered the Exumas, spanning 970 acres (390 hectares). Wild cotton grows around the property, reminding visitors of its history.
Forbes Hill
The Forbes family first settled in Forbes Hill, and a small farming community now lives there.
Marina
The closest marina to Little Exuma is on Great Exuma Island.
Please call us today at 1 (321) 777-1707 or describe Your Vacation Vision to help you plan your fully-crewed private luxury yachting vacation! Inquire as soon as possible about your custom, crewed yacht charter.
You make the memories. We make the arrangements.