Chart your course to the azure Greek waters aboard Greece catamaran charter, MELINA. This stunning catamaran, a 2018 Lagoon 620 Essence design, promises an extraordinary journey through the stunning Greek islands.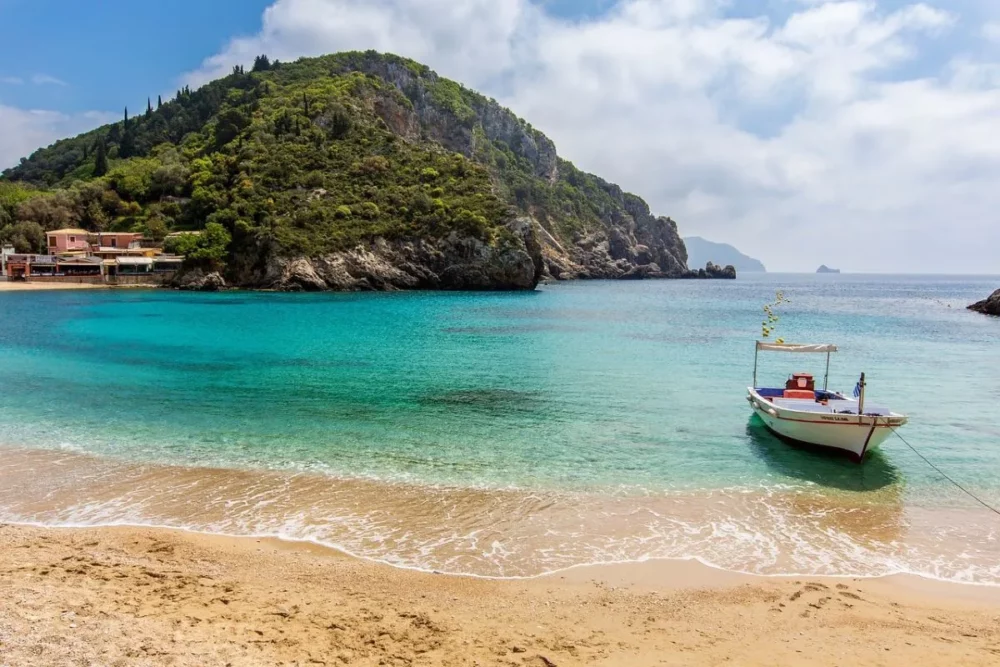 Elegant Luxury and Expansive Space
Greece catamaran charter MELINA welcomes you to her home on the Mediterranean Sea. Step aboard and relax in the stylish and very spacious interior. With five queen cabins, each boasting its own ensuite facilities, you and your fellow travelers will experience the utmost privacy and convenience.
A unique feature of MELINA is her lower-level galley, allowing the main salon to be a home cinema. It is the perfect setting for winding down after a day of island exploration.
Unparalleled Views from the Flybridge
The flybridge of MELINA is the prime spot for your relaxation. It doesn't matter if you're soaking in the sunrise's warm golden tones or gazing up at the stars; this covered space treats you to breathtaking views in every direction.
Whether daytime or nighttime, you'll have a range of comfy sunbeds to kick back on. Plus, ample space in the cockpit and foredeck allows you to hang out and enjoy good company.
Adventure on the Water | Catamaran MELINA
Indulge in the aquatic wonders of the Greek Islands as MELINA spoils you with an array of water sports activities. Glide through the crystal-clear waters with the grace of a seabird, thanks to the 2 X Seabobs at your disposal.
Slide into the sea with the inflatable water slide. Or, master the art of stand-up paddleboarding on the 2 X SUP boards. For thrill-seekers, water skis and a wakeboard promise adrenaline-pumping excitement. Discover hidden coves and secret beaches in the kayak, or try your luck with fishing gear.
A Seafaring Paradise Awaits on Greece Catamaran Charter MELINA
Onshore adventures take you to charming villages that dot the islands, each a perfect blend of history and modern life. Stroll along narrow streets flanked by whitewashed buildings adorned with brilliant blue accents, mirroring the sea's colors. Engage with the welcoming locals, discovering their traditions, crafts, and stories. The stories of these settlements reflect a living heritage that spans generations.
And then, there's the culinary journey that truly connects you with the soul of this ancient land. Pull up a chair at quaint tavernas, where the flavors of Greece come alive on your plate. Relish dishes crafted from sun-kissed produce and freshly caught seafood, often prepared using age-old recipes. Every bite, from the tangy olives to the sweet layers of baklava, embodies the rich cultural tapestry of this region.
Of course, a visit to the Greek Islands would not be complete without trying the local wines. Your journey may take you to Kefalonia or Santorini, where you can take a winery tour accompanied by a wine tasting.
Visit pristine beaches such as Paradise Beach on Naxos and Navagio Beach on Zakynthos. Work on your tan on Lalaria Beach on Skiathos, or party with locals on Super Paradise Beach on Mykonos. Moreover, since you are on a catamaran, your captain can sail close to shore and access hidden beaches and private coves that larger boats can't reach.
Update on Greece Catamaran Charter MELINA
While the allure of MELINA's luxurious Greek odyssey is undeniable, this specific yacht is not currently available for charter. However, fear not! Our fleet boasts a selection of other equally enchanting catamarans.
These vessels offer similar levels of luxury, spaciousness, and exhilarating water sports, ensuring your vacation is nothing short of extraordinary. So, though MELINA is unavailable, our team will guide you toward the perfect alternative. Start planning your unforgettable journey today.
Please call us today at 1 (321) 777-1707 or describe Your Vacation Vision to help you plan your fully-crewed private luxury yachting vacation! Inquire as soon as possible about your custom, crewed yacht charter.
You make the memories. We make the arrangements.