Greek Motor-Yacht WIDE-LIBERTY is a 92-foot custom motor yacht available for charter throughout Greece. You will have an extraordinary experience when you find superb luxury on board.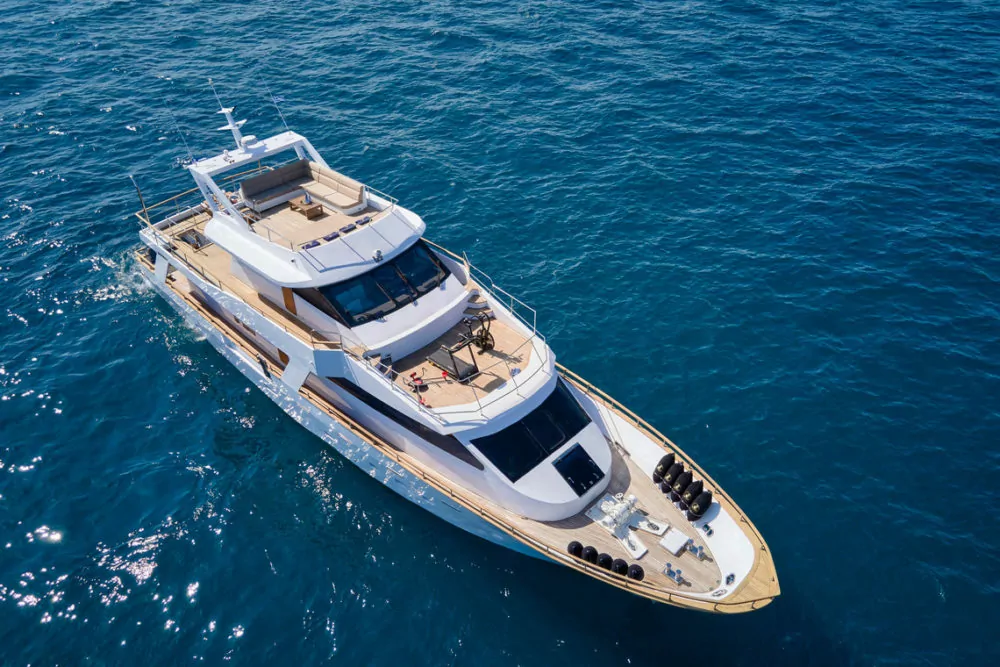 Greek Motor-Yacht WIDE-LIBERTY | The Yacht
The yacht has the most up-to-date radar and navigation technology. Greek Motor-Yacht WIDE-LIBERTY is not only spacious but also well-equipped with modern features such as
6 Smart TVs
Wi-Fi Internet
Wifi TV with Bose Soundbar System
USB Charging in all cabins and Decks
The indoor spaces on the Greek Motor-Yacht WIDE-LIBERTY are flooded with natural light from huge windows. The windows also allow a fantastic view of the sea. Find a spot to relax in the large living room and enjoy gourmet meals in the dining room.
Indoors, you will also find a gym with various exercise equipment. Outside, there's a lounge area, a terrace, and several dining areas.
Accommodations
Retire to your luxurious cabin after a full day of adventures in the Cyclades or Saronic Islands of Greece. Five cabins accommodate ten guests. All cabins have air-conditioning as well as private en suite facilities.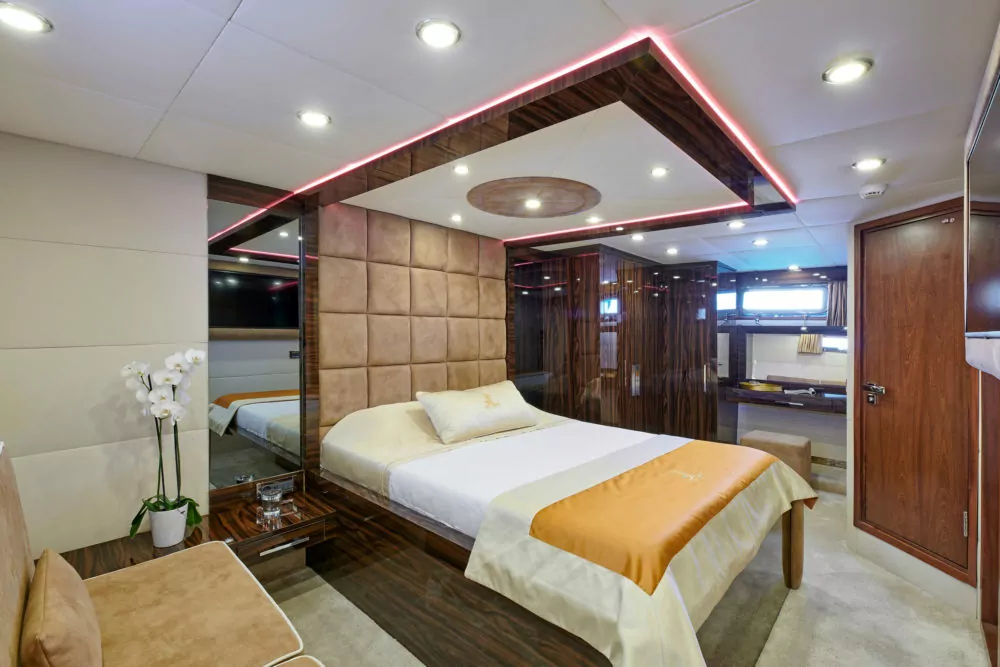 Greek Motor-Yacht WIDE-LIBERTY | Water Toys and Amenities
Since you are surrounded by deep blue water, take advantage of WIDE LIBERTY's nice selection of water toys and amenities. Choose from items such as:
Tender 4.10 m with 50hp Yamaha outboard
2 x paddleboards
Water skis for adults and children
2 x underwater scooters
snorkeling equipment
fishing equipment
2 x Electric Scooter Bikes
Fitness Equipment
The Crew
Greek Motor-Yacht WIDE-LIBERTY has a five-member crew ready to serve you. We introduce the captain and chef below.
The Captain
Meet Captain Ioannis Chatzimarinakis, a Greek-born seafarer with a passion for the ocean that runs deep. Born in 1989, Ioannis boasts a wealth of experience and motivation that drives him in his maritime career. Known for his unwavering composure and warm hospitality, he holds a Captain's Class B degree and all the essential certifications, including life-saving and firefighting.
Ioannis embarked on his professional journey as a 2nd officer on passenger vessels. However, his amiable and caring nature and exceptional communication skills led him to the yachting world. Ioannis's heart lies in everything related to the sea, and relishes connecting with individuals from diverse backgrounds. He is fluent in Greek and English and ensures a welcoming atmosphere aboard.
The Chef
Chef Viktoriia Shcherbakova is a Ukrainian professional who epitomizes the dedication and an unwavering commitment to providing exceptional service with an added personal touch. Viktoriia's adaptability and unwavering focus are matched only by her determination and creativity. She's known for her friendly demeanor and easy-going attitude, making her a cherished member of any crew.
Viktoriia brings a wealth of qualifications to her role, holding degrees as both a chef and a waiter and specialist in hotel service and restaurant business. Her seafaring credentials, including training in passenger ship personnel, safety, and security, are equally impressive. Her journey in the yachting industry began in 2018 aboard a motor yacht in Saudi Arabia, but her hospitality roots trace back to roles as a waitress and housemaid in Odessa.
In her free time, Viktoriia enjoys hitting the slopes for snowboarding or dedicating herself to mastering foreign languages.
The Greek Islands Await on Greek Motor-Yacht WIDE-LIBERTY
Let's talk about some amazing places you can only get to by yacht, like the fascinating island of Karpathos. This hidden gem is part of the Dodecanese archipelago and remains untouched by the usual tourist crowds. It's like a well-kept secret just waiting for you to discover.
Karpathos is a natural wonderland with rugged cliffs, pristine beaches, and crystal-clear waters. You can dive into the sea and explore colorful coral reefs and marine life or stroll through charming villages that seem frozen. The locals are incredibly welcoming, and the food at the local tavernas is a mouthwatering testament to Greek cuisine.
But the yacht adventure doesn't stop there. Lipsi is a small island near Leros and Patmos. Getting to Lipsi might be challenging, but it's worth it.
Lipsi is a tranquil paradise in the Aegean Sea. The scenery is breathtaking, with untouched coastlines, sun-soaked beaches, and a sense of serenity. The villages here are as charming as they come, and the locals are all about warm Greek hospitality.
On Lipsi, you can dive into secluded coves, go hiking on scenic trails, or soak in the beauty of this hidden haven. And when the sun sets over the tranquil horizon, you'll know your journey to Lipsi was unforgettable.
So, if you're up for an exclusive yachting experience, don't miss out on these unique destinations like Karpathos and Lipsi. They're like nature's best-kept secrets, where luxury and the beauty of the Aegean Sea come together for an extraordinary experience.
An unforgettable experience awaits on Greek Motor-Yacht WIDE-LIBERTY. Call to reserve your Yacht Charter vacation today.
Please call us today at 1 (321) 777-1707 or describe Your Vacation Vision to help you plan your fully-crewed private luxury yachting vacation! Inquire as soon as possible about your custom, crewed yacht charter.
You make the memories. We make the arrangements.