Epic Tour! St. Vincent and the Grenadines Charter Itinerary
Please enjoy our sample yacht charter itinerary below. Note that this St. Vincent and the Grenadines charter itinerary is just an example. We will tailor your charter to your group's preferences and weather conditions.
Day 1 | St. Vincent to Mustique
After setting sail from St. Vincent's Blue Lagoon, your next destination is the exquisite tiny island of Mustique. This island is famous for its exclusive luxury and breathtaking natural beauty.
While on Mustique:
Britannia Bay: Anchoring in Britannia Bay, you'll enjoy a visual feast of pristine white sand beaches and turquoise waters. Sip cocktails while relishing panoramic views of the bay and the surrounding islands. A chef-prepared gourmet meal on board your charter yacht will elevate your dining experience.
Exploring Mustique: Mustique offers private villas, some of which belong to celebrities and dignitaries. While you may not have access to these exclusive residences, the island offers plenty to explore. Head to the village, where you'll find charming boutiques, art galleries, and local crafts.
Beach Bliss: The beaches of Mustique are a true highlight. With its powdery sands and crystal-clear waters, Macaroni Beach is a must-visit for sunbathing and swimming. You can also visit Lagoon Beach, a secluded spot perfect for snorkeling and beachcombing.
Nature Trails: For a dose of natural beauty, embark on nature trails that wind through lush landscapes. Discover native flora and fauna while enjoying tranquil hikes, and keep an eye out for the island's resident wildlife.
Day 2 | Petit St. Vincent
Head to the two deserted islands of Mopion and Pinese. You can enjoy snorkeling and swimming or relax on the beach. Afterward, cruise over to Petit St. Vincent. Your yacht chef can prepare you a beach barbecue or choose to partake in drinks and appetizers.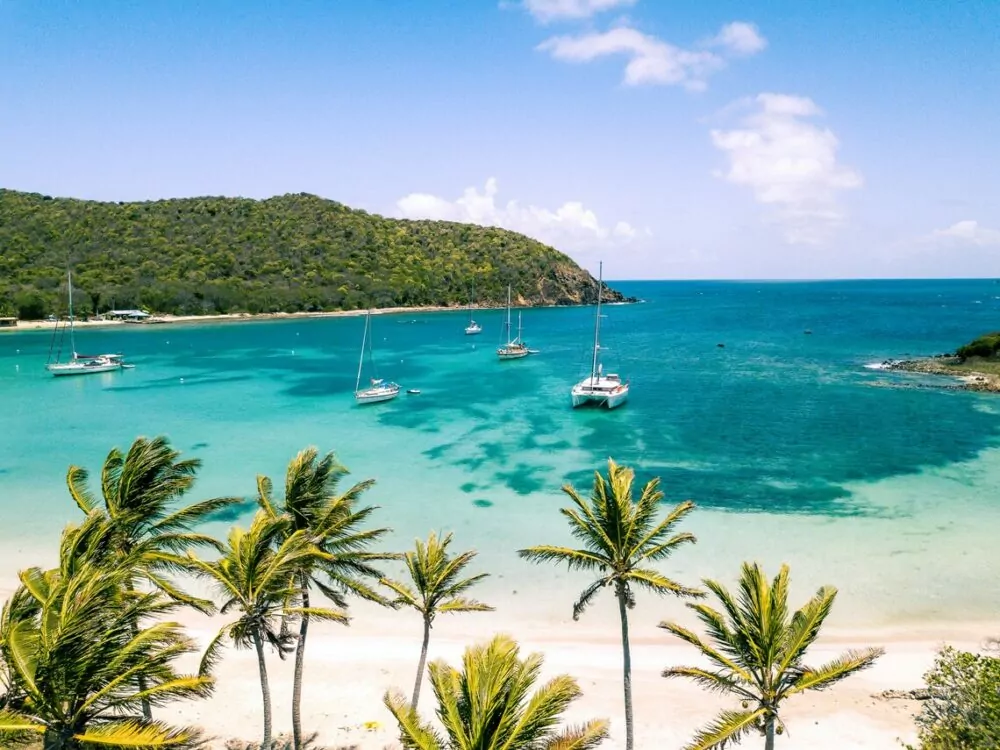 Days 3 and 4 | Tobago Cays
The Tobago Cays are the next stop on your St. Vincent and the Grenadines Charter Itinerary. There, you will be able to explore the world's third-largest coral reef. Enjoy activities such as swimming, snorkeling, and scuba diving. The Tobago Cays will undoubtedly amaze you, as they are one of the most gorgeous places in the Caribbean.
If time permits, you can also visit Tobago Cays Marine Park and nearby Union Island.
Day 5 | St. Vincent and the Grenadines Charter Itinerary
Set sail for Canouan, often referred to as the "Island of Turtles." Here, you'll enjoy a serene paradise with secluded white sandy beaches that feel like a well-kept secret.
As you explore Canouan, be sure to include a visit to Whaling Point Village. This charming village offers a glimpse into the island's local culture and history. Stroll through its quaint streets, interact with friendly locals, and perhaps pick up some handcrafted souvenirs. Stop in a bar and restaurant for a drink and a bite to eat.
Hike up to Signal Tower, where you'll have breathtaking panoramic views of the surrounding azure waters and lush landscapes. It's a perfect spot for capturing stunning photos.
Golf enthusiasts will love Canouan's new 18-hole golf course. It offers a challenging round of golf amidst the island's tropical splendor. The course provides a unique opportunity to tee off while surrounded by lush greenery and ocean vistas.
While you're on the island, don't forget to explore Canouan's underwater wonders by snorkeling or diving in the crystal-clear waters. The coral reefs here are teeming with marine life, making it an ideal spot for underwater enthusiasts.
In the evenings, savor fresh seafood delicacies at local restaurants. Enjoy the flavors of the Caribbean while listening to the gentle sounds of the ocean.
Day 6 | Bequia
Sail on to Admiralty Bay in Bequia, an enchanting blend of tradition and modernity. Amidst its timeless charm, you'll witness age-old customs like boat building, fishing, and sailing. These activities continue to thrive on the island.
Explore Port Elizabeth, the bustling heart of Bequia, where you'll find a delightful mix of local culture and international allure. While wandering the vibrant streets, you may notice that Bequia tends to draw in the international jet-set crowd. It is certainly a hotspot for travelers seeking an authentic and luxurious experience.
Enjoy the local cuisine and soak in the island's laid-back ambiance. Don't forget to keep an eye out for celebrities who visit Bequia. You might have a star-studded encounter that adds an extra touch of glamour to your Bequia experience.
Beyond its maritime traditions and celebrity allure, Bequia boasts pristine beaches, captivating coral reefs, and scenic hiking trails. Whether you're interested in exploring its history, beaches, or water sports, Bequia has something for you.
Day 7 | St. Vincent
Venture back to St. Vincent, where you can explore more of this fantastic island. There is much to do, from hiking amongst the dense forests and waterfalls to visiting the Botanical Gardens. For more cultural activities, visit the National Museum or tour historic Kingstown.
Perhaps spend some time at Salt Whistle Bay or Cumberland Bay anchorages. Snorkel Horseshoe Reef for amazing underwater scenery.
This St. Vincent and the Grenadines charter sailing itinerary is just an example. Your Captain and crew will work with you to tailor your yacht charter experience to your desires.
Please call us today at 1 (321) 777-1707 or describe Your Vacation Vision to help you plan your fully-crewed private luxury yachting vacation! Inquire as soon as possible about your custom, crewed yacht charter.
You make the memories. We make the arrangements.