Crew Competitions
Crew Competitions Serve Up Sustainable Luxury, and Plenty of Fun at Newport Charter Yacht Show
presented by Helly Hansen Newport. Newport Charter Yacht Show Tablescaping
Fun and exciting crew competitions occur every year at the Newport Charter Yacht Show, presented by Helly Hansen Newport. This is where all attending brokers, managers, and other charter industry professionals can enjoy a break from business and gain further insight into the personalities of those who usually spend their days lavishing attention on charter guests. This year's show hosted 24 world-class yachts. There were 19 motor yachts and five sailing vessels, half more than 100 feet in length and all of which were docked within easy walking distance of each other at the mega yacht-friendly Newport Shipyard.
Tablescaping
In the Tablescaping competition, 11 interior crews created gorgeous tabletop displays highlighting their design skills and creativity. Several boats had original designs created for the show, while others showed off designs that their guests loved.
The Professional Division was judged by a team of industry professionals led by Cheryl DiGennaro from Newport Yacht Interiors. In contrast, show attendees who voted by casting ballots onboard judged the Fan Favorite division.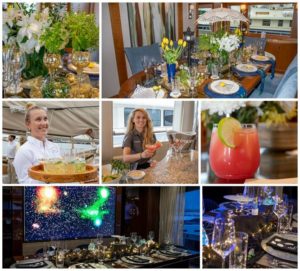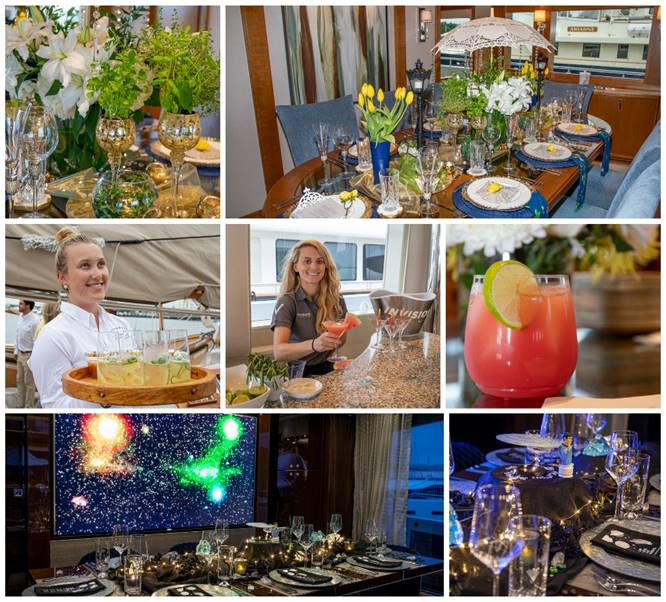 Top row: Tablescaping Pro Favorite "Singing in the Rain" M/V Endeavour; Second Row: Specialty Cocktail top-three finishers S/Columbia, M/V Invision and Magical Days; Third Row: Tablescaping Fan Favorite "Eat Long and Prosper" Star Trek M/ V Enterprise (photos by Billy Black)
Pro Favorite: M/V Endeavour – "Singing in the Rain" display with multiple levels and textures, including rain boots, tulips, fresh herbs, an umbrella with cascading crystals, and an accompanying soundtrack with the song.
Fan Favorite: M/V Enterprise – "Eat Long and Prosper" Star Trek theme playing off the yacht's name.
Specialty Cocktail
This was the third year for the Specialty Cocktail competition, and this year's entries indeed showed off the fantastic creativity and mixology skills of the crew who used Keel Vodka as the main ingredient. In addition, the ten yachts competing were scored in a fan-favorite format as judged by the show attendees.
Top three:
1st – S/V Columbia
2nd – M/V Magical Days
3rd – M/V Invision
Designer Water
The Designer Water contest presented by the Charter Yacht Brokers Association (CYBA) challenged the interior crew to create a flavored "spa" water using water from their onboard system. This challenge fit with CYBA's "Going Green to Save the Blue" campaign. This campaign strives to educate the crew and eliminate plastic use onboard yachts.
Top three:
1st – M/V Ariadne
2nd – S/V Columbia
3rd – M/V Fabulous Character
One of the unique highlights of every year's Newport Charter Yacht Show is the Chef's Competition.
Please call us today at 1 (321) 777-1707 or describe Your Vacation Vision to help you plan your fully-crewed private luxury yachting vacation! Inquire as soon as possible about your custom, crewed yacht charter.
You make the memories. We make the arrangements.