Explore Long Island on Your Yacht Charter
Activities of all kinds await you on Long Island Island Yacht Charter in New York. This 118-mile stretch of land is practically the backyard of New York City, yet it has plenty to offer on its own. Your yacht charter will take you to splendid beaches, vineyards, culinary delights, and more. Include East Hampton on your New York itinerary.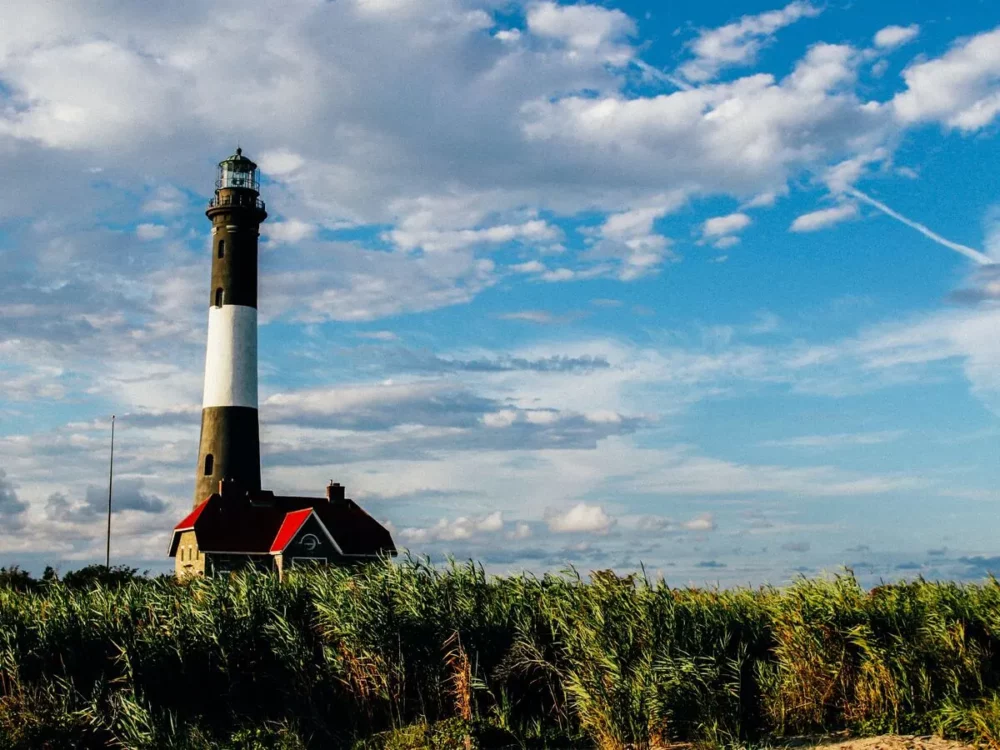 Weather
Summers are warm and humid. The winters are very cold, wet, and windy. It is partly cloudy year-round. Over the year, the temperature typically varies from 25°F to 82°F and is rarely below 11°F or above 89°F.
Places to see
The Hamptons: A luxury yacht charter in Long Island would be incomplete without a visit to the Hamptons. Explore the charming villages of Southampton, East Hampton, and Sag Harbor. Browse high-end boutiques, dine at renowned restaurants, and soak up the lively art scene.
North Fork Wine Country: For wine connoisseurs, visiting the North Fork's wine country is a must. Discover the region's award-winning vineyards and sample exceptional wines.
Fire Island: A secluded barrier island known for its pristine beaches, enchanting wildlife, and charming communities. Explore the Sunken Forest, a rare maritime forest, or stroll along miles of sandy beaches.
Montauk: Venture further east to Montauk, a coastal paradise nestled at the easternmost tip of Long Island. Renowned for its world-class sport fishing, Montauk is a haven for anglers. The area also offers various water activities, including surfing, jet skiing, and sailing.
Long Island's Gold Coast: A stretch of shoreline dotted with magnificent mansions and historic estates. As you visit iconic properties such as the Vanderbilt Mansion, Oheka Castle, and Old Westbury Gardens, return to the Gilded Age.
Hiking and Outdoor Exploration
Long Island offers several beautiful locations for hiking and outdoor activities. Here are a few options:
Caumsett State Historic Park Preserve: This vast park in Lloyd Harbor features scenic trails, woodlands, and meadows. It is also a perfect place for hiking, bird-watching, and photography.
Connetquot River State Park Preserve: Located in Oakdale, this park encompasses over 3,400 acres of forests, wetlands, and a river.
Mashomack Preserve: This preserve is a paradise for nature lovers on Shelter Island.
Historical Places to Visit on Long Island
Long Island is rich in history, offering several fascinating sites for history enthusiasts. Some notable historical places to visit include:
Sagamore Hill National Historic Site: Explore the former home of President Theodore Roosevelt in Oyster Bay. Take a guided tour of the house, stroll through the beautiful grounds, and learn about the life and legacy of this iconic figure.
Old Westbury Gardens: Step into the Gilded Age by visiting this opulent mansion and gardens in Old Westbury. Admire the exquisite architecture, explore the formal gardens, and enjoy special events and exhibitions.
Long Island Maritime Museum: Located in West Sayville, this museum showcases Long Island's rich maritime heritage. Discover historic boats, explore exhibits on maritime history, and learn about the region's connection to the sea.
Beaches and Water Activities on Long Island, NY
Long Island boasts stunning beaches and offers a plethora of water activities. Visit popular beach destinations such as:
Jones Beach State Park: In Wantagh, Jones Beach is a beloved destination for swimming, sunbathing, and picnicking. It also features a boardwalk, live concerts, and a theater.
Robert Moses State Park: Situated on the western end of Fire Island, this park offers beautiful beaches, nature trails, and activities such as fishing, surfing, and boating.
Long Beach: Known for its vibrant atmosphere and lively boardwalk, it is perfect for beachgoers seeking a blend of relaxation and entertainment. Enjoy beach volleyball, bike rides, or dining at beachfront restaurants.
Cultural and Artistic Exploration
Long Island is home to various cultural institutions and art venues. Some noteworthy places to explore include:
The Parrish Art Museum: Located in Water Mill, this museum showcases an impressive collection of American art, particularly highlighting Long Island's artists and landscapes.
Tilles Center for the Performing Arts: Situated on the campus of LIU Post in Brookville, Tilles Center hosts a diverse range of performances, such as concerts, theater productions, and dance performances.
Nassau County Museum of Art: Discover many art exhibitions and beautiful sculpture gardens in Roslyn Harbor. The museum also offers art classes, lectures, and special events.
Long Island Yacht Charter | Marinas
Here are some of the best marinas on Long Island:
Montauk Yacht Club Resort & Marina (Montauk): It provides 232 slips, accommodating yachts of various sizes, along with amenities such as fueling services, concierge assistance, restaurants, swimming pools, and spa facilities.
Sag Harbor Yacht Club (Sag Harbor): Located in the picturesque village of Sag Harbor, this marina is known for its charming and historic ambiance. With a capacity for 95 vessels, it offers upscale amenities, including floating docks, showers, laundry facilities, and a clubhouse.
Safe Harbor Cove Marina (Huntington): Set in the picturesque Huntington Harbor, Safe Harbor Cove Marina is a full-service facility catering to luxury yacht owners. It features floating docks, clean facilities, fueling services, and a clubhouse. The marina is also conveniently located near downtown Huntington, offering easy access to restaurants, shops, and cultural attractions.
Please call us today at 1 (321) 777-1707 or describe Your Vacation Vision to help you plan your fully-crewed private luxury yachting vacation! Inquire as soon as possible about your custom, crewed yacht charter.
You make the memories. We make the arrangements.