Newport is a popular summer destination; exploring it by boat adds extra enjoyment. To truly experience all this town has to offer, don't miss dining in Newport, Rhode Island, as part of your luxury yacht charter vacation in New England.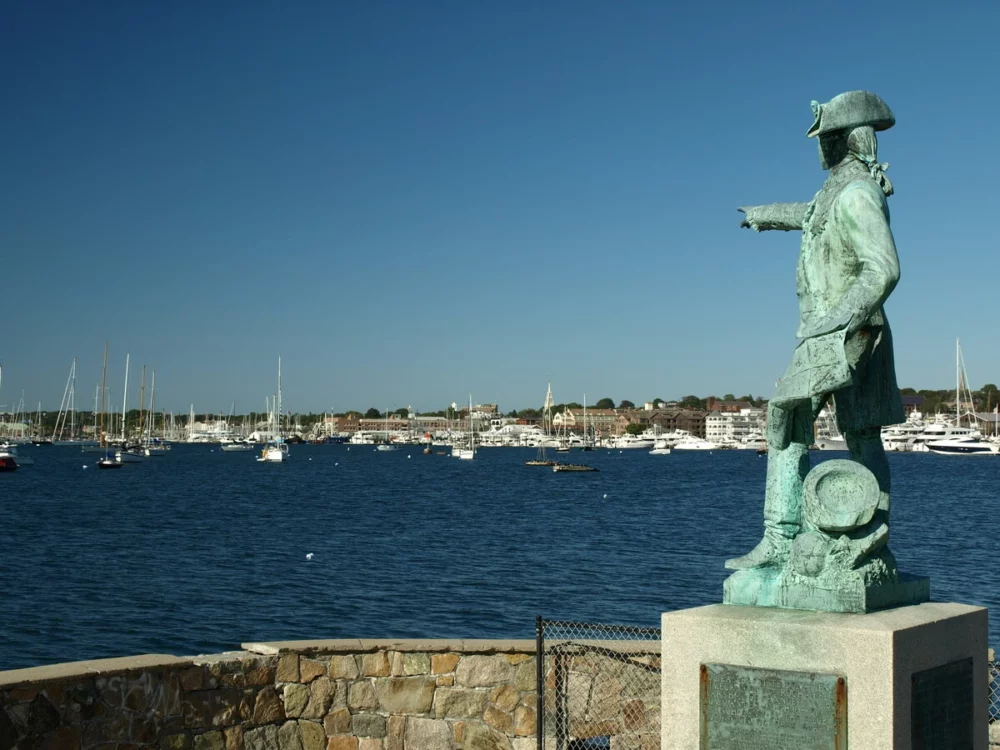 Where to Eat in Newport
Newport Harbor offers protected sailing grounds. It's also a perfect jumping-off point to cruising Block Island, Martha's Vineyard, the Mansions, and beyond. Dining in Newport, Rhode Island is especially rewarding after a long day of exploring.
Newport has a fascinating and extensive history as a port for both commercial and pleasure boats. Additionally, its popularity as a summer vacation destination for the wealthy has preserved numerous historical sites and buildings.
The Newport Mansions, Touro Synagogue, and The Cliff Walk are significant landmarks that highlight the importance of this place in both the United States and various parts of the world. They serve as notable examples of its historical and cultural significance.
The City By the Sea has a lot to offer in terms of sites and places to see. All that walking around will work up an appetite. So where should you eat in Newport?
Luckily for you, plenty of great eateries around town provide for a wide range of tastes.
The White Horse Tavern
The White Horse Tavern is purported to be the oldest tavern in the United States. Established in 1673, the building was originally a two-story home. It was later converted into a tavern. It was also used as a meeting place for the Colony's General Assembly, Criminal Court, and City Councils.
The restaurant offers contemporary American-French cuisine, from clam chowder to Steak Frites. Executive Chef and Rhode Island native Rich Silvia uses many local ingredients in his dishes, like mushrooms, fresh fish, and lobsters. The wine list is robust with international vintages.
The atmosphere is cozy. There is also an outside patio, which is open during the warmer months.
Stoneacre Brasserie
Stoneacre Brasserie offers great locally sourced flavors and breakfast, lunch, and dinner. It also has a café offering freshly brewed teas and coffees. The cuisine has overtones of northern Spanish/Basque cuisines. However, there is a wide variety of dishes, ranging from Croque Monsieurs to creamy polenta with local mushrooms.
Stoneacre is in Washington Square, Newport's arts and culture district. It is home to the Opera House, Jane Pickens Theater, and Island Moving Company, the local ballet troupe.
The Clarke Cook House
You could not talk about Newport without talking about The Clarke Cook House. The restaurant has several levels on Bannister's Wharf in downtown Newport.
The main floor has an oyster bar and regular dining and bar. When it might not be warm enough to be outside, the bar at the Cooke House is a great spot. You can look out over the harbor through the ceiling-to-floor windows.
Upstairs, there are more tables as well as another bar.
Climbing another set of stairs, you'll discover another bar that opens during the summer. It offers a view of the bustling activity of tourists wandering around the shops below. There is another level where tables are available by reservation only.
Besides seafood, many other dishes are available, from beef carpaccio, sushi, and sirloin steak au poivre. A "Snowball from Hell" is the best to finish the night. Ice cream layered with chocolate, this dessert is decadent and easily shared by two or more people.
The "Boom Boom Room" is in the basement of the building and gets going later in the night. Here you will find night owls and youngsters partying it up well into the night. Not everyone's scene, but worth a visit if you are looking for more nightlife.
The Grill at Forty 1° North
The Grill is a perfect spot to grab a drink, watch the sunset, or have a delicious dinner. The seating is available indoors and outdoors, often overlooked by the bigger crowds gathering at Bowen's and Bannister's Wharf.
There are plenty of caviar and oyster combos to choose from. There are plenty of seafood options and great steak, duck, and chicken dishes for those not keen on fish.
Castle Hill Inn
Castle Hill is an authentic taste of Newport summer living, located a little off the usual Newport visitor path. You shouldn't miss the restaurant at Castle Hill Inn, whether it's for sipping a glass of rosé while watching the sunset or enjoying a delicious meal.
The property overlooks the entrance to Newport Harbor, making for beautiful views of boats sailing in and out of the harbor and overlooking Newport Bridge.
Castle Hill has two dining options: The Dining Room and The Lawn.
There is The Lawn for lunch, which looks out to the Newport Bridge and harbor. Weather permitting, it offers an al fresco dining experience and arguably cannot be beaten in all of Newport. Menu choices include salads and sandwiches, while the bar provides a full range of cocktails and liquors.
The Dining Room offers cuisine as a prix fix menu with wine pairings. The menu is constantly changing depending on what is seasonally available. Executive Chef Lou Rossi started his career locally. He then went on to work at Thomas Keller's 3 Michelin Star restaurant, Per Se.
Please call us today at 1 (321) 777-1707 or describe Your Vacation Vision to help you plan your fully-crewed private luxury yachting vacation! Inquire as soon as possible about your custom, crewed yacht charter.
You make the memories. We make the arrangements.