Are you in search of a luxurious and unique vacation experience? Consider a 100-foot yacht charter for you and your guests. Choose from amazing destinations, indulge in delicious cuisine, and relax!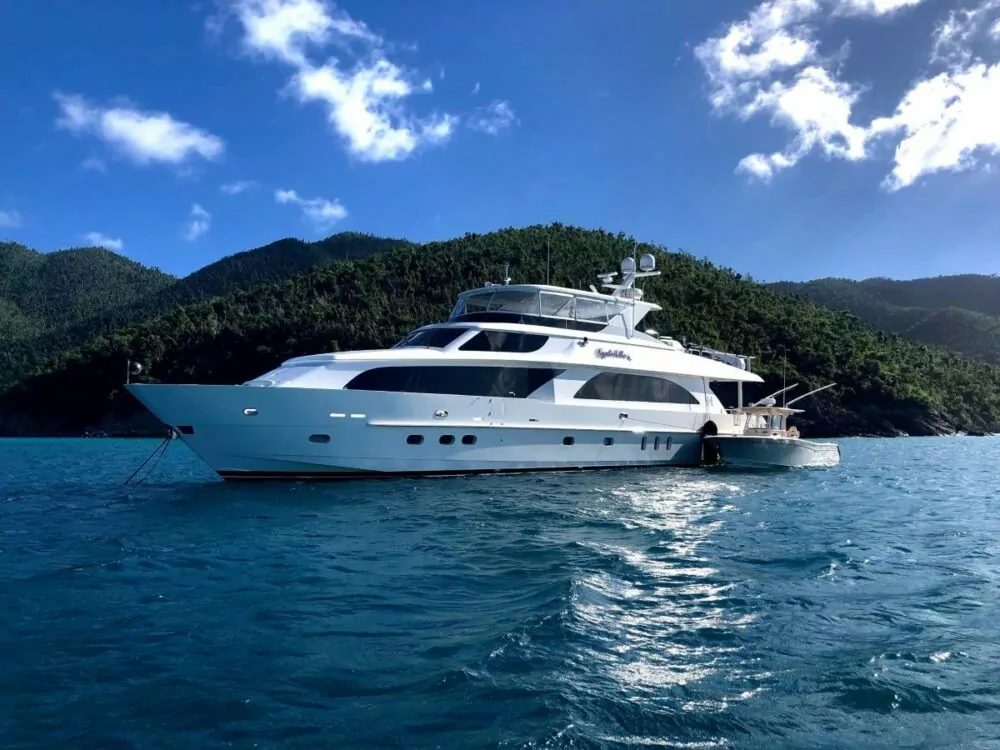 A 100-foot yacht creates a stunning setting for a magical vacation. Imagine cruising through crystal clear waters, sipping champagne on deck, and enjoying five-star service and amenities. We will examine the different features as well as the costs of chartering a 100-foot yacht.
The Luxury Yachting Experience
Aa luxury yachting experience is your entrance to a world of elegance. When you step foot on the deck of your 100-foot yacht, a dedicated crew greets you. Your every need is catered to. From gourmet meals to water sports, the crew ensures your comfort.
The luxury yachting experience also offers unparalleled privacy and exclusivity. With your floating oasis, you can explore secluded coves and hidden beaches inaccessible to most tourists.
Exploring Different Types of Yachts
You will find diverse options when you explore 100-foot yachts available for charter. From sleek and modern motor yachts to elegant and traditional sailing yachts, a vessel suits every taste and preference.
Motor Yachts | 100-Foot Yacht
Motor yachts offer the convenience of speed and power. They allow you to cover more distance and effortlessly reach remote destinations.
These yachts have roomy interiors and state-of-the-art amenities. Motor yachts also have design features like full-beam master staterooms and beach clubs.
These 100-foot motor yachts are $40,000 to $65,000:
Power Catamarans | 100-Foot Yacht
Power catamarans offer the best of a power yacht and a sailing yacht.
Sailing Yachts: Catamarans and Monohulls
Sailing yachts provide a more serene and eco-friendly experience, relying on the wind to glide through the water. Choose from sailing catamarans or single-hull sailboats.
Take a look at these sailing catamarans:
Comparing Costs and Amenities of a 100-Foot Yacht Charter
When comparing the costs and amenities of chartering a 100-foot yacht, consider your budget and desired level of luxury. The price for hiring a yacht can vary depending on factors such as the season, destination, and the yacht model.
Generally, expect to pay anywhere from $50,000 to $200,000 weekly for a 100-foot yacht charter. This price typically includes the yacht, crew, and basic amenities. However, there may be additional costs for activities such as scuba diving.
Most 100-foot yachts offer luxurious features such as
spacious cabins with ensuite bathrooms,
gourmet kitchens
multiple lounging areas
state-of-the-art entertainment systems,
water toys
Some yachts include amenities like Jacuzzis, private gyms, or spas.
Setting Sail: Popular Destinations for Your 100-Foot Yacht Charter
The possibilities for your yacht charter destination are endless. Explore the deep blue waters of the Caribbean or soak up the sun in the Mediterranean. The world is your oyster, and a 100-foot yacht can take you to some of the planet's most exclusive and popular destinations.
In the Caribbean, you can sail to St. Barts, the British Virgin Islands, and Antigua. These tropical locations boast pristine beaches, vibrant marine life, and rich island culture.
The Mediterranean has many options, from the glamorous French Riviera to the historic coastlines of Greece and Croatia. Cruise the Amalfi Coast or explore the colorful fishing villages of the Italian Riviera. Anchor overnight in secluded coves along the Dalmatian Islands.
With a luxury yacht charter, you can explore the most picturesque places in style and comfort. Begin planning your dream getaway now and prepare to set sail to your desired destination.
Please call us today at 1 (321) 777-1707 or describe Your Vacation Vision to help you plan your fully-crewed private luxury yachting vacation! Inquire as soon as possible about your custom, crewed yacht charter.
You make the memories. We make the arrangements.