Set sail this summer on the catamaran SANTORINI and discover Greece's beauty along its coast, in the Aegean Sea, charming fishing villages, and rugged mountains. Experience Greek culture with friendly locals. Check out the 6 Reasons to Sail Greece on Catamaran-SANTORINI.
1. The Yacht SANTORINI is Spectacular
The first of 6 reasons to sail to Greece on catamaran-SANTORINI is the yacht! Expertly crewed and fully equipped, the luxury catamaran SANTORINI offers an unforgettable Greek sailing holiday on the Aegean Sea. This 62-foot Lagoon catamaran accommodates ten guests in 5 spacious cabins. All cabins have private ensuite bathrooms and showers.
SANTORINI boasts a nice variety of water toys, including:
snorkeling gear
fishing gear
inflatable tubes and donuts
wakeboard
SUP (2)
2. You'll Sail through Greece's Beautiful Islands
Greece is famous for its stunning islands, vibrant culture, and unique history. During your time onboard SANTORINI, you will explore a variety of islands. You will experience breathtaking views while sailing through Greece's famous bays and harbors. Of course, you must visit Santorini since the yacht has the same name.
It's difficult not to fall in love with Santorini. It's one of the most beautiful islands in Greece and has an enchanting aura that attracts visitors from around the world. Named one of the best islands for weddings and honeymoons, you'll find stunning water views everywhere, especially at Oia and Fira. There are also picturesque hikes to iconic sites like the Pyrgos Rock and even a volcanic crater that overlooks Santorini!
3. Watch the Sunsets – They are Breathtaking
Greece offers some of the most spectacular sunsets you'll ever see. SANTORINI has a flybridge designed explicitly for enjoying these awe-inspiring sunset moments.
When the day moves to night, relax on deck and watch as the sky changes hues. Sip wine and catch up with friends and family. It's an experience that will live long in your memory after you return home.
4. The Greece Sailing Holiday Experience
There's just something magical about sailing. With the wind in your hair and the water glistening below, you feel completely free from everyday cares. When you are on SANTORINI, you'll discover why Greek waters are some of the most beautiful in Europe.
Greece is a hot sailing destination with its scenic coastline, picturesque islands, turquoise waters, and active volcanoes.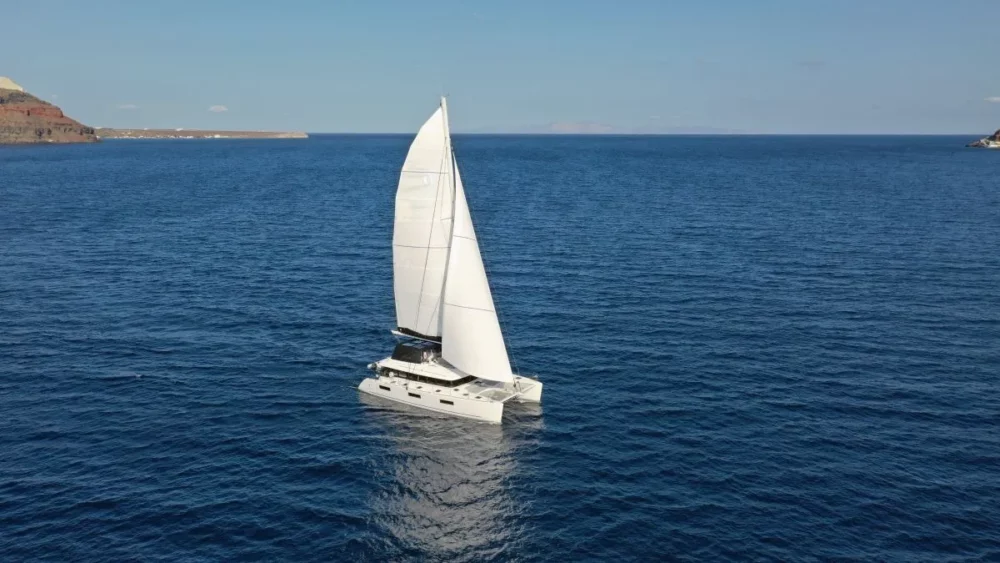 5. It is Eco-Friendly
Did you know that catamaran cruises are eco-friendly? They use 30% less fuel than equivalent monohulls and have a much smaller wake. Fuel consumption is minimal, and noise levels are low. Since SANTORINI has sails, you will spend as little time motoring as possible.
Additionally, there are toiletries from Apivita in each bathroom. Apivita has very high sustainability standards and believes caring for the environment is as important as caring for your skin.
6. The Crew Does All the Work
Your crew takes care of everything during your sailing vacation. With catamaran-SANTORINI, you'll enjoy cruising the Greek islands, exploring quaint villages, and basking in the warm Mediterranean sun.
You don't have to worry about a thing — all your meals, drinks, and activities are planned. Your private chef will cater to your preferences and feature delicious, local Greek food you'll love.
These are only 6 of the hundreds of reasons to sail in Greece on the private luxury catamaran-SANTORINI. Plan your sailing holiday in Greece. The travel professionals at CKIM Group are ready to assist you with every detail.
Please call us today at 1 (321) 777-1707 or describe Your Vacation Vision to help you plan your fully-crewed private luxury yachting vacation! Inquire as soon as possible about your custom, crewed yacht charter.
You make the memories. We make the arrangements.