Sunreef Yachts has just unveiled one of its latest innovations: The 80′ Sunreef Eco Power Cat SOL. This eco-friendly luxury catamaran has the potential to transform the nautical industry. New in 2023, SOL offers quiet luxury and cutting-edge technology.
Importantly, its 80′ x 39′ design offers plenty of bow, cockpit, salon, and flybridge areas. This is the equivalent of most yachts twice the size. The Sunreef eco-yacht catamaran is both environmentally friendly and highly efficient. It achieves this by using the latest technologies and advanced materials.
Special for Sunreef 80 Eco Power Cat SOL
Take advantage of these special rates. For any charter taking place in the Winter 2023/24 season but booked before December 31, 2023:
80,000/2-4 pax inclusive
$85,000/5-6 pax inclusive
$90,000/7-8 pax inclusive
Christmas 2023 Special:
$90,000/2-4 pax inclusive
$95,000/5-6 pax inclusive
$100,000/7-8 pax inclusive
The Sunreef Eco Yacht SOL will set the new standard for luxury yachting. These yachts have superior performance, low fuel consumption, and safety features. From its sleek, modern design to advanced engineering, the SOL will surely take yachting into the future.
Key Features
The SOL's sleek and stylish design is one of its unique features. This 80 Sunreef power eco catamaran has a modern, clean look, making it stand out in any marina. Moreover, the vessel's interior is spacious and comfortable, featuring a modern decor that is both elegant and functional.
With four generous ensuite staterooms, SOL is luxurious and fully customizable, and it can sleep up to eight guests.
The luxurious master cabin has a king-sized bed, deep closets, and ample storage.
The other three cabins feature queen-sized beds.
Organic bedding has exceptional quality, natural design, and eco-friendly material to give you a good night's rest.
SOL uses its Eco Sunreef system to generate power from solar energy. Its carefully chosen materials and practices keep people and the planet at the forefront.
SOL offers comfortable seating areas made with natural materials
Wraparound windows create a light, airy main salon that grants picturesque ocean views.
In addition, SOL's indoor-outdoor living space opens to the aft with glass doors.
An excellent crew of four ensures your charter experience will be truly memorable.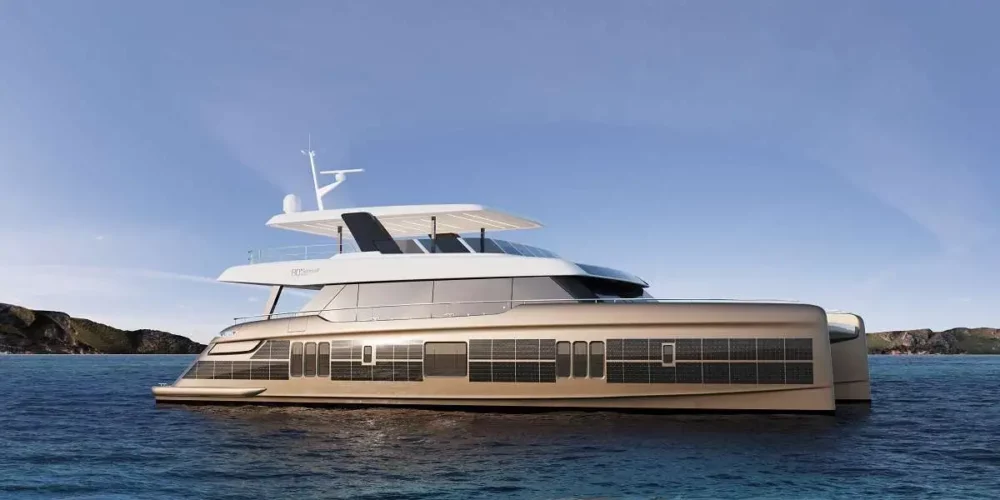 Sunreef's Eco and Sustainable Features
Advanced Solar Panel System
The electric 80 Sunreef Power catamaran has Sunreef Yachts' advanced, lightweight solar power system of up to 200m2, providing 36kWp capacity.
Moreover, its cutting-edge battery bank is 30% lighter than the average batteries in the boating industry.
The state-of-the-art battery system allows it to store and manage energy efficiently, providing enough power for long voyages.
Electric Engines
The 80 Sunreef Power Cat SOL's electric engines can run on their dedicated battery bank for silent cruising and limitless range. Or, a hybrid version can merge the advantages of thermal engines and electric motoring. In addition, the catamaran can utilize a kite sail for even greater power and autonomy.
Sustainable Materials | 80′ Sunreef Eco Power Cat SOL
Moreover, this fully customizable luxury craft has eco-responsible materials, extensive natural fabrics, and décor throughout. Sunreef Yachts has adopted a green product approach, using basalt and linen-based materials.
Interior Cooling Systems
In addition, eco-friendly features include a DC-powered air conditioning system. Also, makes its drinking water. Additionally, the hull has non-toxic bottom paint and natural composite structures.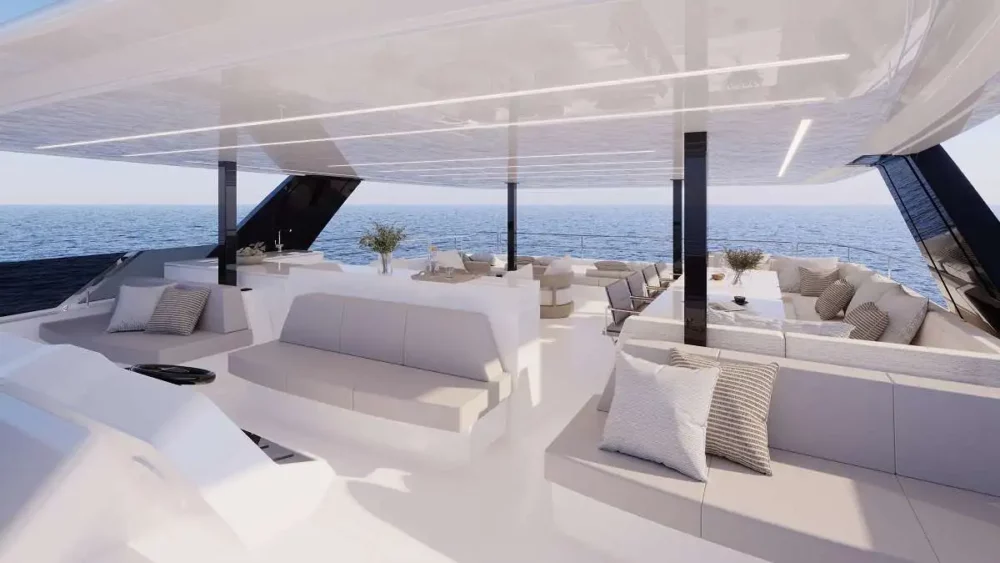 Technology and Navigation
The yacht also has the latest navigation and communication systems. Thus, the captain can easily navigate and communicate with the crew. Of course, she also features a range of entertainment systems. This includes a state-of-the-art sound system and flat-screen TVs.
Please call us today at 1 (321) 777-1707 or describe Your Vacation Vision to help you plan your fully-crewed private luxury yachting vacation! Inquire as soon as possible about your custom, crewed yacht charter.
You make the memories. We make the arrangements.