A prestigious shipyard founded in 2002, Sunreef has built over 140 innovative and high-quality yachts in their Gdansk, Poland facility. Sunreef is a leader in the yachting industry, using cutting-edge technology to create custom-made multihulls of the highest quality composite.
Riding on the success of their standard line of yachts, in 2021, they began designing more eco-friendly yachts. With the first Eco yacht released in 2022, the incredibly progressive boats have evolved into the full Sunreef Eco Line. What's more, Sunreef will be dedicating all its future efforts towards sustainable and eco-friendly yacht building.
Every yacht they design offers the most comfort, living, and safety, with performance sailing and spacious living quarters. Additionally, they make the most of the catamaran's larger-than-average hull distance and weight distribution. As a result, Sunreef's catamarans are notably more stable than typical monohulls.
Sunreef Eco Yachts for Charter | Sunreef 80 Eco
Just as the new line of custom yachts is being made for private owners, they are also starting to enter the charter industry. As with the other lines of Sunreef charter yachts, these will range from 50 to 100 feet. One great new Eco charter boat is SOL, a Sunreef 80 Eco Power Catamaran hosting 8 guests in 4 cabins. Starting winter 2023, she'll be available in the Caribbean, Bahamas, and the British Virgin Islands.
Key Features of the Eco Line
The Eco Line from Sunreef offers fully electric and hybrid engine models, which feature multiple green sources for propulsion and powering the yachts. They also come in sailing and power catamarans, ranging from 40 feet to 100 feet long. The sailing yachts can generate enough power to utilize little to zero fuel. With a speed of 12 knots, the 80-foot power catamaran is expected to have an impressive 22-mile range running solely on its batteries and can cover up to 1,900 miles when operated in hybrid mode.
Advanced Solar Power
Sunreef Yachts, renowned for their cutting-edge green energy yachts, has pioneered solar panels in the maritime industry. Their state-of-the-art panels are customized to size and shape and can be mounted almost anywhere on the yacht, with the potential for maximum solar power generation.
Additionally, they are extremely lightweight and easy to dismantle and maintain, with an R&D department currently researching ways to utilize heat recovery from the panels for heating the boat's boiler. Most impressively, Sunreef Yachts was the first to integrate the panels in a curved carbon bimini roof, revolutionizing the eco-conscious cruising experience.
Hydro Propulsion
Sunreef Yachts Eco catamarans, outfitted with advanced electric propulsion, generate electricity from the spinning propellers while sailing, enabling the power stored in the propulsion battery bank to fuel both the propulsion systems and the electronic appliances onboard. As catamarans can take advantage of the energy generated from two engines, hydro generation is an incredibly efficient and perpetual energy source for sustainable yachts.
Wind Energy
Wind turbines are an integral part of any eco-friendly yacht's energy profile. Providing stable electricity, even during cloudy weather and at night, these turbines produce power from the wind and keep the boat's battery bank charged. With the capacity to operate in varying wind conditions, from light to heavy, the generators sit at the vessel's highest point to optimize wind power conversion to electrical energy, even when docked.
Electric Engine Power
For those looking for a more sustainable, eco-friendly, luxurious sailing experience, the yachts from Sunreef are a great choice. These innovative yachts have cutting-edge electric engines that offer optimal performance and autonomy. Furthermore, the environmentally-friendly catamarans benefit from fuel savings, require less maintenance, and are virtually soundless, thanks to their cutting-edge propulsion technology. Electric propulsion is an eco-friendly solution to a guilt-free yachting adventure that brings more liberty, serenity, and opulence.
Innovative Materials
Sunreef Yachts' Eco Catamarans use two innovative materials, basalt and linen, to craft the hulls, superstructures, and yacht furniture. Basalt, a volcanic rock, is fundamental to sustainable yacht manufacturing. This fiber is significantly more powerful than glass fiber, yet it doesn't release hazardous greenhouse gases while fabricated. It has no chemical reaction with air or water and is a noncombustible, explosion-proof material. The other material utilized is linen, made from flax, the strongest and most resilient natural fiber. It is non-toxic, eco-friendly, and offers tremendous mechanical qualities and robustness, making it a great green replacement for glass fiber.
Hybrid Engine Power
Sunreef Yachts also offer catamarans with hybrid propulsion systems that significantly reduce CO2 emissions and blend the best electric motoring with the advantages of thermal engines. Moreover, these engines can charge the yacht's battery bank to improve energy efficiency. In addition to their eco-friendly design, these yachts guarantee excellent performance, low maintenance, and an Atlantic range.
The Range of Sunreef Eco Yachts
Sailing Catamaran Eco Yachts
Wind power is ideal for sailing, and Sunreef Yachts' eco-friendly catamarans have the highest quality rigging and entirely recyclable sails. Sunreef Yachts Eco sail catamarans come equipped with top-of-the-line recyclable sails, offering great performance regardless of the weather conditions.
The electric engines boast high energy efficiency, with their ultralight battery banks providing noiseless, emissions-free navigation. Moreover, their "solar skin" ensures maximized solar power generation by integrating the panels with the composite structures of the yacht, like the mast, boom, or hull sides. In addition, the green energy catamarans also employ hydro generation and wind turbines to boost efficiency.
The Line of Sailing Catamaran Eco Yachts
Sunreef 50 Eco
Sunreef 60 Eco
Sunreef 70 Eco
Sunreef 80 Eco
Sunreef 100 Eco
Sunreef 43m Eco
Power Catamaran Eco Yachts
As with the sailing yachts, Sunreef provides a range of eco-friendly power yachts with a revolutionary "solar skin" system made of light, sturdy, and pliable solar panels flawlessly fitted into composite bodywork. The Sunreef Yachts Eco power catamarans can feature electric or hybrid engines to guarantee optimal self-sufficiency, energy efficiency, and tranquillity. At the same time, custom-made marine battery banks provide a remarkable weight-to-power ratio.
Perhaps surprisingly, the wind is also an effective support for motor yachts. Sunreef's Power eco-friendly yachts can be equipped with powerful kites, which provide numerous advantages such as extended range, fuel savings, improved visibility, and greater safety, just as they do for large cargo vessels.
Sunreef Yachts Eco vessels can also maximize green energy production with wind turbines and powerful kites. To finish, Sunreef Yachts Eco motor yachts provide an extensive selection of ethically-sourced and eco-friendly finishing materials for luxury and sustainability.
The Line of Power Catamaran Eco Yachts
40 Open Sunreef Power Eco
Sunreef 45 ULTIMA Eco
Sunreef 55 ULTIMA Eco
60 Sunreef Power Eco
70 Sunreef Power Eco
Sunreef Supreme 70 Power Eco
Sunreef Supreme 80 Power Eco
80 Sunreef Power Eco
100 Sunreef Power Eco
Sunreef Eco Yachts | A Guide
The future of sustainable and eco-friendly yachts is incredibly exciting! Thanks to renewable energy technology and materials advances, luxury yachting can now be incredibly eco-friendly. Yachts of the future will be powered by advanced electric engines powered by solar panels and hydro-generators.
More hulls will be constructed of lightweight yet strong composites and even wood composites designed to be lightweight and fast while having minimum drag in the water. Interior features of the future yachts will be geared towards maximizing energy efficiency, minimizing waste, and utilizing environmentally friendly materials for all decorations.
Other Sunreef Yachts for Charter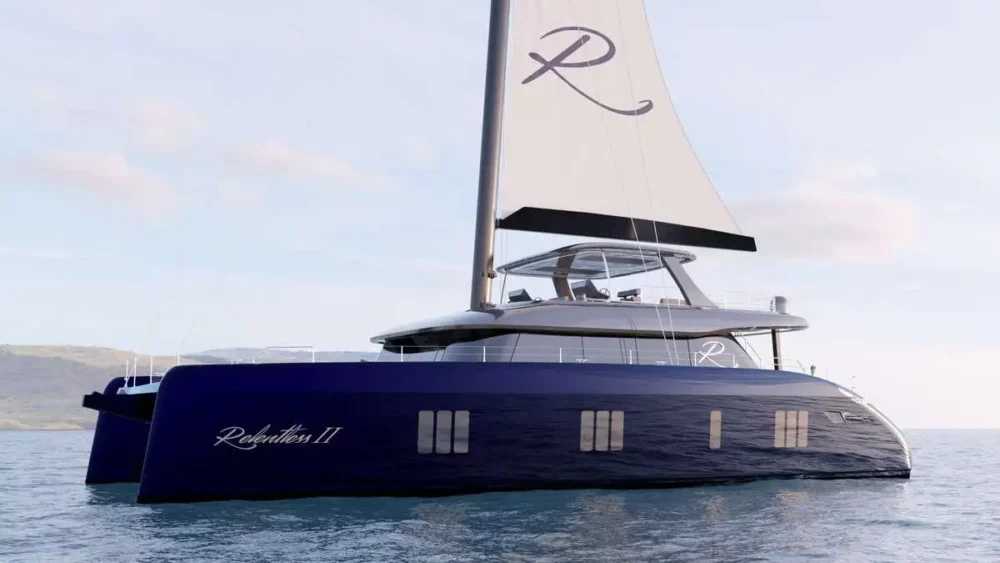 Sunreef's History Pedigry and Prestige
Sunreef Yachts has won numerous awards for their dedication to sustainability and environmental stewardship, such as the World Superyacht Award for Sustainable Design of the Year (2019), Superyacht Design Awards for Green Innovation (2018) and Showboats Design Award for Environmental Excellence (2018).
They have also received international acclaim for their clean energy-powered boats, featuring revolutionary energy systems such as advanced hybrid propulsion and the patented 'dual power system' that allows cruising without fuel while providing quiet and emission-free sailing. Sunreef Yachts is committed to pushing the boundaries of clean and responsible boating.
What's more, legendary tennis superstar Rafael Nadal is the proud owner of one of the first 80-foot Sunreef Power Catamarans he received in 2022 and keeps in Mallorca. Sunreef is not the only player in the eco-friendly catamaran game. Highly reputable builders like Fountaine Pajot also focus their designs on smart electric boats and achieving carbon-neutral status. It is just the beginning for Sunreef Eco Yachts and the industry's shift towards a more sustainable and responsible existence. We look forward to what's to come!
Please call us today at 1 (321) 777-1707 or describe Your Vacation Vision to help you plan your fully-crewed private luxury yachting vacation! Inquire as soon as possible about your custom, crewed yacht charter.
You make the memories. We make the arrangements.