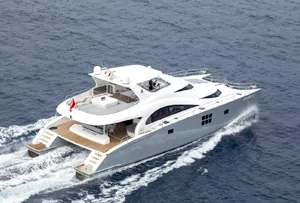 Sunreef Yachts is known throughout the industry as the leader in luxury sailing, power catamarans, and motor yachts from 60 to 200 feet.
This distinction is not surprising when you consider the company's beginnings. Sunreef's founder and CEO, Francis Lapp, began designing luxury vessels in response to demands from his travel agency's clients. They wanted better, more luxurious charter catamarans. However, he struggled to find vessels to suit their needs. After not finding anything suitable, he began designing and building custom-made boats.
The Beginning
In 2002 he began constructing the first Sunreef 74, a high-end catamaran. From the start, Lapp's drive for a higher-end product was evident. Sunreef Yachts proudly boasts, "Sunreef 74 is the world's first ocean-going catamaran with a flybridge with a centralized helm station. That adds a deck level that considerably expands living space."
Today, Sunreef is at the cutting edge of sustainable yacht building. They have launched a line of Sunreef Eco-friendly yachts to provide the same luxury experience with a much smaller environmental impact.
The Sunreef Collection
Among those already launched include designs such as:
Skylark: power catamaran Sunreef 70 currently cruising in the Mediterranean. Accommodates eight guests and three crew.
Levante: sloop-rigged catamaran 2010 Sunreef 80 currently cruising in the Mediterranean. Accommodates ten guests and three crew.
Anini: 2011 sailing catamaran Sunreef 70, cruising in the Mediterranean and Caribbean. Accommodates eight guests and three crew.
In The Wind: 2011 catamaran Sunreef 62, cruising the French Riviera and the Caribbean. Accommodates eight guests and three crew.
Dreamliner: 2011 catamaran Sunreef 58, cruising the Caribbean. Accommodates six guests and three crew.
Muse, which used to be for charter.
Every Sunreef is unique. Sunreef invites its clients to be involved in each step of the design and building process. That way, each yacht has input from the Sunreef designers and their customers.
So what does that mean for a charter guest? It means that any dream vacation can be realized aboard a Sunreef yacht. Giving the guest an extraordinary experience is the core of the company's foundation.
Call CKIM Group at 321.777.1707 to find the Sunreef luxury yacht that is right for you.
Please call us today at 1 (321) 777-1707 or describe Your Vacation Vision to help you plan your fully-crewed private luxury yachting vacation! Inquire as soon as possible about your custom, crewed yacht charter.
You make the memories. We make the arrangements.