Trade that snowman for a sandcastle in the sunny Bahamas this Christmas. When considering a Christmas holiday destination, you may not consider the Bahamas first. However, what could be better with its crystal clear waters, warm sandy beaches, and your luxury yacht? From lively Nassau to quiet Staniel Cay, there's something for everyone on your gift list. Give your loved ones a Bahamas Christmas yacht vacation.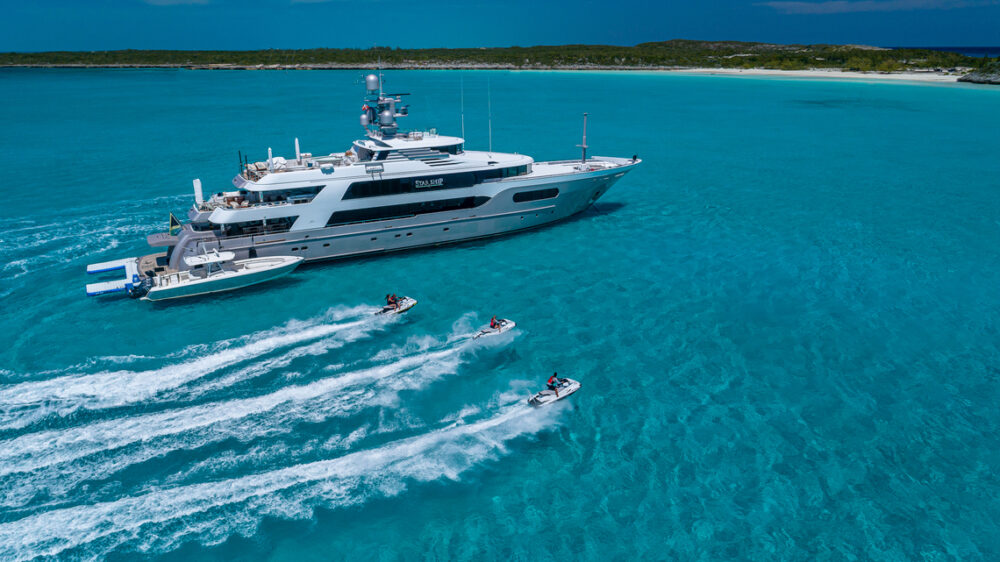 Christmas in the Bahamas is a great time to escape the snow and chill of winter. The islands remain warm and sunny in December with minimal drop in daily high temperatures. Turquoise water invites you to swim and play. Festive lights and decorations will also help you ring in the holidays with a tropical vibe.
Who Should Vacation in the Bahamas on a Luxury Yacht?

With over 700 islands, the Bahamas is an archipelago full of adventure. It's no wonder the Bahamas are a popular destination, with its aqua blue waters and white sand beaches. These idyllic islands are perfect for:
Families
A luxury yacht vacation to the Bahamas is a perfect Christmas gift for the entire family. Memories made with grandparents, teens, and even toddlers spending time together are priceless. AMARYLLIS, ETERNITY, and BASH sleep up to 12 guests in spacious luxury.
Couples
Reconnect with that someone special on a memorable Christmas yacht vacation. A sailing catamaran such as CARTOUCHE makes the perfect backdrop for romance. Even better, vacation together with four or five couples and enjoy interrupted quality time together.
Groups of Friends
The Bahamas is a destination everyone loves, with activities for the most laid-back individual and the adrenaline junkie. Reconnect with old college friends, friends from around the world, or simply around the block. What's more, top yachts like the new Motor Yacht ROCKET ONE have outstanding space for entertaining.
5 Things to Do On a Yacht In The Bahamas at Christmas
There is so much to do in the Bahamas at Christmas that you may want to extend your vacation. Besides the popular tourist spots, such as New Providence in Nassau, there are hundreds of out-of-the-way coves to explore. Here's a list of activities to get you thinking.
Relax on the deck with a book and a rum punch.
Jump in the clear blue waters. Your yacht has plenty of water toys to keep everyone busy all day.
Sunbathe on the white sand beaches.
Take a sunset cruise around the islands.
Party it up at one of the many festive events happening ashore, such as Junkanoo. Visitors and locals dress up in colorful costumes during this event and crowd the streets to hear roots, reggae, soca, and other Caribbean music.
What Should You Expect on Your Charter?
Chartering a luxury yacht in the Bahamas is a fantastic way to spend your Christmas vacation. You'll enjoy all five-star resort amenities without worrying about the crowds. Plus, you'll have access to some of the most beautiful beaches in the world. Here's what you can expect while on your charter:
First-Rate Service
Your yacht's captain and crew are highly trained professionals who will ensure your vacation is like none other.
Gourmet Meals
Your private chef will prepare delicious cuisine suited to your tastes every day of your charter.
Local Cuisine
Enjoy classic Bahamian Christmas dishes and drinks such as various conch dishes, black cake, garlic pork, pepper pot, and of course, rum!
In collaboration with your Captain, you decide where you want to go and how long you want to stay at each location.
Spectacular Sunsets
Experience the warmth of the setting sun while enjoying a hand-crafted cocktail.
Unforgettable Moments
No matter what you choose to do on your Bahamas Christmas yacht vacation, you are sure to make holiday memories with friends and family that will last a lifetime.
How to Celebrate Christmas on a Bahamas Motor Yacht Charter
First of all, plan early. The best charter yachts get booked first, especially during peak times like Christmas and New Year's. So, choose your desired dates, and remember some peak periods like Christmas require 10-day charters.
In addition, let us know what kind of atmosphere you're hoping to create. Do you want it to be family-friendly? Party-centric? A mix of both?
As for the celebrations, you may want to choose a festive menu with some traditional holiday dishes or go all out with a special seafood feast. Request decorations to get everyone into the holiday spirit – think twinkly lights, evergreen garlands, and a tree. You'll have the opportunity to let the crew know your exact desires when you complete the preference sheet.
A Christmas yacht charter in the Bahamas — why not? Call today at 321-777-1707 to speak with a yacht charter professional.
Please call us today at 1 (321) 777-1707 or describe Your Vacation Vision to help you plan your fully-crewed private luxury yachting vacation! Inquire as soon as possible about your custom, crewed yacht charter.
You make the memories. We make the arrangements.