Italy's Sanlorenzo shipyard is notorious for building extraordinary motor yachts, each uniquely reflective of her owner. For over 60 years, the Liguria-based shipyard has broken boundaries to craft customized yachts for their highly discerning clients. The Ocean Dreamwalker III superyacht is the epitome of such philosophy.
"Mission: To be the shipyard of shipowners who do not accept compromises. The place to explore innovation through experience, to create and build your own boat, a yacht resistant to the tests of time and the sea."

Sanlorenzo Spa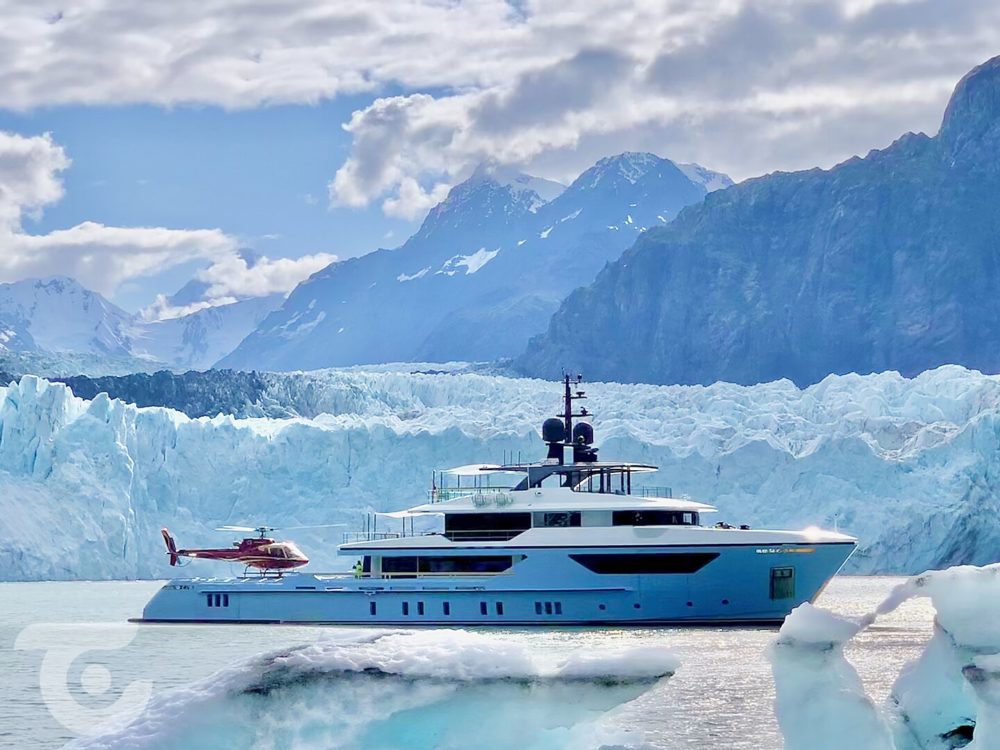 Focused on quality over quantity, Sanlorenzo only works with 50 clients annually, delivering about 1,000 distinct yachts to date. Whether they're building a 24m yacht or a 70m superyacht, every detail is meticulously designed and personalized for her owner. As Sanlorenzo proudly proclaims:
"Nothing is like your Sanlorenzo yacht.
Not even another Sanlorenzo."

Sanlorenzo Spa
One of the most recent masterpieces from Sanlorenzo is the 2018 launch of the Ocean Dreamwalker III, a 500EXP (explorer). This inaugural superyacht, commissioned by Chinese-American entrepreneur, Ming Hsieh, ushered in two new milestones for Sanlorenzo.
The Ocean Dreamwalker III: Charting New Territory
The first milestone is the notable birth of the 500EXP yacht series itself. Sanlorenzo's second milestone is closely related: the launch of their first yacht outfitted with a helicopter landing pad. Among incredible ingenuity, this was made most possible by extending the existing 460EXP series' aft deck. In addition, the 500EXP series boasts upgrades to its tender carrying capacity and garage openings.
Hsieh, an outdoor enthusiast, played a key role in developing both elements. This desire to access remote corners of the world, quickly reach the nearest airport, or play a round of golf influenced the inclusion of both features. Today, Hsieh's helicopter adorning the magnificent yacht is a custom Airbus AS350B3e, named Sky Dreamwalker VI. 
While we're on key features, two Caterpillar engines power this motor yacht; together, they provide a cruising speed of 11 and a maximum speed of 16. This equates to a range of approximately 4,000 nautical miles. In addition, her steel hull and aluminum superstructure sleep 10-12 guests and can carry up to 9 crew members.
Toys for Extreme Exploration
The Ocean Dreamwalker III also boasts numerous toys, as a superyacht of this caliber typically does. Two jet tenders, a 6.4m Castoldi, and a 3.9m AB will take you where you need to go. Whether you're looking to relax on a remote beach or reach the best fishing and scuba spots, your options are almost limitless. 
For even more action, hop on one of the yacht's three jet skis or seabobs and go cruising, hovering above the majestic waters of the Caribbean, South Pacific, or the Mediterranean. Plenty of inflatables are ready for use, as is the deck, built for easy access to the water. If you're into fishing, the Ocean Dreamwalker III is also equipped with fishing gear to help you reel in those wild Alaskan salmon. 
As if carrying a helicopter wasn't enough, the Dreamwalker III is also ready-built for carrying its very own 3-person submarine. A feat made possible by her cleverly concealed crane. This allows the exploratory vessel to transition smoothly in and out of the water. Hsieh's vision to go anywhere and everywhere with the Dreamwalker III includes deep below the water's surface.
Luxury Features of the Ocean Dreamwalker III
Don't worry if the seas are too cold or rough; you can practice your strokes in the superyacht's heated swimming pool. Instead, unwind with great conversation and cocktails in the jacuzzi. The Dreamwalker's spacious decks and sky lounge accommodate numerous dining guests with unobstructed views of the day's magical location.
Designed by Francesco Paszkowski, every inch of the exterior has been engineered in relentless pursuit of both beauty and functionality. This includes the incredible master bedroom with automatic balcony controls and panoramic views.
Of course, you can also find luxury furnishings, natural materials, and high-tech features throughout the superyacht's interior. Marble adorns the salon and lounge areas, while teak and other natural materials envelope Hsieh and his guests in modern comfort.
A Legend in the Making
Understandably, the Ocean Dreamwalker III has not gone unnoticed. Three more Sanlorenzo 500EXP superyachts have since been commissioned, with the 4th slated for completion by June 2021.
While 2020 posed many challenges, Ming Hsieh and his family have already taken on Alaska, the Caribbean, the Bahamas, Florida, and much of America's west coast. When asked what could be next for the adventure seeker, Ming replied, "Antarctica." Stay tuned for future updates on the extraordinary explorations of the Ocean Dreamwalker III in 2021.
As Hsieh's yacht is unavailable for charter, please check out one of our many incredible superyachts ready to create your dream experience.
Please call us today at 1 (321) 777-1707 or describe Your Vacation Vision to help you plan your fully-crewed private luxury yachting vacation! Inquire as soon as possible about your custom, crewed yacht charter.
You make the memories. We make the arrangements.