Sanlorenzo Italian Superyacht Builders rank among the top yacht builders in the world. Since 1958, it has been building made-to-measure luxury motor yachts and superyachts. You might spot one of these superb vessels in the Caribbean or the Bahamas, in the south of France, Italy, or Greece. Here we take a closer look at what makes Sanlorenzo Yachts so unique.
Made in Italy
Italians are famous for being world-class designers and engineers. Just think of chic Alfa Romeo cars and the iconic Vespa scooter. And then there are Italy's elegant and stylish fashion designers – Gucci, Armani, Versace, and Prada. Sophisticated, sometimes daring and extravagant, but always in good taste.
So it should be no surprise that Italy is also the world's top builder of superyachts, and it currently accounts for almost 50% of the superyachts under construction. The center of the Italian superyacht building is Viareggio – Azimut Benetti, Sanlorenzo, Mangusta, Rossinavi, and Codecasa are all based here.
Sanlorenzo yachts often win prizes at the Boat International annual World Superyacht Awards. According to Boat International's Global Order Book, Sanlorenzo and Azimut Benetti are the world's top superyacht builders.
Unique Design
So why are these handsome Sanlorenzo yachts so unique? They are tailor-made, reflecting their owners' needs, styles, and desires. And as they are so personalized, each boat is truly unique.
The company produces a limited number of boats annually, totaling around 1000 yachts in the last 50 years. With the utmost attention to design, each one has become a classic.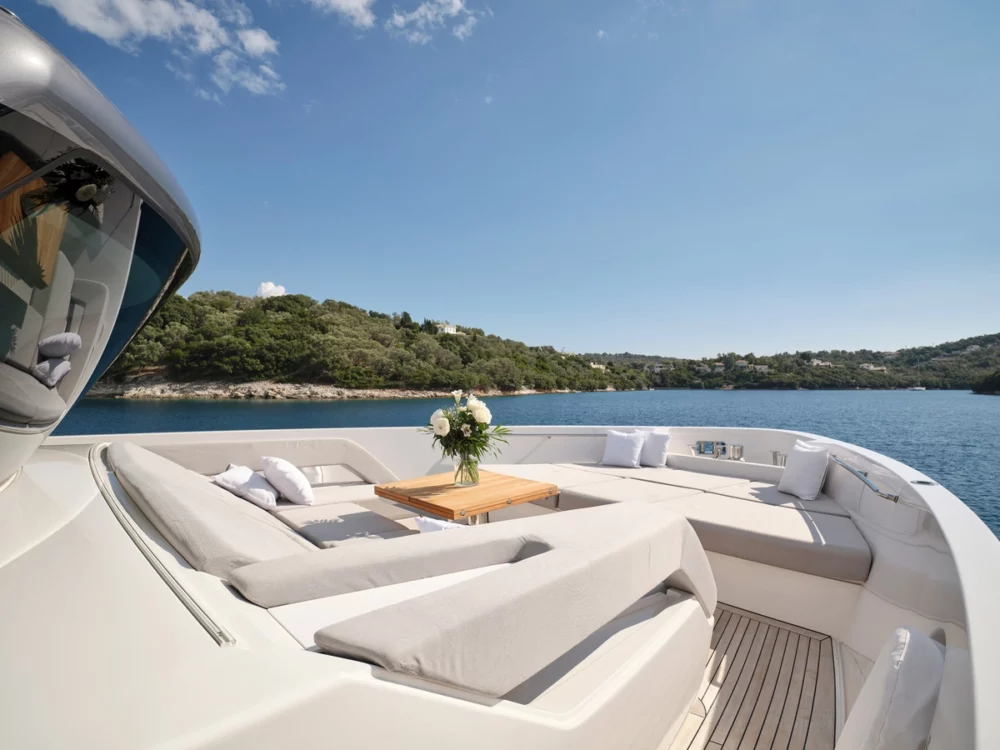 But Sanlorenzo is not just about tradition. Their sleek designs are daring and experimental, with projects like the world's first asymmetric yacht, launched in 2018. And you can expect surprise features, like glass-bottom infinity pools and floating central staircases.
Some of their yachts have flexible outdoor spaces, with folding terraces to create expandable decks. Another signature detail is a float-in garage for the tender and water toys.
Luxury Yachts' Interiors
Moreover, these yachts' spacious interiors, noted for ample glazing allowing abundant natural light, are as exciting as their elegant exteriors. Sanlorenzo works with world-renowned interior designers to create superbly elegant spaces with sophisticated furnishing and refined décor. The company's art director is Italian architect and contemporary furniture designer Piero Lissoni.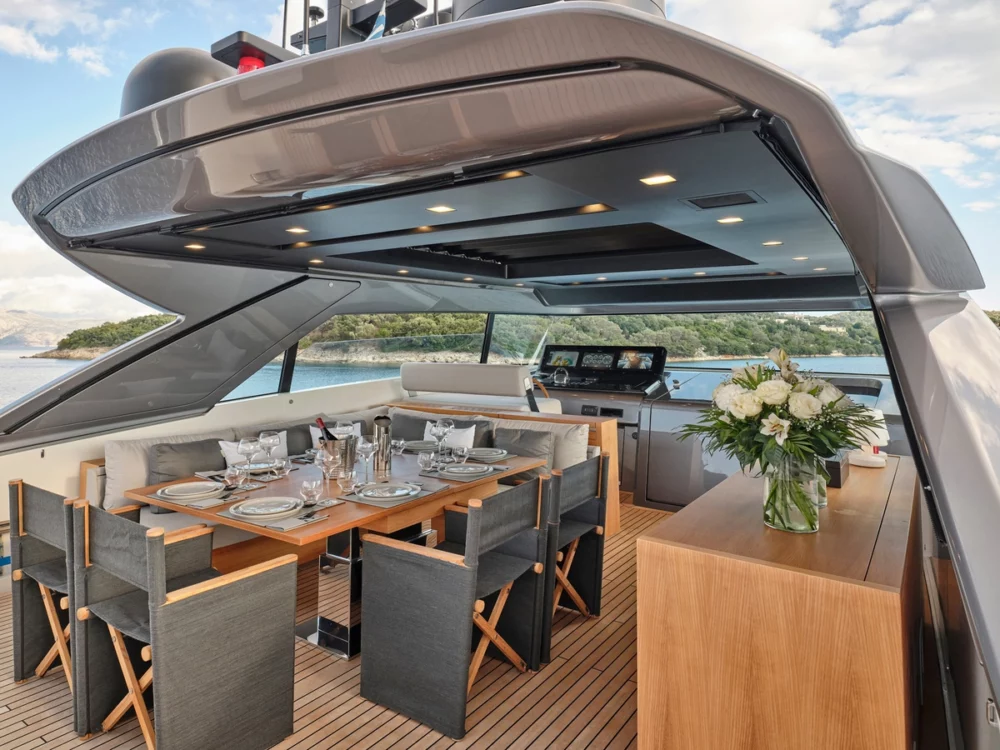 At Sanlorenzo, Lissoni collaborates with highly skilled artisans who work with superior materials. So you can expect wooden furnishing of oak or elm, bathrooms of marble or travertine, and upholstery of soft leather.
Ultimately, however, the choice of styling is in the hands of the future boat owner. Moreover, Sanlorenzo caters exclusively to personal tastes, ranging from hyper-cool minimalist contemporary chic to opulent classical design. If desired, they include flexible spaces, which can be adjusted according to their function.
One of Sanlorenzo's newest boats, due for completion this year, is the 495GT X-Space. It combines the qualities of an explorer and a classic navetta and is designed to have maximum transparency. Some cabins have floor-to-ceiling glazing for expansive ocean views, and even the interiors are almost entirely glass.
The top deck is devoted to the owner's private apartment, with its secluded terrace. And aft of the main deck, there's a glass-sided pool affording uninterrupted sea views.
Environmentally Friendly
An ever-increasing number of yacht owners demand that their boats be environmentally friendly, with a reduced carbon footprint. Sanlorenzo is committed to sustainability and is constantly searching for green solutions that will help preserve the ocean's precious ecosystem. It takes pride in making its yachts as ecological as possible, even using recycled materials if the owner desires.
Of course, sustainability still requires innovation and technological advancement. So in the name of responsible development, Sanlorenzo is working on a project for a carbon-neutral power generation system. The company collaborates with Rolls-Royce to design and build a superyacht powered solely by green methanol. Its maiden voyage is already planned for 2026.
Sanlorenzo is an active patron of the arts. It has a global partnership agreement with Art Basel, the world's leading art fair for modern and contemporary art. It also collaborates with the exquisite Peggy Guggenheim Collection on the Grand Canal in Venice.
Promoting Craftsmanship | Sanlorenzo Yachts
The company also recognizes the importance of training the next generation of artisans. In addition 2018, it founded the Sanlorenzo Academy, which prepares young people with all the necessary handcraft skills.
It stages educational courses and seminars, ensuring it will stay at the forefront of the luxury yachting sector well into the future.
Where Can You Charter a Sanlorenzo Yacht?
The Bahamas
Experience the luxury and adventure on a Sanlorenzo yacht charter in the Bahamas. Nestled in the turquoise waters of the Bahamas, there's a tropical paradise with pristine beaches, vibrant marine life, and secluded coves waiting to be explored.
Cruise through the stunning Exumas, known for crystal-clear waters and breathtaking landscapes. Discover hidden treasures such as Thunderball Grotto, an underwater cave made famous by James Bond films. Snorkel with vibrant fish and swim alongside friendly nurse sharks in Compass Cay.
Greece
Explore the more than six hundred islands of Greece. Visit Mykonos, Santorini, Paros, and Milos islands in the Cyclades. Each island is unique, with historical sights, hiking trails, and, most of all, Greek hospitality.
On the next trip, visit the Ionian Islands with white sand beaches and turquoise waters. Additionally, you can charter M/Y Nirvana, a special San Lorenzo built in 2021—to the magical islands of Kefalonia, Zakynthos, Meganissi, Ithaki, and the town of Nydri on Lefkada.
Croatia
The islands and coastal towns await you in Croatia. Moreover, wineries, historical sites, hiking, and local cuisine with some of the best olive oil on most islands. Some of these gems are Hvar, Korcula, Vis, and Brac in Central and Southern Dalmatia. Imagine this all on a San Lorenzo superyacht.
Italy
We can't leave out the home of Sanlorenzo Yachts with its diverse and stunning cruising grounds, from the Italian Riviera to Southern Italy, including Sicily. Italy offers yacht charter guests stunning coastlines like the Amalfi Coast and Cinque Terre, as well as Sicily and Sardinia.
Next time you're looking for an excellent and reliable yacht to charter or buy, know that you're safe with Sanlorenzo Italian superyacht builders.
Please call us today at 1 (321) 777-1707 or describe Your Vacation Vision to help you plan your fully-crewed private luxury yachting vacation! Inquire as soon as possible about your custom, crewed yacht charter.
You make the memories. We make the arrangements.