Yacht charters often come to mind when thinking of dreamy vacations. However, they often have hefty price tags. But what if we told you you can experience the thrill of a yacht charter without breaking the bank? Explore how to enjoy affordable yacht vacations, ensuring an amazing experience without draining your savings.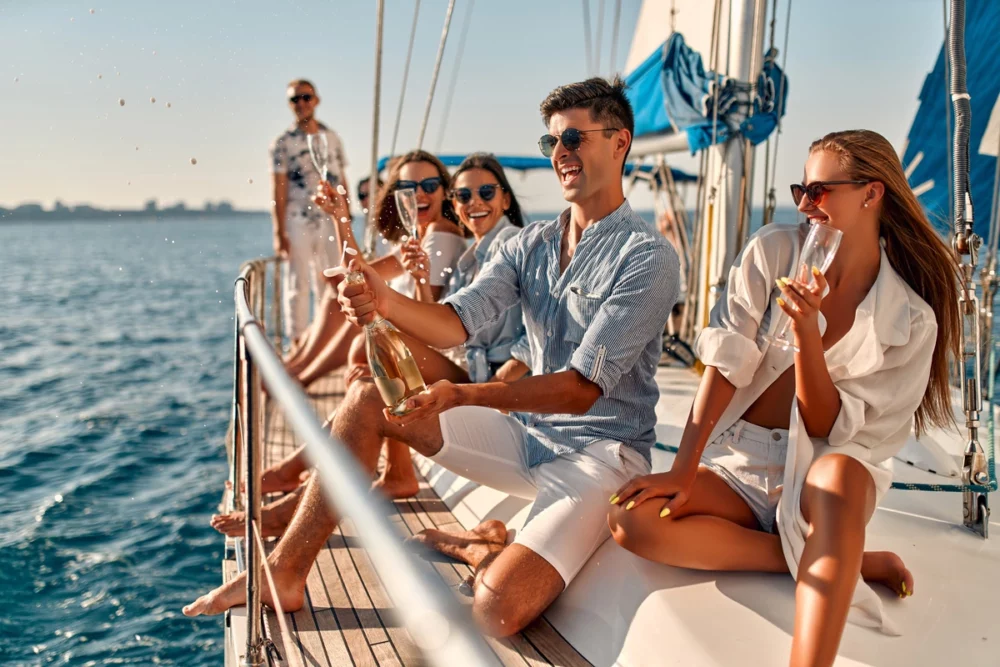 Affordable Yacht Vacations | What Influences the Price?
Several factors impact the cost of a yacht charter, and understanding them can help you make informed decisions.
Yacht Type and Size
Larger yachts generally command higher charter prices. This is because they can accommodate more guests and offer more amenities and space.
The crew needed to operate and maintain a larger yacht is typically more extensive, contributing to higher operating costs.
Types of Yachts for Affordable Yacht Vacations
Motor Yachts are famous for their speed, luxury, and amenities. Chartering a motor yacht, especially a larger and more luxurious one, can be more expensive.
Sailing Yachts: While sailing yachts are elegant and timeless, the charter prices may vary based on the size, brand, and luxury features.
Catamarans: Being more stable and spacious, Catamarans can offer an attractive alternative for charter guests. They often come at a lower cost than similar-sized monohull yachts because of their design and fuel efficiency.
Duration of the Charter
The length of the charter period also affects the cost. Longer charters may have a lower daily rate compared to shorter ones.
Amenities and Crew Services
Luxury charters have a professional crew. The crew may include a captain, chef, stewardess, and other staff. The culinary offerings, water toys, and other amenities can significantly impact the overall cost of the charter.
Brand and Reputation
Yachts from brands with an established reputation for luxury may have higher charter rates. Some of these brands include Sanlorenzo, Sunreef, and Lagoon.
Special Requests
Additional requests, such as themed events or custom catering, can contribute to increased costs. For affordable yacht vacations, keeping things simple is a good idea.
Amenities
Some yachts feature high-end amenities such as submersibles, swimming pools, dedicated movie theaters, and gyms. The most expensive yachts will have more of these features.
Destination
The location of your yacht charter can greatly influence the overall cost. Popular tourist destinations or regions with high demand for yachts might have higher prices. Consider exploring less-traveled waters for more budget-friendly options.
Time of Year for Affordable Yacht Vacations
Peak charter season usually corresponds with the best weather conditions in a given region. However, chartering during the shoulder seasons can offer significant cost savings while providing favorable weather.
Duration of Charter
The length of your charter also impacts the cost. Some companies offer discounts for longer bookings, so consider extending your trip to maximize potential savings.
Tips for Affordable Yacht Vacations
While crewed luxury charters can have high costs, there are ways to make the experience more affordable. Here are some tips:
Book in Advance
Securing your yacht charter well in advance can lead to substantial savings. Early bookings often come with discounts, and you'll have a broader selection of available yachts.
Be Flexible
If your travel dates are flexible, affordable yacht vacations are possible. Capitalize on lower rates during off-peak times. Many charter companies adjust their prices based on demand, so be open to adjusting your schedule for better deals.
Consider a Bareboat Charter for Affordable Yacht Vacations
If you have sailing experience, opting for a bareboat charter can significantly reduce costs. Keep in mind that you'll be responsible for navigating the yacht. A bareboat charter is best for seasoned sailors.
Look for Deals
Take a look at our Specials Page. We update it often with the latest yacht charter deals.
Affordable Yacht Charter Vacations | Destinations
Croatia
Known for its stunning coastline and myriad islands, Croatia offers affordable yacht charters with diverse sailing opportunities. The Adriatic Sea provides a picturesque backdrop for your nautical adventure.
Thailand
Exploring Thailand's islands by yacht is a budget-friendly yet interesting destination. The Andaman Sea and the Gulf of Thailand boast beautiful landscapes and cultural experiences.
Turkey
Turkey's turquoise coast is a sailor's paradise. You'll discover rich history, charming villages, and pristine waters. A yacht charter in Turkey provides an affordable yet culturally rich experience.
Affordable Yacht Vacations
Affordable yacht vacations are not just a dream but an achievable goal. Understanding the factors that influence costs allows you to embark on a memorable yachting experience without breaking the bank. Yacht Charters are an excellent way to experience the islands.
Please call us today at 1 (321) 777-1707 or describe Your Vacation Vision to help you plan your fully-crewed private luxury yachting vacation! Inquire as soon as possible about your custom, crewed yacht charter.
You make the memories. We make the arrangements.