Antigua to St. Martin Itinerary
This itinerary includes St. Kitts & Nevis, St. Barths, St. Martin & Anguilla. This Antigua to St. Martin itinerary provides longer sails with more open water.
Day 1
Meet your yacht and captain at English Harbour, the yachting capital of Antigua. Before boarding, you might want to explore the harbor's historical ruins, some of which date back to 1745. Time permitting, journey to Shirley Heights and take in the panoramic scenery.
Day 2
Clear Customs and depart on your Antigua to St. Martin Itinerary. Sit back and enjoy the sunshine as you sail 52 miles downwind. This is an excellent sail with fresh trade winds.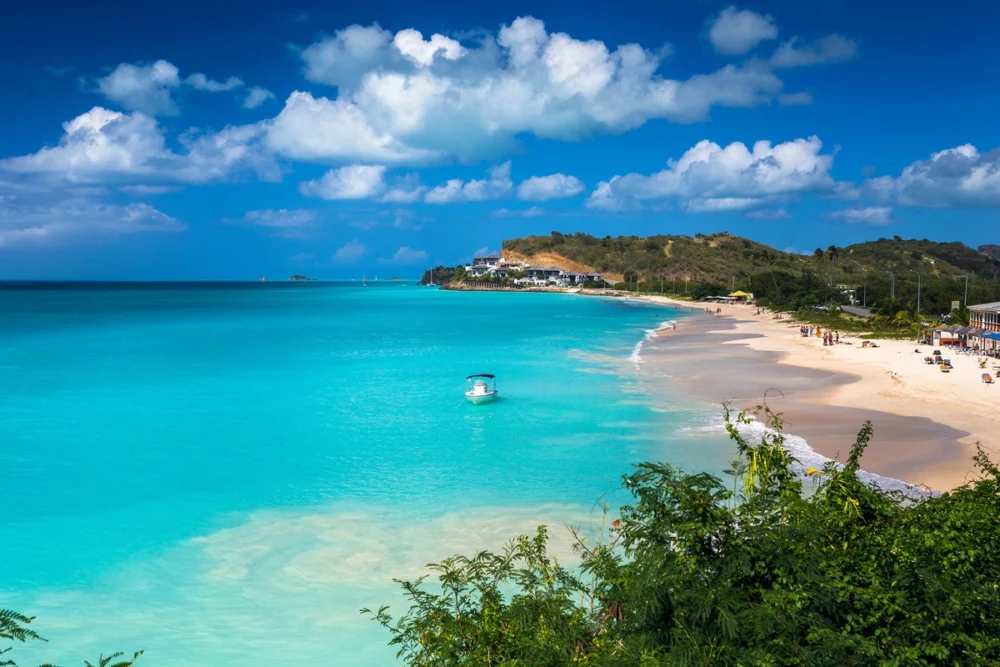 Day 3 | Antigua to St. Martin Itinerary
Clear Customs in Nevis and tour the island. This small island is roughly conical, with a volcano at its center.
Things to See and Do in Nevis
If you're feeling adventurous, take a hike up the volcano known as Nevis Peak. You can also take a leisurely walk in the forests or stroll along the beach.
Enjoy lunch aboard your yacht or try a local restaurant. Nevis has an excellent selection of restaurants, beach bars, and cafes. Many offer local dishes and cuisine from around the world, such as French, Italian, and Thai. After lunch, explore downtown Charlestown, the Museum of Nevis History, and historic sugar plantations.
Day 4 | Antigua to St. Martin Itinerary
Hoist the anchor and sail up to Basseterre, St. Kitts. Clear Customs and tour the island. This vibrant Caribbean city is brimming with culture and activities. With its lush landscapes, stunning beaches, and rich history, Basseterre offers something for everyone.
Things to See and Do in Basseterre, St. Kitts
Here are some of the best things to do in this Caribbean gem.
Take a Tour of Brimstone Hill Fortress: This 18th-century British fort offers spectacular views of the surrounding islands and is one of St. Kitts' most popular attractions. Take a guided tour to learn more about the fort's history and architecture.
Explore the Rainforest: St. Kitts is home to many lush rainforests, so make sure to explore them during your visit. Take a guided tour and enjoy hikes to stunning waterfalls or through old trails that lead to spectacular viewpoints.
Visit the Beach: The beaches in Basseterre are some of the best in the Caribbean. Enjoy swimming, snorkeling, kayaking, and sunbathing on gorgeous white sand beaches.
Go on a Snorkel or Dive Adventure: St. Kitts is known for its excellent dive sites, so take advantage of them! Plenty of dive operators offer snorkel and dive trips around the island, so you can explore some of the amazing marine life that calls St. Kitts home.
Enjoy the Nightlife: Basseterre has lively beach bars and chic nightclubs where you can grab a drink and dance the night away.
Basseterre isn't an excellent overnight anchorage, so sail down to White House Bay, Ballast Bay, or Majors Bay for the night.
Day 5 | Antigua to St. Martin Itinerary
In the morning, you'll sail to St. Barths. For this trip, there are two options. Going South around St. Kitts, there is a better wind angle but more open water (48 miles). Going North around St. Kitts, you would be in the lee of St. Kitts longer but sailing closer to the wind headed for St. Barths.
Day 6 | Antigua to St. Martin Itinerary
St. Barths is an idyllic and charming Caribbean island paradise. This island is trendy yet friendly and very welcoming.
Things to See and Do in St. Barths
One of the most popular attractions is Gustavia Harbor. This harbor is perfect for people-watching with its colorful yachts, shops, and restaurants. Plus, it's the ideal place for some great photo opportunities.
Gouverneur Beach is another great destination. Located on the island's southeastern part, Gouverneur Beach boasts gorgeous white sands and clear waters, making it the perfect spot to relax and soak up the sun.
If you're looking for more adventure, Anse Colombier Beach is worth checking out. This hidden beach can be reached by a strenuous hike or a quick boat ride, making it an ideal spot for scuba diving, snorkeling, and other water sports.
Day 7 | Antigua to St. Martin Itinerary
On the final day of your Antigua to St. Martin charter itinerary, sail to St. Martin, 17 miles to Simpson Bay. Be sure to take photos with your captain and crew before saying goodbye until next time.
Final Notes About this Antigua to St. Martin Itinerary
Please note that you would need an additional day to visit Anguilla, with its 33 beaches and fine-dining restaurants.
Please view our other Antigua and Barbuda Itinerary for more options.
Our Antigua to St. Martin Charter itinerary is just a sample. Your group's preferences, weather conditions, and time of year will be factored into your trip itinerary. Captain Forrest of S/Y MELINKA contributed to this sample itinerary.
Please call us today at 1 (321) 777-1707 or describe Your Vacation Vision to help you plan your fully-crewed private luxury yachting vacation! Inquire as soon as possible about your custom, crewed yacht charter.
You make the memories. We make the arrangements.