Overview of Bodrum Gulet Boat Charter. Bodrum is one of the largest port cities along the Turkish Riviera and has been a critical sailing city for several centuries. It is the home of the modern Turkish gulet, and its shipyards are considered some of the best in the world. You can enjoy a vibrant cultural scene in the city, complete with museums, historical sites, shopping, fine dining, and nightlife. You can visit islands and coves with storied pasts and stunning nature on the sea.
[ci-search area=EAST_MEDITERRANEAN min_price=18000 form=fixed_area]
Places to See in Bodrum while on a Gulet Charter
Castle of St. Peter
The Castle of St. Peter sits prominently in Bodrum's city center. It was built by Crusaders in the 15th century and has been captured, sieged, and conquered several times. The castle is open to visitors and houses the Underwater Archeological Museum, which features ships and treasures from several shipwrecks across many civilizations.
Bodrum Amphitheater
With just over 13,000 spectators capacity, the Bodrum Amphitheater is one of the largest still-standing ancient venues. It's still used for concerts and other performances to this day. The sweeping views of the Bodrum Peninsula from the top are just as impressive as the structure itself!
Mausoleum of Halicarnassus
Deemed one of the Seven Wonders of the Ancient World, the Mausoleum of Halicarnassus is the final resting place of Mausolus. And construction was between 353 and 350 BC. Furthermore, and praised throughout history as a wonder. And a beauty, although sadly, all that remains today are the monument's ruins and the surrounding town.
Things to do while on a Bodrum Gulet Boat Charter
Adventures on Land and Sea
Bodrum is well known for adventurous activities such as tandem paragliding and whitewater rafting along the Dalaman River. There are countless paths in the nearby wooded foothills for a more down-to-earth option. A quick climb leads you to stunning vistas where the mountains meet the sea. There are several great spots near the port town for scuba diving for a deeper dive.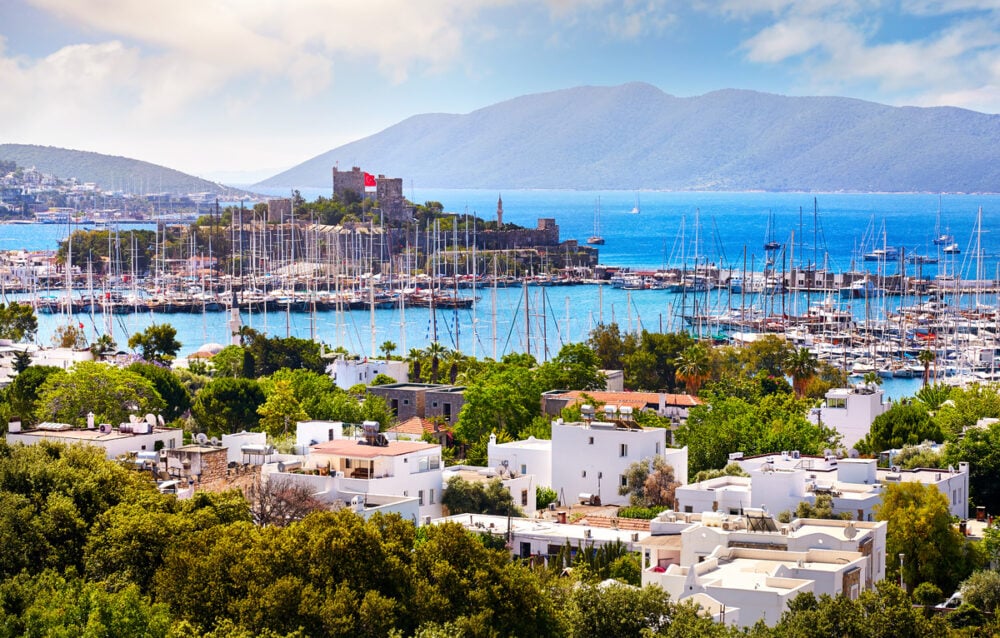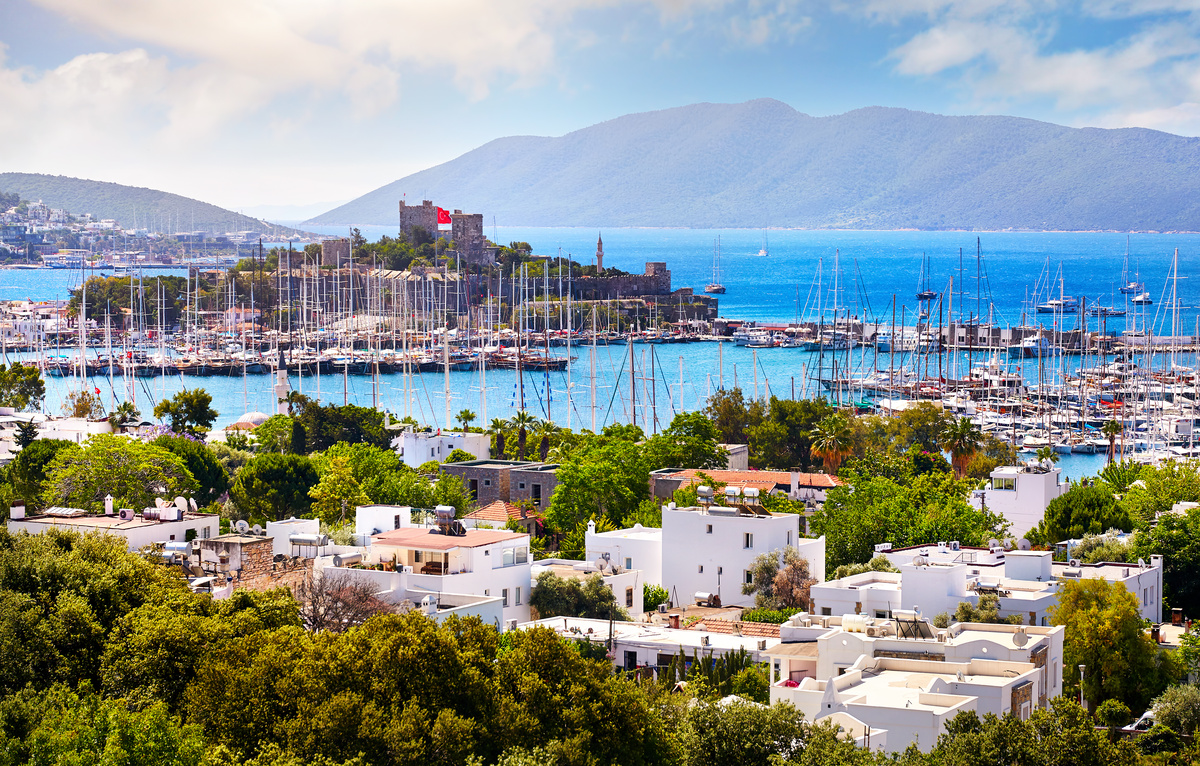 See How Gulets Get Built
While in Bodrum, don't miss the chance to visit one of the port town's many shipyards. The region's ship-making industry extends centuries into the past. Indeed the archeological record of the Bodrum port includes shipyards from the Carians, Minoans, Ionians, Lycians, Persians, Romans, Byzantines, Seljuks, and Ottoman Empire. Today's gulets are primarily based on the luxurious adaptation of the two- and three-sailed fishing boats of eras past. Nowadays, it's possible to visit the shipyards where modern Turkish gulets are constructed.
Bays to Anchor | Bodrum Gulet Boat Charter
Kiz Kumu
This long sandbar seems to cut the bay in half. You can walk through the bay along the "Maiden's Sand" and enjoy calm waters for swimming and relaxing.
Cleopatra Island
Indeed the most popular stop on Bodrum gulet cruises. Cleopatra Island is famous for the pure white sand that caught its namesake's eye. It was said that Antony brought white sand from this beach to Egypt to impress Cleopatra. And eventually, this island became a secret meeting place for lovers.
English Harbour
The English Harbour was named for the Royal Marine presence that lasted until World War 2. It's a small and secluded bay famous for stargazing, thanks to the dark and clear skies.
Kos (and Other Greek Islands)
Bodrum is just a short sail away from several Greek islands. Kos, the nearest and most popular, boasts stunning beaches and excellent Greek seafood. Other nearby Greek islands offer great diving, the classic whitewashed island aesthetic, and a new culture to explore. Moreover, ensure your captain, crew, and vessel are all cleared for international travel before you set out!
Bodrum Visitor Profile | Gulet Charter
Bodrum is a convenient spot to get to the Turkish Riviera. You can fly directly to the Milas-Bodrum Airport. Which saves the hassle of an extra bus or car trip to your final destination. This makes Bodrum perfect for people who are planning shorter trips. Or who wants to spend as much time as possible on the water?
It's also the perfect place for first-time visitors to Turkey. The nearby historical sites and thriving pulse of Bodrum offer a broader view of Turkish culture and history. Once you've visited Bodrum, you'll better understand what you want to see, do, and taste. And to experience up and down the Turkish Riviera.
Please call us today at 1 (321) 777-1707 or describe Your Vacation Vision to help you plan your fully-crewed private luxury yachting vacation! Inquire as soon as possible about your custom, crewed yacht charter.
You make the memories. We make the arrangements.