Anguilla | A Beach Lover's Delight
Anguilla is a British Overseas Territory in the Eastern Caribbean, the northernmost island of the Leeward Islands. It has a small central island and several offshore islets.
The island has 33 beaches. Some are long sandy stretches like Rendezvous Bay, overlooking neighboring Saint Martin. Some are secluded coves reached only by boat, such as Little Bay.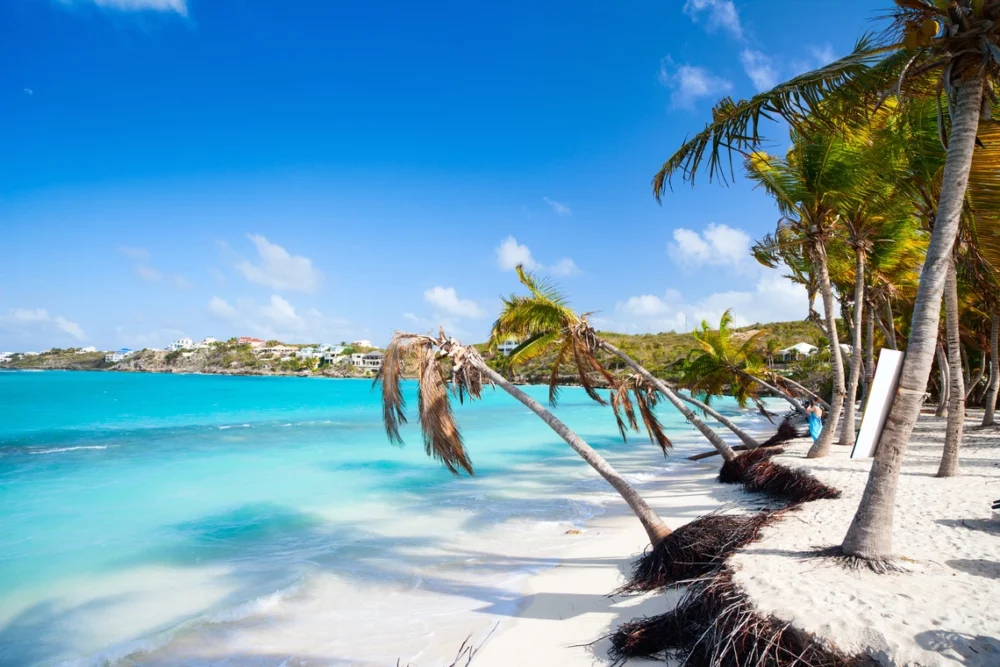 Weather
Anguilla enjoys a tropical climate, making it a year-round destination for luxury yacht charters. The weather is typically warm and sunny, with temperatures averaging around 80-90°F (27-32°C). The best time to visit is during the dry season, from December to April. However, even the wetter months offer plenty of sunshine.
Anguilla | Places to See
Visit Big Spring Cave, a protected area known for prehistoric petroglyphs. Or, see East End Pond, a wildlife conservation site.
Catch a short boat shuttle to Sandy Island. The Cay is 2.9 miles northwest of Anguilla. On it there's a small bar and restaurant.
Shoal Bay Beach. Regarded as one of the Caribbean's most beautiful beaches, Shoal Bay boasts powdery white sand and crystal-clear waters. It's perfect for sunbathing, swimming, and water sports. The nearby Shoal Bay Village offers beachfront restaurants and bars for a taste of local cuisine.
The Valley. The capital of Anguilla, The Valley, is a charming town with colorful colonial architecture. Explore heritage sites like the Wallblake House, the island's oldest surviving plantation house, and St. Gerard's Catholic Church.
Meads Bay. Meads Bay is another picturesque beach destination known for its luxury resorts and fine dining options. Be sure to visit the renowned Blanchards Beach Shack for fresh seafood.
Rendezvous Bay. With its long stretch of white sand, Rendezvous Bay is an idyllic spot for a stroll. It's also home to the Dune Preserve, a popular beach bar with live music and a relaxed atmosphere.
Anguilla National Trust. Visit the trust's Heritage Collection museum to learn about the island's history, culture, and natural heritage. Guided nature walks and birdwatching tours are also available.
Anguilla | Things to Do
Spend the day at Little Bay. This gorgeous secluded bay features a small sandy beach, swimming, snorkeling, and cliffs for diving.
Snorkel at Shoal Bay East. This stunning beach appears to be straight off of a postcard with its brilliant white sand and sparkling turquoise water. The nearby reef has a wide array of colorful marine life.
You can take a taxi tour. The tour visits places like the Heritage Museum Collection on the East End and the Wallblake House in The Valley.
Enjoy fine cuisine. Anguilla offers a variety of dining options, such as Veya.
Dolphin Discovery. For a unique experience, visit Dolphin Discovery, where you can swim and interact with dolphins in a safe and natural environment.
Gastronomy
Anguilla is known as the food capital of the Caribbean. You'll taste influences from various cuisines, including Caribbean, African, Spanish, French, and English. Pigeon peas, citrus fruits, tomatoes, and garlic are all common ingredients in Anguilla and play an essential role in its cuisine.
Your chef can prepare local cuisine. Try jerk chicken, callaloo (a popular Caribbean vegetable dish), grilled lobster, conch soup, peas, and rice.
Marinas
Blowing Point Marina. Offers 18 berths for yachts up to 200 feet in length. Customs and immigration services are on-site for easy entry. Restaurants, bars, and shops are nearby for provisioning and relaxation.
Sandy Ground Village. Smaller marina with 40 berths, accommodating yachts up to 140 feet. Close to lively nightlife and dining options.
Road Bay. A natural harbor offering secure anchorage. Close to restaurants and bars with stunning sunset views. There are also customs and immigration offices available for clearance
Additional anchorages in Anguilla include:
Crocus Bay Anchorage in Crocus Hill
Dog Island Anchorage in Dog Island
Little Bay Anchorage in Ebenezer
Island Harbour Anchorage in Island Harbour
Moreover, Anguilla is a favorite luxury yacht charter destination as part of a St. Barths, St. Martin / St. Maarten charter route.
Please call us today at 1 (321) 777-1707 or describe Your Vacation Vision to help you plan your fully-crewed private luxury yachting vacation! Inquire as soon as possible about your custom, crewed yacht charter.
You make the memories. We make the arrangements.