Grenada Yacht Charters
Luxury yacht charters in Grenada are packed with activities. This gorgeous island in the southern Caribbean is popularly known as 'the Spice Island' because its fertile volcanic soil grows plenty of fragrant nutmegs, cloves, cinnamon, vanilla, and cocoa.
It's a perfect island for those who seek a genuine Caribbean experience. Grenada offers a spicy mix of colonial roots and local culture, as well as lush mountains, rainforests, plantations, colorful seaside villages, and beautiful beaches. Grenada's capital, St George's, is a lovely city that is very popular with yachters who anchor in the busy harbor of Carenage.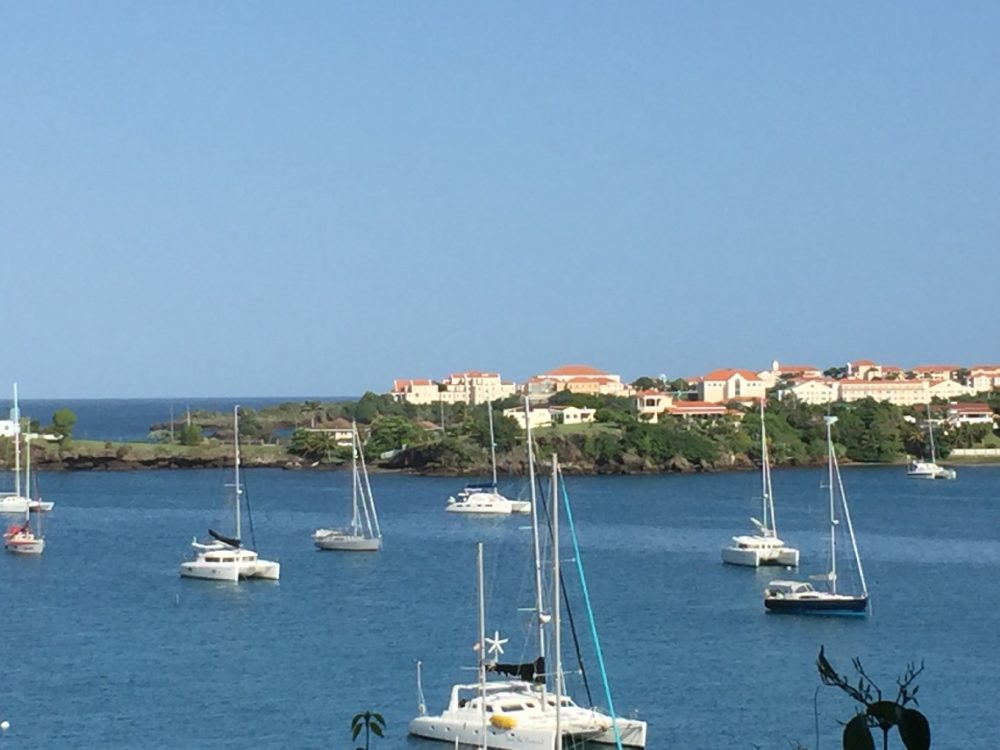 Grand Anse Beach is a 4-km long swath of soft white sand. You'll find this beach uncrowded on most days. Grand Etang National Park should also be on your list of things to do. Surrounded by rainforests, high up in the mountains of the island's interior, the park's varied terrain makes for excellent hiking. Not only does Grenada offer fabulous beaches and exciting hiking trails, but it also has shopping, spas, dining, and lots of festivals.
Grenada Yacht Charters | Main Attractions

Grand Anse Beach
Grand Anse is Grenada's most famous beach. Coconut palms and sea grapes fringe the beach. A golden arc of sand and gentle surf attracts yachters to this beach. There are also many restaurants and boutique resorts lying along the shore.
The water is calm and suitable for swimming, and the color of the water ranges from clear turquoise near the shore to azure blue in the deep sea. You'll find spice and craft markets along the midway, where you can pick up some souvenirs to take home.
St George's | Grenada
The capital city of St George's is one of the prettiest cities in the Caribbean. It curves along the harbor and is backed by volcanic hills. You'll find many fellow yachters here since many boats dock at Carenage harbor.
The main attractions in St George's include:
Fort George. This historic fort was built in the early 18th century by the French.
Fort Fredrick.
Grenada National Museum
Sendall Tunnel, which joins the Carenage to the Esplanade
Bay Gardens, with around 3,000 species of Caribbean plants
The Carenage
The Carenage consists mainly of the anchorage of the inner harbor. It is lovely to wander along the waterfront, visit the shops, and watch the dockside activities. While on your Grenada yacht charter, you must visit this beautiful place, chat with the locals, and relax at a restaurant selling fresh seafood. Wharf Road goes along the harbor rendering great views of the area.
Morne Rouge Bay
Morne Rouge Bay, south of the Grand Anse, is generally a quieter alternative to Grand Anse Beach. The calm jade-green seas with a one-and-a-half kilometer crescent of white sand make the beach a safe place for swimming. There are resort restaurants along the beach where you can have lunch or dinner.
Grand Etang National Park & Forest Reserve
Grand Etang National Park offers some beautiful rainforest panorama and rewarding hikes. The gorgeous crater-formed Grand Etang Lake is one of the park's main attractions.
Notable Walking Trails
The Shoreline Trail around the Grand Etang Lake,
Mount Qua Qua Trail,
Seven Sisters Falls hike.
Levera National Park
Levera National Park, on the northeastern side of the island, offers some spectacular scenery where the Caribbean Sea joins the Atlantic. A natural offshore reef also provides good protection for swimming. Other things of interest in the park are Levera Pond, an ancient volcanic crater, and a Bird-Watch Bridge extending to a mangrove area. There is a visitors center at the entrance to the park.
Annandale Falls
Annandale Falls is encased by a lush garden of plants and bushes, shielded from its surroundings by tall walls of mossy stone. The cool water will refresh you on a hot day, and the beauty and sounds of the falls are relaxing. The tropical flowers and trees in the gardens make an excellent background for photos.
Underwater Sculpture Park
The Underwater Sculpture Park at St George's at Moliniere Bay is a unique submerged gallery that serves as an artificial reef in the Marine Protected Area. Artist Jason de Caires Taylor created this amazing park, and the sculptures vary from Amerindian petroglyphs to life-size figures cast by local children.
Snorkelers, divers, and glass-bottom boat passengers will admire the underwater exhibition. The best views are face-to-face, with the sculptures below sea level.
Grenada Yacht Charters | More Activities

Belmont Estate (Belmont)
Fort George
Sandy Island (Carriacou Island)
Seven Sisters Falls
Concord Falls
Grenada National Museum (St George's)
Palm Tree Gardens Botanical Garden (SainDavid's's)
La Sagesse Nature Center (Corinth)
Bathway Beach (Levera National Park)
Tyrell Bay (Carriacou Island)
Sendall Tunnel (St George's)
Mount Qua Qua (Grand Etang National Park)
Grenada Yacht Charters | Types of Yachts
When it comes to yacht chartering in Antigua, there are a variety of yachts available for you to choose from. You can find everything from traditional sailboats to motor yachts and superyachts.
Catamarans. A popular type of yacht for chartering in Antigua is the catamaran. These multi-hulled vessels are becoming increasingly popular due to their spaciousness and stability in the water. Catamarans offer plenty of living and entertaining space, making them great for groups or families looking for extra room on their trip.
Power Catamarans. Power Catamarans offer the same benefits as sailing catamarans and are faster. You can hop from one island to the next very quickly.
Sailboats. Traditional sailboats have one hull and can be found in various sizes. They offer an authentic sailing experience but not as much room as catamarans.
Motor Yachts. Finally, luxury motor yachts and superyachts are available for charter in Antigua. These vessels range from 30 feet up to over 300 feet in length, making them the perfect choice for larger groups wanting an unforgettable experience on the water.
Please call us today at 1 (321) 777-1707 or describe Your Vacation Vision to help you plan your fully-crewed private luxury yachting vacation! Inquire as soon as possible about your custom, crewed yacht charter.
You make the memories. We make the arrangements.