Are you considering Chartering a motoryacht Croatia to Montenegro? The process is simple – just let us know in advance to ensure your boat has the necessary documents. For example, it should have valid third-party liability insurance for sailing in foreign waters. Your captain will then take care of all formalities at the borders. Here we sail up and down the Adriatic, looking at the requirements for chartering a motor yacht between Croatia and Montenegro.
With its glorious Dalmatian islands, Croatia is one of Europe's top sailing destinations. In south Croatia lies the magnificent medieval walled city of Dubrovnik and the nearby islands of Mljet and Korčula. From Dubrovnik, it's just a few hours cruising to Montenegro. Famed for its soaring inland mountains, Montenegro also has a blissful 183-mile stretch of the Adriatic coast. For sailors, the most enchanting and sheltered waters lie within Kotor Bay. Like Dubrovnik, Venetian-era Kotor Town is a Unesco world heritage site.
Chartering a motoryacht Croatia to Montenegro | Leaving Croatia and entering Montenegro
If you charter a motor yacht in south Croatia, you can easily sail down the Adriatic to Montenegro. Your captain will probably suggest avoiding crossing into Montenegro on a Sunday or night. This is because the appropriate offices would most likely be closed at those times. Before leaving Croatia, he will officially check out the boat, either at Cavtat or Dubrovnik's Gruž port.
Firstly, upon entering Montenegrin waters, he will proceed directly to the nearest port of entry for international traffic. In this case, Zelenika, just inside the mouth of Kotor Bay, is the quickest and most convenient port.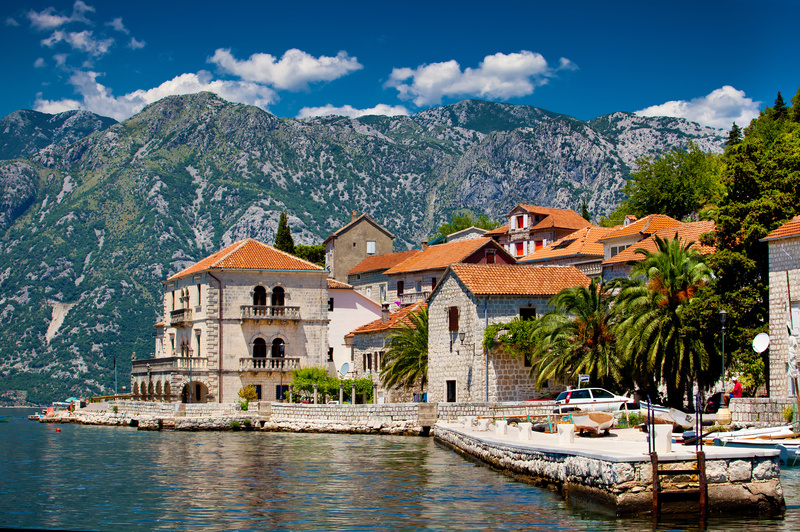 There, your captain will obtain a vignette for the boat at the Harbor Master's office and submit a crew list. He will display the vignette in a prominent position on your yacht, for instance, on a window. All you have to do is present your passport at customs. Once this is completed, you're free to sail in Montenegrin waters and explore the handsome mainland.
From Montenegro to Croatia
Alternatively, you might charter a motor yacht in Montenegro and sail north to Croatia. To enter Croatian waters, your captain will take the shortest route to the nearest port for Customs Control. Arriving from Montenegro, this would be either Cavtat (April-October) or Dubrovnik's Gruž (off-season). Your captain will verify the crew list at the Harbor Master's office, and register you for the tourist tax. Here all you need to do is present your passport at customs. Your captain will also register the boat and the number of days you intend to sail in Croatian waters. A sojourn tax is payable, which depends on the boat's type, length, and engine power. This can be calculated online at https://enautika.pomorstvo.hr
In conclusion, when chartering a motoryacht Croatia to Montenegro, your captain will raise the courtesy flag at the border. That is to say, the flag of the country you are in. This should be flown, as well as the ensign, which indicates the actual nationality of the boat.
Please call us today at 1 (321) 777-1707 or describe Your Vacation Vision to help you plan your fully-crewed private luxury yachting vacation! Inquire as soon as possible about your custom, crewed yacht charter.
You make the memories. We make the arrangements.